Annette Moter, M.D., Ph.D., Charité
Universitätsmedizin Berlin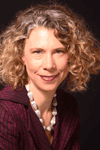 Dr. Moter is Group Leader of the Biofilm Center at the Institute for Microbiology, Infectious Diseases, and Immunology at Charité - Universitätsmedizin Berlin. Dr. Moter's main research interest is to develop novel tools for detection and therapy of biofilm-associated microbial infections. These tools have been used to study biofilms containing Bartonella species responsible for endocarditis, a life-threatening inflammation of the inner lining of your heart's chambers and valves. A particular emphasis is on discovering antimicrobial agents effective against biofilm microbes. Currently, her lab focuses on the spatial organization of the oral and gut microbiome and the interaction with the host. Further projects deal with understanding of infections due to fastidious or yet uncultured microorganisms.