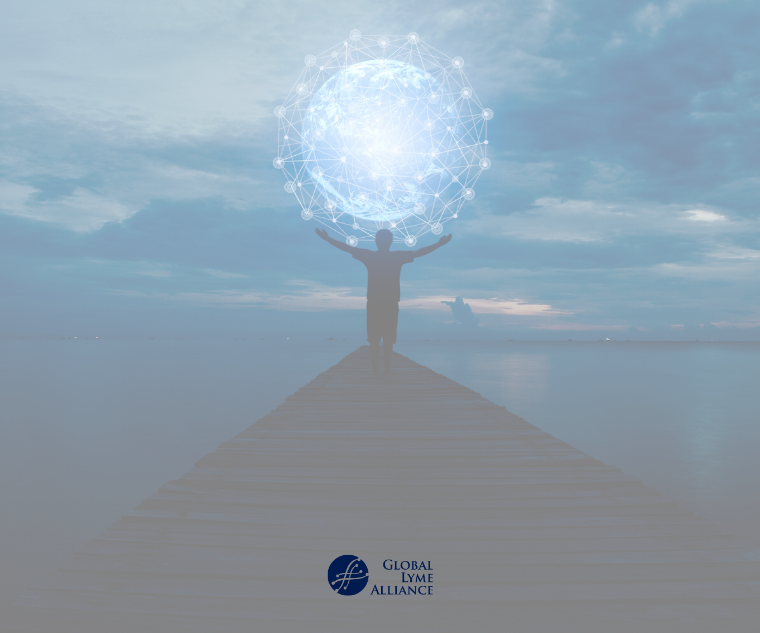 What can we learn from Lyme disease patients and our work in tick-borne disease research that can be applied to the current COVID-19 crisis?
by Robert Kobre, Chairman of the Board, Global Lyme Alliance
Most of us in the United States are currently living in extreme fear of contracting the new coronavirus, and our anxiety levels are at all-time highs. Few populations in the U.S. can empathize with this extreme anxiety more than those who already suffer from weakened immune systems, and the debilitating health condition known as Lyme disease. Infection by SARS-CoV-2—the virus that causes COVID-19—is transmissible person-to-person while Lyme disease is a bacterial infection contracted through the bite of an infected tick. However, Lyme patients can relate to the uncertainty of diagnosis, fear of failed treatment, and the impact of isolation.
There are an estimated 427,000 new cases of Lyme disease in the U.S. each year, with as many as two million people projected to suffer from post-treatment Lyme disease by the end of 2020. Global Lyme Alliance is leading the research effort to find the answers through science that will provide for a reliable diagnostic test and effective treatments. We also work every day to address the fears, anxiety, and pain faced by Lyme patients and their families. So, what have we learned trying to tackle Lyme disease that can be applied to the COVID-19 crisis?
Timely and accurate diagnostic testing is the key factor in the management and treatment of both diseases. Current diagnostic testing for Lyme disease infection is very unreliable, with as many as 57% of patients falsely testing negative. Like COVID-19, symptoms may be indicative of something other than Lyme, leaving the patient stressed, unsure of what to do and frightened. The consequences of a missed diagnosis in both diseases can be devastating. Unlike COVID-19, death resulting from Lyme disease is rare. However, Lyme disease can be crippling physically, mentally and emotionally for months, years or even a lifetime, and unless treated early there is no definite cure. The Coronavirus and Lyme bacteria are complex pathogens, both of which will require massive focus and funding to eradicate.
As of the morning of April 14, 2020 there are more than 550,000 confirmed cases of COVID-19 in the U.S., and the number continues to grow rapidly. However, when COVID-19 first came to the U.S., both its presence and severity were minimized. People who were afraid and cautious about limiting contact with others were mocked, told they were paranoid, that it was "in their heads", and that it was no different than the regular flu. This same dismissive and belittling attitude has consistently been directed against long-suffering Lyme patients, who are similarly told they are paranoid, alarmist and irrational for worrying about being in high-risk places outdoors.
COVID-19 has forced sheltering-in-place and social distancing on people who live in fear of interacting with others who may be infected. Similarly, people who live in endemic areas of Lyme disease fear going outdoors and interacting with nature where they can easily contract Lyme disease and other debilitating tick-borne diseases. Every step on the grass, walk in the woods, or something as simple as going to one's mailbox could mean a lifetime of incapacitation. So, the Lyme community understands what America is going through.
Everyone hopes that a cure or vaccine for COVID-19 will arrive soon. The virus's eradication, and the immune response to it, must be the top priority of our governmental leaders, America's research universities, R&D centers, and pharmaceutical companies.
In time, and thanks to American know-how, creativity, outside-the-box thinking, and pure grit, we will find ourselves on the "other side" of this pandemic nightmare. When we do, let us hope that we have learned to be more compassionate and sensitive toward our fellow citizens who may be suffering from other devastating illnesses where testing is uncertain, cures elusive, and fears very real. At GLA, our hearts and prayers go out to all those suffering from COVID-19 or have lost loved ones to this cruel and isolating disease.
---
Additional COVID-19 and Lyme Disease Resources:
GLA POV: Parallel Pandemics: COVID-19 and Lyme Disease
Blog: Q&A on COVID-19 and Lyme Disease with LLMD
Blog: Personal Patient Experience with COVID-19 and Lyme Disease
Letter: GLA CEO Addresses COVID-19 and GLA Community