Lyme Disease Research
Global Lyme Alliance has awarded over $13 million for Lyme and tick-borne disease research to date. GLA-funded projects have led to unprecedented advances in such areas as prevention, diagnosis and treatment of tick-borne illnesses.
GLA-funded researchers—who were the first to prove the existence of the previously disputed chronic Lyme condition—have decoded the Lyme genome, discovered how the disease can survive antibiotic therapy, and now understand far more about what makes the Lyme bacterium different than any other type of infection. Learn more about our research.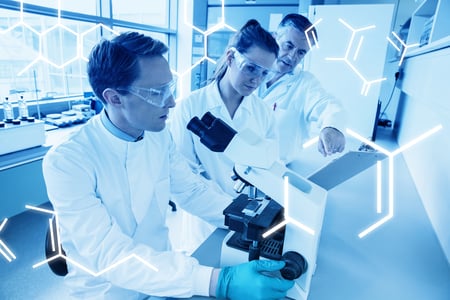 Research Partnerships
GLA has forged significant partnerships with the academic community who support research. Most notably, the organization partnered in 2007 with the Lyme Disease Association to fund and create the first research center for the study of persistent Lyme at Columbia University Medical Center in New York City.
For the past decade, GLA has funded innovative and promising research at top-tier universities across the United States, including Johns Hopkins University, Washington University in St Louis, Texas A&M, Northeastern University, University of Missouri, University of California San Francisco, University of Pennsylvania and Stony Brook University.
GLA announced a partnership with Ionica Sciences in October 2017 to develop an accurate Lyme disease diagnostic test.
Research Results
GLA has identified and funded groundbreaking research in the areas of diagnostics, therapeutics, and basic understanding of the Lyme bacterium:
Our researchers were the first to characterize chronic or post-treatment Lyme disease syndrome;
GLA researchers sequenced the Borrelia burgdorferi genome of multiple strains; discovered how the bacteria can survive antibiotic therapy, and continue to document immune dysfunction in Lyme disease patients;
Recent discoveries funded by GLA include the role cell wall-deficient forms, or L-forms, play in chronic bacterial infection, including Lyme disease;
The first-ever drug candidate for chronic Lyme disease is actively being researched, as well as a greater understanding of ways that the Lyme bacteria trick the immune system.

GLA Funded a groundbreaking study linking Lyme disease to psychiatric disorders.

A drug discovery program funded by GLA at Northeastern University uncovers a novel antibiotic,

Hygromycin A, that has the potential to cure early Lyme disease and prevent it from becoming a chronic condition.
Learn more: See GLA's Timeline of Accomplishments or our comprehensive

Research Report.