News
February 3, 2023
A young man loses his life to Lyme carditis and a tragic misdiagnosis. Northern Light Mercy Hospital and one of their doctors have been ordered to pay $6.5 million to the family of Peter Smith, who p...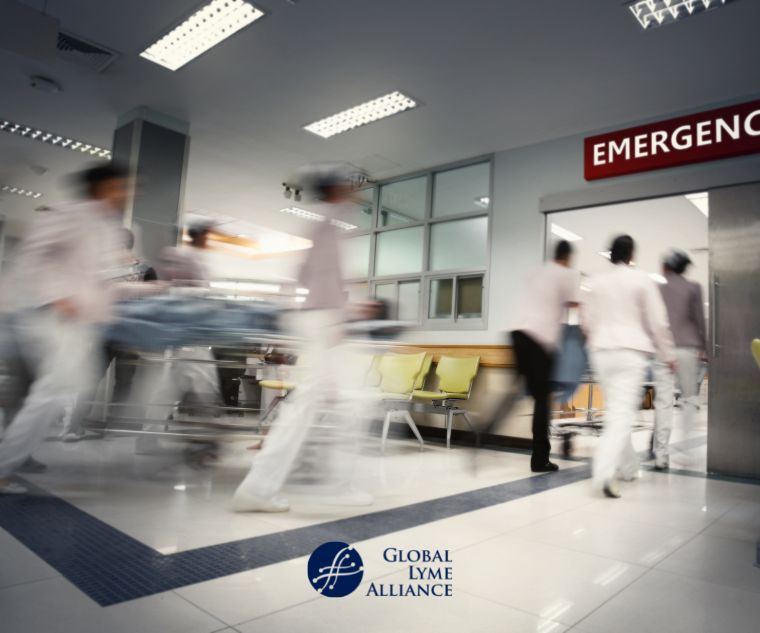 Popular Radio Host Has Gone Missing...The Last Thing He Spoke of Was His Struggle With Lyme Disease
2023 Case Study: Reversible Dementia Caused by Lyme Disease
Hospital and Physician To Pay $6.5 Million in Wrongful Death Suit Over Lyme Disease Misdiagnosis
New Study Uncovers Monumental Scientific Achievement to Advance Tick Biology
"Ehrlichia, Rhapsody in Discomfort #6″ Wins Global Music Award
February 27, 2023
A case of reversible dementia with Lyme treatment? Annals of Geriatric Medicine and Research (Sanchini, C., et al.) 2.6.23, published "A case of reversible dementia? Dementia vs delirium in Lyme dis...
February 3, 2023
A young man loses his life to Lyme carditis and a tragic misdiagnosis. Northern Light Mercy Hospital and one of their doctors have been ordered to pay $6.5 million to the family of Peter Smith, who p...
January 25, 2023
Researchers associated with Global Lyme Alliance conducted a cutting-edge study on genomic sequencing in relation to Lyme disease
January 12, 2023
Professional violinist, Dan Flanagan, wrote a musical piece that captures how it feels to suffer from Lyme and other tick-borne diseases, and it just won a Global Music Award. Originally published by ...
December 13, 2022
Written by Grace Gavilanes for People.com These stars got candid about their battle with the tick-borne disease.
December 9, 2022
Each year, the American Fundraising Foundation (AmFund) carefully chooses organizations to support through sponsorship of events, year-end grant distribution, virtual silent auctions, and other progra...
December 6, 2022
Photo credit @Charlie Weinmann/ (L-R) Brendan McCay, Todd Risenmay, and Candice Brock in "Lyme Disease: The Musical"
November 29, 2022
Global Lyme Alliance's Chief Scientific Officer, Timothy Sellati, Ph.D., was interviewed by Fox5NY.com on the latest developments in Lyme disease testing.
November 18, 2022
Long-term issues with Lyme disease and COVID-19 infections are strikingly similar, and much can be learned from a disease that stems from a tick bite, medical experts say. This article was written by ...
October 24, 2022
Lyme warrior and WNBA star Elena Delle Donne created an inclusive sneaker with Nike "designed to make everyone feel seen, heard, and empowered on the court." The lime green color was chosen to help ra...
October 3, 2022
GLA funded researcher Dr. Nicole Baumgarth represents an excellent choice as the inaugural director of the Johns Hopkins Lyme and Tickborne Diseases Research and Education Institute. Dr. Baumgarth has...
September 28, 2022
(Photo provided by Alain Champagne/LinkedIn) Written by Charmaine Patterson for People.com. Amelie Champagne died by suicide at the age of 22 after a long battle with Lyme.
August 24, 2022
New study concludes oil in balsam fir needles is effective in preventing ticks from surviving winter Written by CBC News. Photo credit @Amal El Nabbout
August 2, 2022
Grant applications to advance Lyme and vector-borne disease research now open through Global Lyme Alliance Global Lyme Alliance is the leading nonprofit dedicated to conquering Lyme and other vector-b...
July 26, 2022
GLA-funded researcher Dr. Kim Lewis (and others) are interviewed in this important article that explains why tick exposure is so dangerous, particularly during this time of year. By Cynthia McCormick...
July 25, 2022
Pamela Weintraub writes enlightening piece on chronic Lyme (Photo credit @ Experience Life)
June 3, 2022
By Nicole Bell, as told to Genevieve Brown on Today.com When my husband's cognitive abilities began to decline, doctors thought he had early onset Alzheimer's. We later learned he had multiple tick-bo...
May 20, 2022
Photo: Catherine Brissette, UND biomedical sciences associate professor. Credit @ Patrick C. Miller/UND Today. To read the full article on UND Today, click here.
May 16, 2022
Lucy Hicks wrote an article for Medscape that explains how researchers conducted a study to determine the true cost of Lyme disease in the United States. The annual cost of Lyme disease in the United ...
May 6, 2022
Click here for the full press release.
April 18, 2022
GLA has awarded $100,000 to the University of Guelph to study biofilms in relation to Lyme disease Improving diagnosis and treatment of debilitating Lyme disease is the goal of a shared research lab ...
April 14, 2022
Bonnie Crater, of the Center for Lyme Action, provides the following update on federal Lyme disease funding. Nearly three times the funding in three years
April 6, 2022
The number of ticks carrying Powassan virus is at an all time high. Employ tick prevention strategies to avoid contracting this new tick-borne disease. With tick season around the corner, it's not ju...
March 28, 2022
Global Lyme Alliance scientific advisory board member, Dr. Adriana Marques, led a study on Lyme neuroborreliosis patients, who take corticosteroids in addition to antibiotics, and whether or not the t...
March 10, 2022
This article, written by Elizabeth Chapin for the University of Kentucky, is important because the research will explore the relationship between B. burgdorferi infection, antibiotics, and the gut mic...
March 8, 2022
Assistant Professor Brandon Jutras, left, and research scientist and Edward Via College of Osteopathic Medicine medical student Mari Davis, right, in the lab at the Fralin Life Sciences Institute. Pho...
March 7, 2022
An update for patients and practitioners regarding the new LYME ICD11 codes It has been twenty-five years since the World Health Organization (WHO) has updated the International Classification of Dis...
March 3, 2022
Photo credit: Emily Shur. This article written for Men's Health by Mike Bender is important because it discusses the topic of men getting diagnosed with Lyme disease. Typically, it's mostly women who ...
February 22, 2022
GLA's 30 second voiceover ad aired during the 2022 Super Bowl on Westwood One/SiriusXM! GLA kicked off its 2022 radio campaign aimed at raising awareness for Lyme disease. We were able to reach millio...
February 4, 2022
By Dr. Sam T Donta for Frontiers in Public Health, Jan 21, 2022
January 21, 2022
KPIXMINING/ALAMY STOCK PHOTO
January 13, 2022
Photo credit: University of Central Florida Global Lyme Alliance is funding researchers at The University of Central Florida to create a Lyme disease rapid test. By Suhtling Wong-Vienneau for UCF.edu
December 13, 2021
GLA supporter and Lyme disease advocate, Ali Moresco, was recently interviewed by Shondaland. Between famous people giving to followers in need, and everyday people donating via online giving platform...
November 23, 2021
Andaleeb Sajid, a staff scientist at NIH, wrote this piece on November 17, 2021 for The Conversation.
October 26, 2021
How I Became a Sick Person OPINION Piece in The New York Times by ROSS DOUTHAT The long-term form of Covid-19 has something in common with other forms of chronic illness — strange and varied sympt...
October 6, 2021
This Research Letter, posted in October 2021, was written by David W. McCormick, Kiersten J. Kugeler, Grace E. Marx, Praveena Jayanthi, Stephanie Dietz, Paul Mead, and Alison F. Hinckley on CDC.gov.
September 28, 2021
RSVP for the GLA Global Gala here. The GLA Global Gala featured on Variety.com! Written by Marc Malkin for Variety on September 28, 2021.
September 28, 2021
The article was written by Melissa Mayer for Entomology Today. Rocky Mountain spotted fever spreads when Rickettsia rickettsia bacteria pour into a bite wound while an American dog tick takes a blood ...
September 24, 2021
The article was written for The University of Kentucky by Elizabeth Chapin on August 20, 2021.
September 8, 2021
The article was written by Brittany Magelssen for The University of Texas at Dallas on September 1, 2021 Dr. Sarah Maxwell, author of the study mentioned in the article, is a GLA ambassador, part of t...
September 2, 2021
The first established population of the Asian Longhorned tick, an invasive pathogen vector, was found in New Haven County, Connecticut. New Haven, CT – The Connecticut Agricultural Experiment Station ...
August 6, 2021
A recent article for The Hill stated, "The Biden administration on Monday released new guidance on how to support those experiencing long-term symptoms of COVID-19 as part of a broader effort to recog...
August 3, 2021
The Journal of Pediatrics published a study examining the use of electrocardiographic (ECG) evidence of carditis as a diagnosis of Lyme disease. GLA is proud to have funded this important study on ele...
July 27, 2021
GLA is pleased that Bartonella, an important vector-borne infection, will be the focus of research by this group. Despite potentially severe illness caused by this bacterium, it has been neglected as ...
July 23, 2021
A recent study examined the efficacy of six antibiotics in inhibiting Bartonella growth.
July 21, 2021
Lyme and Mental Illness: Part II, Infections causing eating disorders and PANS. Written by Daniel A. Kinderlehrer, MD. for Psychology Today KEY POINTS Nearly one-third of all adolescents ages 13 to 18...
July 16, 2021
Written by Erin Billups- National Health Reporter for NY1
July 1, 2021
By Outbreak News Today
June 30, 2021
Research has also shown that Lyme bacteria can cross the placenta, both infecting and causing harm to unborn children. More research is needed to better understand the extent of this mode of transmiss...
June 29, 2021
by Ed Stannard for Greenwich Time Not as well known as Lyme disease but more dangerous, babesiosis — carried by the same tick as Lyme — has been increasing in Connecticut in the last decade.
June 15, 2021
Updates on our education ambassadors and staff, who play an important role in strengthening our efforts to protect people from Lyme disease As we work together to spread awareness, we drive change. Th...
June 11, 2021
Written by Daniel A. Kinderlehrer, MD. for Psychology Today Infections Causing Eating Disorders and PANS: Part I KEY POINTS Eating disorders are on the rise: From 1999 to 2006 there was a 119% increas...
June 10, 2021
If Lyme disease is the great imitator, then Borrelia burgdorferi, the causative agent of this tick-borne infection, is the great educator. Sir William Osler, the Canadian physician, described as the F...
June 4, 2021
The Global Lyme Alliance (GLA) has executed a comprehensive radio and digital media campaign, aimed at raising awareness for our mission to serve the Lyme Community.
May 27, 2021
RHINEBECK – Today, U.S. Representative Antonio Delgado (NY-19), Rep. Chris Smith (NJ-04), and Rep. Lee Zeldin (NY-01) introduced the Stamp Out Lyme Disease Act, bipartisan legislation to raise funds ...
May 25, 2021
A new study published in Frontiers in Neurology, led by Dr. Monica Embers of Tulane University demonstrated the presence of B. burgdorferi (the bacterium that causes Lyme disease) in the postmortem br...
May 21, 2021
New investigational drug for preventing Lyme disease has been approved by the FDA for a study. The FDA has recently approved a study on Tarsus Pharmaceuticals, Inc.'s investigational new drug for prev...
May 18, 2021
In 2019, I was walking through the new medicine galleries at the Science Museum in London, where I was working as a museum researcher. I looked at the gigantic new display – the largest collection of ...
April 22, 2021
New test targets genetic sequences in Lyme-causing bacteria is highly sensitive, detecting just one bacterial cell in a blood sample The threat of Lyme disease can cast a shadow over the joy of spring...
March 29, 2021
Senator Serino Calls for Budget Funding, Works to Raise Awareness Early this month, Senator Sue Serino brought lawmakers, researchers, and advocatess from across NY state together (via virtual press...
February 5, 2021
Get ready for the Super Bowl! Listen below to GLA's new radio ad which will air for 30 seconds during the super bowl coverage this Sunday on Westwood One/SiriusXM! Global Lyme Alliance · GLA Super Bow...
December 31, 2020
The Federal Government plans to spend $91M in 2021 vs. $55M in 2020, a 65% increase in spending on Lyme disease. Congratulations to Lyme advocates in the U.S. who played a key role in getting historic...
December 16, 2020
A family's health trauma translates into a mission to solve a chronic health problem suffered by more than two million Americans. Lyme disease is the most common vector-borne disease in the United Sta...
December 10, 2020
A look into what it's like to live with chronic Lyme. The Monster Inside Me is a full length feature film about Lyme disease, its effects on everyday people, and their hard-fought relationships. The f...
September 30, 2020
Scientists at UMass Amherst receive grant from the NIH to capture the outdoor locations of people with tick-borne diseases A University of Massachusetts Amherst infectious disease epidemiologist has r...
September 11, 2020
Scientists at Yale have unlocked a 50-year puzzle of how the Lyme bacterium spreads harmful disease. Published this week in Nature Structural & Molecular Biology, scholars from the
September 2, 2020
GLA's tick bite prevention partner, Ranger Ready Repellents is expanding its mission to stem the alarming increase of vector-borne diseases by launching their new clothing-worn repellent with Ranger R...
August 28, 2020
ZEUS Scientific announces FDA clearance of its ZEUS Borrelia Modified Two-Tiered Testing™ algorithm, a paradigm shift in lab testing for Lyme disease. ZEUS Scientific, a leading global diagnostic solu...
June 19, 2020
The coronavirus testing debacle, much like early Lyme testing, is a reminder that diagnostics aren't perfect. By Carrie Arnold, Undark, June 17, 2020
June 1, 2020
An interesting new study of tick evasins shows how they enhance their anti-inflammatory effect. Besides helping us to understand tick feeding better, these findings could be lead to the development of...
May 15, 2020
Social distancing outdoors can come with its own set of risks—researchers say watch out for ticks. By Sabrina Garone, WSHU.org, May 14, 2020 People have taken extra precautions to avoid making thems...
May 14, 2020
The signs of this common tick-borne illness go beyond a red rash. By Marygrace Taylor, Prevention.com, May 13, 2020 Lyme disease is the most common tick-borne illness in the United States, affectin...
May 7, 2020
Research Survey: With more people hiking during pandemic, ticks are hitching rides home by Allyson Mann, UGA Today, May 5, 2020 photo: Lone star tick (UGA file photo) When a woman posted on social m...
April 18, 2020
Representative Christopher H. Smith of New Jersey wrote a letter to the National Institute of Health's National Institute for Allergies and Infectious Disease Director Dr. Anthony Fauci and Department...
March 6, 2020
By Carla Cantor for Columbia News Researchers have drawn on 17 years of data to develop a model that identifies areas in which the tick-borne illness is likely to emerge. The Centers for Disease Contr...
March 4, 2020
The Centers for Disease Control (CDC) updated its official information regarding pregnancy and Lyme disease, specifically maternal-fetal transmission of Lyme disease. The CDC now acknowledges that "Un...
March 4, 2020
By Siobhan McGirl • Published March 3, 2020 for NBC Connecticut Jamie Cantoni is walking through a dirt path. She is on a mission. Her entire body is covered in tick-repellent clothing. A white cloth ...
January 13, 2020
P ress Release: January 10, 2020 Washington, D.C. — U.S. Senators Susan Collins (R-ME) and Tina Smith (D-MN) sent a letter to the Secretary of the Department of Health and Human Services (HHS) to urg...
October 25, 2019
An exciting new project by GLA's Scientific Advisory Board member Dr. Utpal Pal, Professor of Veterinary Medicine at the University of Maryland was announced. This project, funded by a grant from the ...
October 21, 2019
The National Institutes of Health (NIH) announced strategic plans to address the growing tick-borne disease threat. They identified five priority areas of focus, including improving basic science know...
October 11, 2019
Actress Talia Jackson shares her personal story of being diagnosed with and living with Lyme disease on Good Day NY, FOX 5. She is joined by GLA CEO Scott Santarella. Talia currently stars in the Netf...
September 18, 2019
Updated 9.15.22
September 6, 2019
by David Anderson and Benji Jones, Business Insider, September 6, 2019 Ticks are spreading across the US and and so are the dangerous diseases they carry - video and resources
July 25, 2019
By Kashmira Gander, Newsweek, July 24, 2019 Scientists believe they are a step closer to preventing the spread of Lyme disease after they mapped the genes of a species of mouse that helps to spread th...
July 24, 2019
Sara Tyghter, Global Lyme Alliance's Director of Education and Outreach, talks about tick bite prevention and Lyme disease awareness with Tony Savino on 1490AM WGCH radio. Below is an excerpt. Tony Sa...
July 22, 2019
Washington, DC – WEBWIRE – Monday, July 22, 2019 The Centers for Disease Control and Prevention (CDC) has agreed to add a disclaimer to the surveillance case definition for Lyme disease that it is "no...
July 19, 2019
Chris Fuentes, founder and CEO, Ranger Ready Repellents and Scott Santarella, CEO, Global Lyme Alliance talk with News12 Connecticut about the importance of tick bite prevention, especially as we're a...
July 15, 2019
Global Lyme Alliance (GLA) officially opens its competition for the 2019-20 Lyme disease research grants applications today, July 15, 2019. GLA has awarded nearly $12 million in grants to scientists a...
July 10, 2019
An early and accurate diagnosis is essential in most effectively treating Lyme disease. New data shows the widespread impact, including cost, of a delayed or misdiagnosis. From IGeneX press release, ...
July 9, 2019
The New York Times Opinion: Letters to the Editor July 9, 2019 Officers of the Global Lyme Alliance and a woman incapacitated by Lyme criticize an article depicting the disease as easy to treat. To ...
June 24, 2019
By Laura Beil, Science News, June 23, 2019 In 2005, Rachel Straub was a college student returning home from a three-week medical service mission in Central America. Soon after, she suffered a brutal c...
June 18, 2019
By Linda Carroll at nbcnews.com New study focused on people with Lyme arthritis, but findings may apply to chronic symptoms of the tick-borne disease. A small but significant number of people with Lym...
June 3, 2019
By Mayla Hsu, Ph.D., Director of Science & Research, GLA The list of tick-borne diseases expanded this week, with a new publication in the New England Journal of Medicine. Scientists based in Fosh...
April 29, 2019
Terminix partners with Genevieve Gorder and will donate 10 percent of new tick product sales to Global Lyme Alliance MEMPHIS, Tenn.--( BUSINESS WIRE)--Terminix, a leading provider of termite and pest ...
March 27, 2019
Continuing its dominance in driving advances in our understanding of Borrelia burgdorferi persistence, Global Lyme Alliance funded a study by Monica E. Embers, Ph.D. (Tulane University) recently publi...
February 13, 2019
Company to Donate Minimum of $50,000 to Support Sponsored Athletes' Charities Farmington Hills, Mich. (February 12, 2019) – Burns & Wilcox, North America's leading wholesale insurance broker and...
January 11, 2019
SALEM, Ore./PRNewswire-PRWeb A new study from the Companion Animal Parasite Council (CAPC), the leading source on parasitic diseases that threaten the health of pets and people, shows prevalence for ...
December 22, 2018
Findings from GLA-funded research at Columbia University may be used to identify Post-Treatment Lyme Disease Syndrome patients by Mayla Hsu, Ph.D., Director of Research and Science, GLA
December 4, 2018
News Release from Johns Hopkins Bloomberg School of Public Health LABORATORY STUDY HINTS THAT PLANT COMPOUNDS MAY BE BETTER THAN CURRENT ANTIBIOTICS AT TREATING PERSISTENT LYME BACTERIA AND ASSOCIATED...