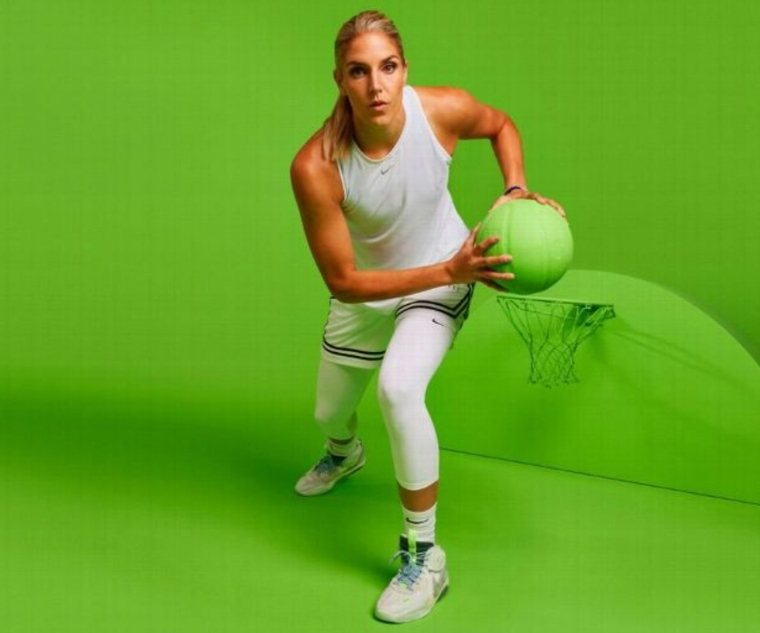 Lyme warrior and WNBA star Elena Delle Donne created an inclusive sneaker with Nike
"designed to make everyone feel seen, heard, and empowered on the court." The lime green color was chosen to help

raise awareness for Lyme disease.

The article was written by Nick DePaula for ESPN.com

After headlining Nike's adaptive and inclusive "FlyEase" series of basketball shoes for several years, Washington Mystics star and two-time WNBA MVP Elena Delle Donne is launching her own signature shoe with the sports apparel brand.

Dubbed the Air Deldon, the sneakers are designed to be worn at the highest levels of professional sports, while also providing accessible entry points for anyone with special needs. Delle Donne's older sister, Lizzie, has cerebral palsy and autism, and is also deaf and blind, which factored into the design process.

"The technology is really cool," Delle Donne said. "It creates so much room for someone with special needs."

The design features a collapsible heel, allowing for hands-free entry into the shoe, with a series of Velcro straps along the collar working to secure the foot in place. Delle Donne and Nike first began the journey of designing sneakers with the FlyEase ethos over five years ago, with a focus on creating an inclusive and versatile sneakers for all.

The product description says that the Air Deldon is "designed to make everyone feel seen, heard, and empowered on the court." The sneakers are available in women's sizes ranging from 5 to 17½.

While she's long headlined FlyEase, the launch of the Air Deldon will bring more detailed storytelling and personal design input. Six colorways are slated to be released, with each revealing a chapter of Delle Donne's life.

The debut colorway, with lime green accents throughout, is in recognition of Delle Donne's ongoing battle with Lyme disease, which she first contracted in 2008.

"This shoe represents the fight I bring both on and off the court," she said. "Through sharing my story, I hope to show other athletes what's possible."

Click here to read the full article on ESPN.

Read our latest blogs here.
The above material is provided for information purposes only. The material (a) is not nor should be considered, or used as a substitute for, medical advice, diagnosis, or treatment, nor (b) does it necessarily represent endorsement by or an official position of Global Lyme Alliance, Inc. or any of its directors, officers, advisors or volunteers. Advice on the testing, treatment or care of an individual patient should be obtained through consultation with a physician who has examined that patient or is familiar with that patient's medical history.