Our team is humbled by all the wonderful people in the Lyme community who want to help GLA achieve its mission–to fund the most promising, ground-breaking research, expand education initiatives, and increase awareness for Lyme and other tick-borne diseases.
The events benefitting GLA across the country are driven by two goals— raise money to support GLA's mission and offer an amazing experience. Here are a few initiatives that some of our wonderful supporters have accomplished.
SubLyme Soirée
Yes, healthy food can be fun! GLA's foodie fundraiser in Chicago promotes wellness with gluten-and dairy-free cuisine, proving that healthy food can be delicious and make you feel great. Check out the the 3rd annual event here.
NJ Wine Event: A Taste for a Cure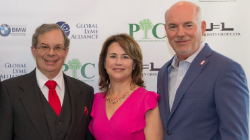 Thanks to Rose and Jay Anastasio, pictured here with GLA CSO Timothy Sellati (left), for organizing and hosting the annual NJ Wine Event: A Taste for a Cure. The 2019 event featured NJ Congressman Chris Smith and a special performance by singer/songwriter Jesse Ruben.


Westchester Shop for a Cure and Lyme Panel

Robin Jacobs and Alyssa Sokoloff organize and host this amazing annual event in Westchester, designed to help educate the community about Lyme disease and raise funds to support GLA's mission. Robin and Alyssa (two on right) are pictured here with Dr. Tania Dempsey (left) and Siggy Flicker.


GLA on Nantucket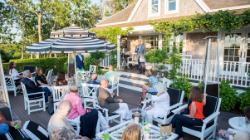 GLA board member emeritus William Bainbridge Steele and Christopher Putnam Drake graciously opened their home for GLA's inaugural event on Nantucket. Special thanks also to GLA grantee Lise Nigrovic, M.D., Harvard Medical School and Boston Children's Hospital, for attending and sharing details of her groundbreaking pediatric Lyme research, and GLA vice chair Debbie Siciliano for her work organizing the event.


GLA at Palm Beach International Equestrian Center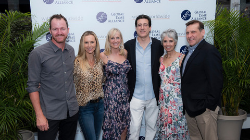 Thanks to GLA board member Erin Walker, her husband Jimmy Walker, as well as the Palm Beach International Equestrian Center, for inviting GLA to host its inaugural event in Palm Beach. This is the first of many events GLA will host in southern Florida.


Teed Off at Lyme
The 2017 golf tournament consisted of 18 holes of golf at beautiful Shuttle Meadow Country Club in Berlin, CT. Lyme warrior Rebecca Tibball spearheaded the event to educate people about the very real dangers of Lyme disease and support GLA's mission. The inaugural event raised more than $34,000. Learn more.


Bite Back Against Lyme
The September 2017 event brought out some 300 runners, walkers and friends and raised more than $14,000. Special thanks to Lyme warrior Heidi Buono for organizing this successful 5k Run/Walk in Albany, NY. See highlights.
Events Benefitting GLA Guidelines & Event Policy
If you are interested in taking on the challenge and responsibility of doing an event similar to those highlighted above, please email us at info@gla.org.
To create your own fundraiser for GLA, click here.