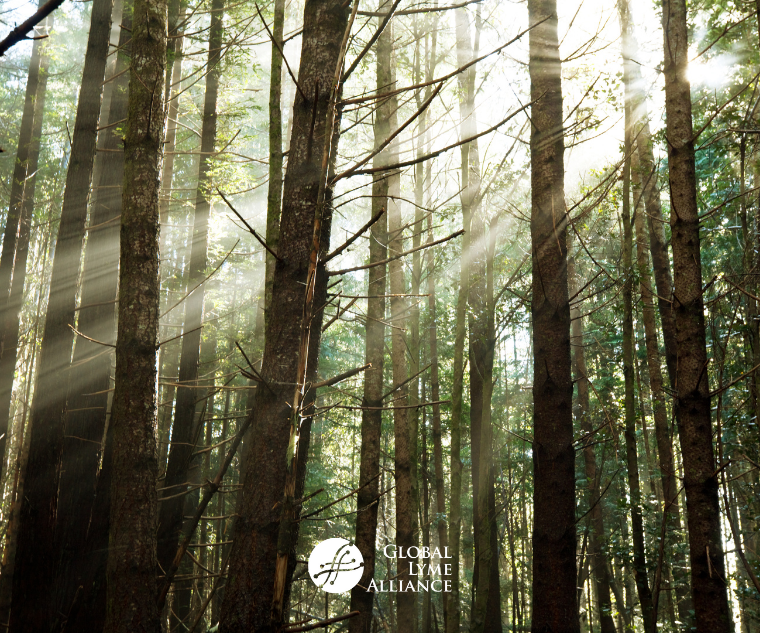 GLA's Director of Research and Science, Dr. Mayla Hsu, discusses findings by Dr. Shannon Delaney, who suggests that
Borrelia miyamotoi
is an infectious trigger for
chronic illness,
closely resembling
Lyme disease.
What do we know about chronic illness following a Lyme disease diagnosis? We know that it occurs in 10-20% of patients treated with the standard of care. This can include persistent or relapsing pain, unremitting fatigue, and brain fog. It's not clear whether it's due to an ongoing immune response against Borrelia burgdorferi, the bacteria that cause Lyme disease, or if an autoimmune process is the reason.
But a new publication suggests that we should also consider a related bacterium called Borrelia miyamotoi as a potential infectious trigger. This bacterium is also spread by tick bites, and the early symptoms of fatigue and headaches are similar to Lyme disease. However, one difference between the two related bacteria is that the early illness caused by B. miyamotoi does not cause a bulls-eye rash. So, clinicians may not suspect a tickborne illness in patients infected by it, and not order a Lyme disease blood test. Even if they do, the blood test for Lyme disease diagnosis detects only antibodies against B. burgdorferi, and not B. miyamotoi.
That's why a B. miyamotoi-infected patient who has some Lyme-like symptoms may not be diagnosed correctly, unless a physician thinks of testing specifically for B. miyamotoi infection. And that patient would miss out on treatment with the antibiotics that are the standard of care, potentially leading to worse symptoms that linger.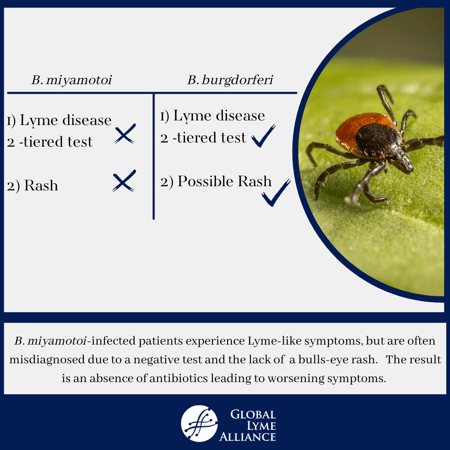 A link between B. miyamotoi and persisting symptoms is suggested by the new study, led by Dr. Shannon Delaney of Columbia University. Dr. Delaney, a GLA grantee, studied 82 patients with suspected tickborne infections and persistent symptoms including fatigue, pain, and neuropsychiatric problems. Symptom duration in these patients ranged from 18 months to 21 years. Patients were asked to fill detailed questionnaires, and their blood samples were screened for B. burgdorferi and B. miyamotoi antibodies.
It was found that 21 of 82 (26%) samples were positive for B. miyamotoi antibodies, demonstrating that these patients had previously been infected by this bacteria. Of the 21 B. miyamotoi seropositive patients, 5 also met the CDC Lyme disease classification criteria. All of the B. miyamotoi-seropositive patients however, were negative for B. burgdorferi antibodies using the C6 ELISA test. Since all study subjects had been previously treated with antibiotics, it was not a surprise to see that these patients were seronegative for B. burgdorferi.
Of the 21 B. miyamotoi seropositive patients, 8 of them (38%) had been previously hospitalized, indicating severe illness. Another clinical finding was the B. miyamotoi antibody-positive patients scored higher for sleepiness and pain than patients with B. burgdorferi antibodies. This suggests that while there is considerable symptom overlap in chronic illness between the two infections, there are some important differences.
Significantly, 80 of the 82 patients (98%) in the study had never been tested for B. miyamotoi, attesting to the widespread lack of awareness of this bacteria. While the prevalence of B. miyamotoi in ticks varies, it's thought to be around 10% that of B. burgdorferi. With 476,000 estimated Lyme disease cases annually in the US, that would suggest a substantial number of cases of B. miyamotoi infection, and testing for it should be routinely included when tickborne disease is suspected in patients.
One limitation to the study is that it could not determine whether a causal association exists between B. miyamotoi and chronic symptoms. Antibodies only tell us that a person has been previously infected by a pathogen. It's not known how long antibodies to B. miyamotoi may be present in infected patients, nor if they disappear when the infection is successfully cleared. Since B. miyamotoi does not cause a noticeable rash, even estimating the beginning of infection, and thus duration, is difficult.
But what is obvious is that physician awareness of B. miyamotoi disease should be increased. Serologic evidence of past exposure to this bacterium was unexpectedly high among these chronically ill patients. Tragically, many had been told that their symptoms were due to psychological stress. It's impossible to avoid speculating whether proper initial diagnosis and adequate immediate treatment could have helped to avert much suffering and anguish. This study illustrates the damage caused by lack of awareness and scientific knowledge, and sharpens the resolve of organizations like GLA to tackle both these problems.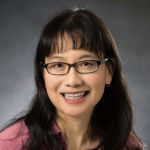 Former Director of Science & Research at Global Lyme Alliance