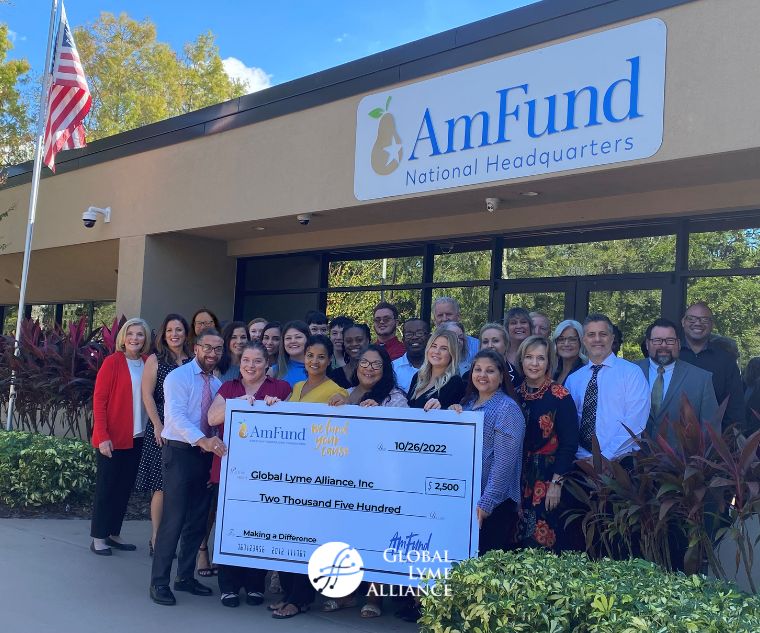 Each year, the American Fundraising Foundation (AmFund) carefully chooses organizations to support through sponsorship of events, year-end grant distribution, virtual silent auctions, and other programs to raise much-needed unrestricted funds for the important mission of those organizations.
The American Fundraising Foundation (AmFund) announced recipients of the 2022 Golden Pear Grants during a live stream on Facebook in a record breaking $250,000 distribution of funds and an additional $100K in-kind donations through its Educational Foundation.
The Global Lyme Alliance was among the organizations selected for an unrestricted grant in the amount of $2,500.
"We are pleased to present the Global Lyme Alliance with a Golden Pear Grant. Their application was very compelling, and their research and education are critically important," said Deborah Marshall, Chief Operating Officer of the American Fundraising Foundation. "We are grateful for all they are doing to make a difference. The Golden Pear is part of our logo and symbolizes good health, prosperity, longevity and future happiness – all the things we hope for them and the many organizations that impact lives daily."
About Global Lyme Alliance
GLA is the leading nonprofit dedicated to conquering Lyme and other tick-borne diseases. GLA's CEO, Laura MacNeill, said, "We are so grateful to the AmFund for choosing GLA. We truly appreciate their support."
About the American Fundraising Foundation
Since its inception in 1999, the American Fundraising Foundation has distributed more than $44 million for worthy causes. AmFund annually donates unrestricted funds known as Golden Pear Grants, to select organizations. Throughout history, even before the written word, the pear has been honored as a sacred fruit signifying wisdom, prosperity, good health, longevity, and future happiness – all the things Amfund seeks for its nonprofit partners.
For more information about AmFund, visit www.amfund.org or call (407) 895-8000. Read AmFund's blog at www.amfund.org/blog and connect on Facebook and LinkedIn.
###
The above material is provided for information purposes only. The material (a) is not nor should be considered, or used as a substitute for, medical advice, diagnosis, or treatment, nor (b) does it necessarily represent endorsement by or an official position of Global Lyme Alliance, Inc. or any of its directors, officers, advisors or volunteers. Advice on the testing, treatment or care of an individual patient should be obtained through consultation with a physician who has examined that patient or is familiar with that patient's medical history.