Insect Repellents
Before hiking, gardening, camping, or just enjoying the outdoors, make tick bite prevention part of your outdoor plans.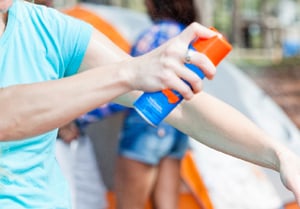 Wearing pre-treated tick repellent clothing is one of the best ways to prevent tick bites. Clothing treated with permethrin, an insecticide that kills ticks on contact, can last for 70 washings. You can also buy permethrin in liquid form and spray it on your clothes. Permethrin has been approved by the U.S. Environmental Protection Agency (EPA) as safe for use on clothing worn by both adults and children. It is not used on skin.
Repellents that contain different concentrations of DEET are available and used most often in the U.S. They are reportedly safe to use on adults and children two months or older, following label instructions.
For those who prefer natural repellents, products that use picaridin and oil of lemon eucalyptus are often used. Both are chemically synthesized ingredients but more similar to natural compounds than DEET.
The EPA is a good source of information on tick repellents in the U.S. The agency publishes a list of mosquito and tick repellents on its website. The EPA has reviewed these repellents for safety and efficacy.
Tick Repellent Clothing Suppliers*
You can purchase pre-treated clothing with the proprietary Insect Shield label or tick repellent products from stores such as:
L.L. Bean
Columbia
ExOfficio Bugs Away
REI
Sawyer
Keeping Ticks Out of Your Yard
CHEMICAL CONTROL. There are numerous products that can be used outdoors to kill ticks. For example, Damminix Tick Tubes consist of cardboard tubes filled with permethrin-treated cotton balls that are placed around property where mice may live (wood piles, stone walls, etc.). Mice collect the cotton to build their nests. When ticks feed on the mice, they are exposed to the chemical and are killed. Damminix tubes are commercially available at garden or hardware stores or even on the internet.
DISCOURAGE DEER. Remove plants that attract deer and construct physical barriers (fence) that may help keep deer from entering your yard and bringing ticks with them. Some communities are experimenting with deer feeders that apply insecticide to the deer as they eat.
Tick traps are also commercially available. Some lawn care companies will spray the perimeter of yards where people most frequently come in contact with deer ticks with an EPA-approved pesticide that is less toxic than in the past.
Preventing Ticks in the Yard
While some people turn to chemical products to keep ticks out of their yards, there are several simple landscaping tips that can reduce tick populations:
Clear tall grass and brush around your house, driveways and edges of your lawn.
Create a buffer. Lay a 3 ft. wide border of tree bark, dry wood chips or gravel between your lawn and wooded areas to decrease the number of ticks that migrate into your yard.
Plant repellents. American beauty berry bushes are not only handsome plants, but the leaves have been shown to repel ticks. Lemongrass, catnip, sage and mint plants are also thought to help repel ticks.
*Products not endorsed by the Global Lyme Alliance.