Got questions about Lyme disease but don't know where to turn? Download this free Understanding Lyme Disease guide for answers.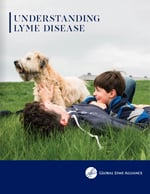 Lyme disease symptoms are wide-ranging, with more than a hundred different symptoms recorded. Lyme disease can mimic other conditions since its symptoms mirror many medical problems such as multiple sclerosis, arthritis, chronic fatigue syndrome or lupus, and is sometimes known as "The Great Imitator" because of this. The Global Lyme Alliance (GLA) is the leading organization funding groundbreaking advances in research, diagnosis and treatment.

We put together this helpful guide to get you the facts you need, including:
About Ticks
Prevention of Lyme Disease
Symptoms and Stages
Diagnosing Lyme
Treatments and Chronic Lyme
Complete the form to download your free Understanding Lyme Disease guide today!