Be Tick AWARE™: Protect yourself and your family from Lyme disease and other tick-borne illnesses.
GLA has partnered with Ranger Ready Repellents® to raise awareness about the importance of wearing an effective and safe tick repellent on exposed skin and clothing before going outdoors. Protect Yourself from ticks with EPA-approved and CDC-recommended Ranger Ready Repellent with Picaridin 20%. Learn more about the partnership.
MAY IS LYME DISEASE AWARENESS MONTH
Ranger Ready will donate 15% of all net product sales of their tick repellent spray in May to Global Lyme Alliance as a part of our #BeTickAWARE prevention campaign. Join us to raise awareness of Lyme disease & prevention importance by sharing a picture with your Ranger Ready Repellent on social media. Let people know that Ranger Ready is donating to GLA & your purchase can help them do that. Be sure to to tag Global Lyme Alliance, Ranger Ready Repellents® and use the hashtag #BeTickAWARE.
THE FACTS
Increased tick activity year-round and in broader geographic regions has resulted in more cases of Lyme and tick-borne illness. New data from the Centers for Disease Control and Prevention (CDC) show that there are an estimated 427,000 new cases of Lyme disease in the U.S. each year. This is an alarming 30% increase from previous years. Further, the number of cases of all tick-borne disease have more than doubled in the last 13 years.
WHY TICK-BITE PREVENTION IS IMPORTANT
Increased tick activity combined with unreliable diagnostics and limited treatment options make diligent tick prevention for the entire family of utmost important. The risk of a tick bite is too great. Even when diagnosed and treated early, up to 20% of people infected with Lyme disease continue to experience debilitating symptoms. For those not diagnosed early, treatment success can vary greatly. With late stage or chronic Lyme disease, the bacteria can affect multiple organ system, joints, the heart, the brain, and parts of the central nervous system.
HOW TO BE TICK AWARE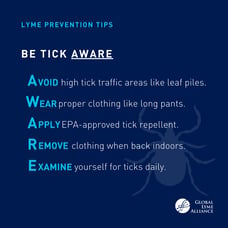 AVOID areas where ticks live. Ticks thrive in wood piles, long grass, leaf piles, and beach grass.
WEAR light-colored clothing: long pants, sleeves, socks, and closed-toe shoes.
APPLY EPA-approved tick repellent to skin and insecticide to clothing and shoes as directed.
REMOVE clothing upon entering the home; toss into dryer at a high temperature for 10-15 minutes.
EXAMINE yourself and your pets for ticks daily. Check everywhere — ticks love to hide!
DON'T LET A TICK GET YOU SICK
Tick bite prevention for the entire family year-round is key. Body worn tick repellents serve as the first line of defense to prevent tick bites. When choosing a tick repellent, select an EPA approved active ingredient such as Picaridin 20%, which is highly effective against ticks and can be safely worn by adults and children. For more information about practicing effective tick prevention, click here.
---
The partnership between Global Lyme Alliance and Ranger Ready does not represent an endorsement of the products.