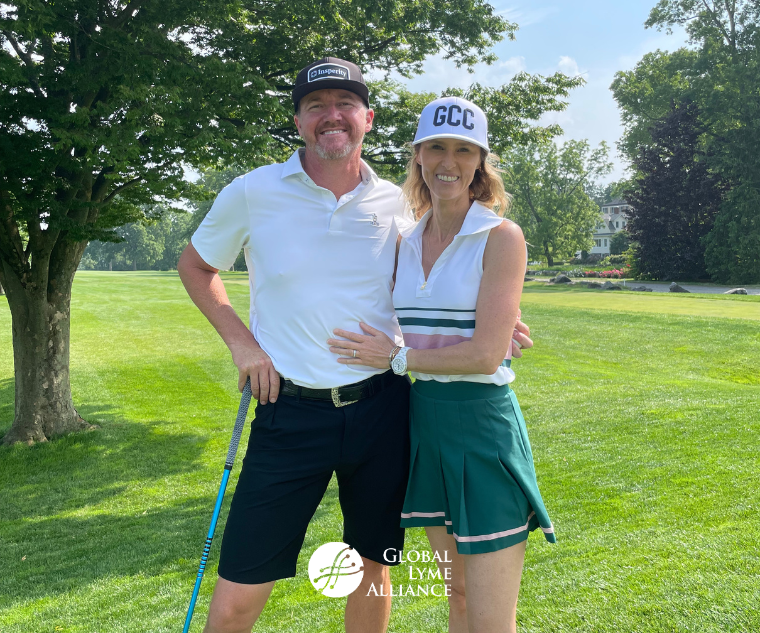 The 2nd Annual Global Lyme Alliance (GLA) Charity Golf Tournament took place on Monday, June 12, 2023, at Greenwich Country Club in Greenwich, Connecticut. Golf pro and former PGA Champion Jimmy Walker served as the Honorary Chair. Walker and his wife Erin, a GLA Board Member, are passionate advocates in the fight against Lyme, as they have both overcome the disease.
The event included lunch, 18 holes on the golf course, dinner, an auction, and an awards ceremony. Erin and Jimmy graciously took the time to mingle with the golfers on the course, providing a chance to chat and tee off at hole 14! Their presence added an extra layer of excitement and inspiration to the event. During the dinner portion, GLA CEO Laura MacNeill expressed her gratitude towards all the participants and contributors who helped make the event a phenomenal success. Jimmy's powerful story of resilience and determination to overcome Lyme disease moved everyone in the room, inspiring a shared commitment towards GLA's mission to eradicate tick-borne illnesses.
The 2nd Annual Charity Golf Tournament at Greenwich Country Club proved to be a huge success, raising a remarkable $215,000 for GLA. This invaluable contribution will help support the GLA's mission to find a cure for Lyme disease and other tick-borne illnesses, through innovative research, awareness, and empowering the patient voice. The highlight of the evening was a live auction, an unbeatable opportunity to play a round of golf with Jimmy Walker at a course of your choosing - a once-in-a-lifetime experience that had attendees buzzing with excitement.
A big thank you goes out to GLA Vice Chair, Charles Balducci, for leading the charge in making this event a tremendous success!
Sincere thanks to GLA Event Committee members: Charles Balducci, Golf Chair, Jimmy Walker, Honorary Event Chair, Dean Allen, Rose Anastasio, Chris Corrinet, Nancy Del Genio, Jack Franke, Brett Hickey, Brett and Mark Kristoff, Dana and Malcolm McAvity and Erin Walker.
Special thanks to the following individuals and businesses for their incredible support of this year's tournament: Charles Balducci and The Snyder Balducci Group at Merrill Lynch, Chris Corrinet/CBRE, Nancy Del Genio, The Franke Family, Brett Hickey/Star Mountain Capital, The Kristoff Family and The McAvity Family, Connecticut Tick Control, Tick Box Technology Corp., RX Sugar, Omni-Biotic, Ranger Ready Repellents, and Insect Shield.
There is an urgent need for greater awareness, better testing, and treatment options to support the millions living with this devastating illness worldwide. Research supported by Global Lyme Alliance provides answers to these complex problems while spreading awareness and helping patients. GLA's mission to cure Lyme and other tick-borne diseases through innovative research, awareness, and empowering the patient voice. GLA extends heartfelt gratitude to all the participants for their unwavering support towards our mission to eradicate tick-borne illnesses. Together, we can make a difference and bring hope to millions of lives affected by this debilitating disease.
We'll be back next year! Mark your calendars for the 3rd Annual Global Lyme Alliance Charity Golf Tournament at Greenwich Country Club in June of 2024.
***
Stay in touch for event updates and the latest news: