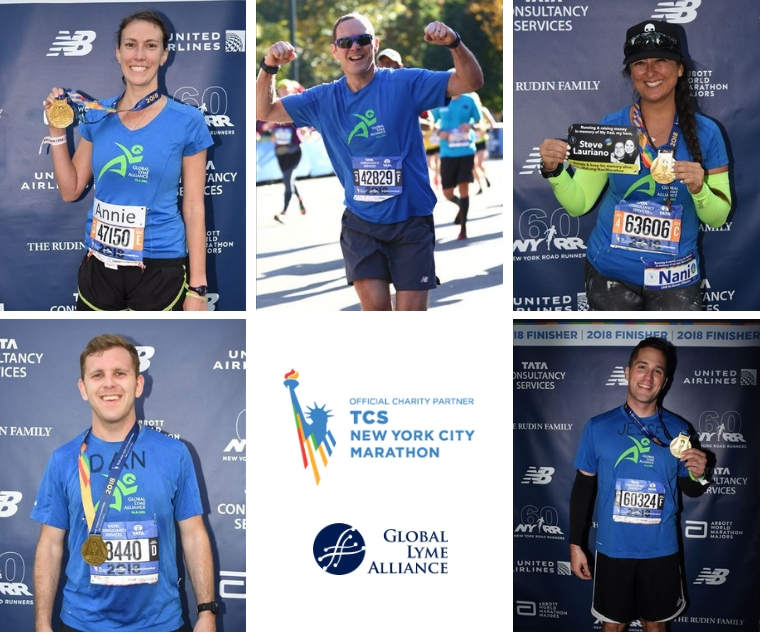 Completing the TCS New York City Marathon, all 26.2 miles of it, is an amazing feat for anyone, let alone for those who suffer from Lyme. Yet last month, five Lyme warriors did exactly that, running that grueling course to help raise funds for Global Lyme Alliance (GLA).
Recently we caught up with the five members of GLA's first official charity partnership team— Annie Cunningham of Denver, Colorado, Thor Kirleis of North Reading, Massachusetts, Nani Luculescu of Los Alamitos, California, Dan Gautreau, of Brooklyn, NY, and Team Captain Jesse Ruben, also of Brooklyn. Each teammate has been afflicted by Lyme in one way or another, sadly confirming what we all know about the growing threat of this disease. We asked them to reflect on Team GLA and their marathon experience. Here's what they had to say.
Dan Gautreau, along with three other team members, has sadly experienced Lyme firsthand. Dan ran an astonishing time of 3:30:58. He found strength in the team's unity. "Running in the 2018 NYC Marathon on behalf of GLA," Dan said, "was a truly inspirational experience! I could not be prouder of what we accomplished as a team." He also admitted to counting on the city's spectators for those moments when his illness interfered, and his stamina flagged. "The city was thriving with support and energy. It really was an amazing experience."
Team GLA's Thor Kirleis followed Dan across the finish line, completing his 114th marathon in 3:37:14. "Beating Lyme is my cause," said Thor. Through his race, he says, he wanted to show Lyme patients that getting through the day is not always mind over matter. He went into race day hoping that his physical strength would match his mental fortitude but anticipated a Lyme flare up. "I thought I would have to walk the entire course because of how Lyme robbed me of the ability to run," Thor said. But I was able to cobble together 10 training runs, and on race day Lyme didn't stand in my way. I went on to have a great race."
In the weeks since the marathon, Thor is still savoring the experience. "It was so special to me to feel like an athlete again and to have at least one more day of living without the limitations of Lyme. I felt like I was on cloud nine," he said. He hopes that feeling will last, and on behalf of his teammates, shared that "we all want it to last." On his long car ride back home to Boston, Thor said: "I came away with renewed motivation to continue to battle this disease." When asked if he is considering running again in 2019, our Lyme warrior exclaimed, "I will be back. We will all be back."
Annie Cunningham echoed Thor's sentiments when asked if she would run consider participating in the marathon again. "Heck yeah," she said. While running is usually considered an individualized sport, she realized that being a part of Team GLA was quite the opposite. Lyme disease can feel isolating but running with those who have suffered as she has helped her to a 4:50:00 finish. "My teammates understood my struggles and supported me," she said. While Annie could be seen with a smile on her face throughout the marathon, she faced some adversity at Mile 17 when her feet started to hurt. "Nine [more] miles are a long way to go when your legs begin to cramp. I knew that I could slow down but I didn't want to stop. I just took it one mile at a time, keeping my head up to enjoy the sights and the cheers from the fans." Post-race, Annie experienced a unique form of a runner's high: she felt less inflamed than usual. Although she felt sore, "it's a good sore," she assured us. Annie found the race to be physically, mentally, and emotionally beneficial. Like her friend Thor, "I have hope too," said Team GLA's top fundraiser.
One team member, Nani Luculescu, experienced a struggle no family member should have to go through. Nani lost her father to Lyme-induced ALS several years ago and ran the marathon in his honor. "I never want anyone to have to suffer the way he did," she said. While crossing a marathon finish line is something only 1% of people get to do, to Nani it meant knowing she had made a difference. On finishing, she said: "I couldn't hold back the tears! My dad would be so proud of me for making it to the finish line and raising over $5000 for Global Lyme Alliance all by myself." After Nani crossed the finish line, she put on her cheerleader hat to applaud the final marathon finishers. "I can't get enough of this," she said. "I don't want it to end!" The 2018 TCS New York City Marathon is the first of many to come for this spirited teammate; Nani plans to run for Team GLA next year. "When can I sign up?" She asked, thanking GLA for "an amazing opportunity."
As Team Captain Jesse Ruben said: "It was so special for me to represent the Lyme disease community while running through all five boroughs of New York City. What a beautiful, incredible day." An integral part of Team GLA, Ruben provided support to his teammates after unofficially running the marathon for Global Lyme Alliance in the past. We asked Jesse how he would feel about returning next year. "I am going to do it every year forever," he said.
Collectively, Team GLA raised over $21,000 to eradicate Lyme and help those who are suffering. Please join with us in congratulating our phenomenal team. Perhaps Jesse said it best: "I hope that running the TCS New York City Marathon shows all those struggling with Lyme that you can get better. You can do it, too."
RACE HIGHLIGHTS
---
Interested in joining Team GLA? There are a variety of events you can pursue. Contact events@GLA.org for an opportunity near you.