Reprinted with the permission of itslyme.com
#MyLymeLife
My Lyme disease story starts two years ago.
At 27 I was fully devoted to my career and would blow off steam from a long day's work at a kickboxing class 2-3 times a week. It felt good to release negative energy after a stressful day. But in April 2015, I started missing regular workouts because I just couldn't shake the flu. I had a scratchy throat, mild fever, swollen lymph nodes, muscle aches as well as sudden bouts of vertigo. This would come and go for a few days at a time but I would never actually get sick.
As the months dragged on my health did not improve and my energy was dropping. I couldn't stay late at work when my job demanded it and would limit social engagements. I felt like my body was telling me, "You're not getting enough XYZ!!". If only I could figure out what XYZ was – surely I'd feel better. My new family doctor, a female, thought I was being dramatic and ordered some routine blood tests and a physical exam to quell my fears. It turned out I was deficient in Vitamin D, a common ailment in our cold Canadian climate. I started taking a supplement and carried protein bars since I was also borderline hypoglycemic. Years later I would find out that reactive hypoglycemia is common in Lyme-MSIDS (Multiple Systemic Infectious Disease Syndrome) patients (Horowitz, 2017).
My bloodwork had come back with a positive Mono-spot test.
Despite my Vitamin D levels increasing and eating smaller, more frequent meals I still didn't feel like myself, so I kept at it. After a few more rounds of blood work and months later, my family doctor called to say she had some results. My blood work had come back with a positive Mono-spot test. Little did I know, my positive Mono test and host of seemingly unrelated symptoms was a hint at something larger and much more dangerous. Many of us carry viral infections without knowing it and being infected with Lyme disease (and other co-infections) can cause a reactivation. Epstein-Barr is one of the most commonly reactivated viruses. (Horowitz, 2017)
I took about a month off work to recover from Mono. This would help subdue my dizziness but my health would continue to decline over the next nine months. When my symptoms were at their worst, my exhaustion would result in difficulty walking or standing for more than a few minutes. This would later be diagnosed as POTS (Postural Orthostatic Tachycardia Syndrome) which is a form of autonomic nervous system dysfunction. It explained my uncontrolled blood pressure, dizziness especially after standing, brain fog and some of my digestive issues.
My family doctor was tired of listening to my complaints and ran out of specialists to send me to (six in total). Blood tests, MRIs on both my brain and stomach, neurological exams, echocardiograms, Holter monitors and plenty of EKGs – all came back fine. I also investigated other options including the Mayo Clinic, which turned me down. Best Doctors, a second-opinion medical service available through my insurance, diagnosed me with Somatization disorder (it's all in your head disorder). The only hints in my bloodwork were a consistently raised ANA (anti-nuclear antibodies), elevated liver enzymes and deficiencies in B12, Zinc and Vitamin D, suggesting my body was over-worked and fighting an unknown intruder.
It had taken nearly two years to receive a proper diagnosis for the many symptoms that ailed me
In the fall of 2016, I decided to see a Naturopath and she wanted us to take Lyme Disease seriously, despite the fact I had tested negative multiple times through the provincial testing protocol in Canada (which is famously unreliable). I sent my blood away to California (IGeneX labs). My result was positive for Lyme Disease and Ehrlichiosis (caused by various types of Ehrlichia formerly called HME, human monocytic ehrlichiosis; the severity of the disease can range from mild to life-threatening. It had taken nearly two years to receive a proper diagnosis for the many symptoms that ailed me, but it made so much sense when I began to educate myself. My body had been under attack and was crumbling under the pressure. Due to the prolonged emotional and physical stress of those two years, my adrenal system was extremely fatigued, further worsening my sleep, hypoglycemia, and energy. After starting treatment with a Lyme-literate doctor I was also clinically diagnosed with Babesia and Mast-Cell Activation Disorder.
If it wasn't for my Naturopath I don't know where I'd be today. I hope that by telling my story someone else will be saved the pain I was caused by Doctors and Specialists who brushed me off and misinformed me about Lyme Disease. Always listen to your body and trust your instincts. Keep searching until you find the answers you deserve.
Chelsea's Symptom Breakdown:
First onset symptoms: Dizziness, vertigo, lightheadedness, fatigue, feeling 'rundown', sore throats, migraine aura, swollen lymph-nodes, hypoglycemia
Recall tick bite/bullseye rash? No; possible rash
Chronic Lyme disease symptoms: Extreme fatigue, insomnia, POTS, low-grade fever, poor circulation, brain fog, stumbled walk, muscle aches, sore throats, inflamed gums, migraine aura, heart palpitations, heart block, heart murmur, low BP/high BP, difficulty breathing/shortness of breath, stiff joints, heightened anxiety, phantom sounds (between sleep and awake), difficulty remembering common words
Diagnosis before Lyme disease: Mononucleosis, B12 deficiency, Somatization disorder, anxiety
Lyme Disease and co-infections diagnosed by: Blood test through multiple labs in the USA (IGeneX and MDL) as well as clinically with a Naturopath, also receiving treatment for adrenal fatigue, mast cell infection, and Babesia.
---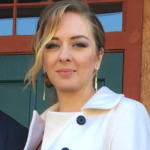 Chelsea is the creator of itslyme.com. Chelsea's treatment is ongoing and she looks forward to returning to work in the coming months. She is hopeful for a 90-100% recovery and thankful to the Lyme community for the support she's received.
References
Horowitz, R. I. (2017). How Can I Get Better? New York: St. Martin's Press.