By Kelly Gibson
Reprinted with the permission of itslyme.com
#MyLymeLife
With modeling, I was on my feet 8-12 hours a day on jobs or running from casting to casting, and was under severe pressure from my agents to look a certain way. I quickly began having symptoms again…
As an active kid growing up in New England, I was often playing outdoors behind our house, in parks, and on the soccer field. One morning in 2003, at age 10, I woke up at my aunt's home in New Hampshire with a sore spot on the back of my head. I couldn't remember bumping it, and it didn't hurt enough to mention that day. Two days later, my head was still sore. My aunt took a look, and noticed there was a tick embedded just above my hairline. The tick was extracted with a pair of tweezers, and nothing else was done.
For the most part from age 10-14, I was a normal, healthy kid. I hardly caught colds, and besides a broken arm or visiting my RN mother at work, I was rarely in hospitals. At age 14, I attended my first "Snow Ball", our version of prom. About 40 minutes in, I had a nosebleed, blacked out, and then subsequently began vomiting. I was then taken home by a family friend, as it appeared as though I had been drinking – I had not. Having no other symptoms in the days following, no other treatment was sought.
At age 15, in addition to dance classes three nights a week, I decided to join the track team. During three out of my first five practices, I blacked out and vomited. I was taken to a family doctor, who diagnosed me with a "sodium deficiency" as all my blood tests came back normal, but my sodium levels were slightly on the low side. The treatment? Eat more pepperoni and ramen noodles before track.
At age 17, I had started my senior year and had taken on a lot as Peer Leaders President, Student Council Vice President, Key Club Member, a High Honors student with two AP classes, and attending dance classes four nights a week after school. In November, I had suddenly felt weak after school one day. I called my dance studio to let them know I would not be coming, and instead went home and got into bed. I did not get out of bed for one week due to exhaustion, sore throat, weakness, dizziness, and headaches. When I decided to return to school the following week, I ended up blacking out and vomiting again. I was taken to the hospital to have tests done and an IV of fluids. All of my blood tests came back normal, with the exception of a mildly positive Epstein Barr Virus test. So when the speculation came down to anorexia, depression, attention seeking or EBV… EBV it was.
I had even more symptoms added into the mix… inability to stand for more than a few minutes without fainting…being the most compromising living in New York.
I was allowed to do the majority of the remainder of my senior year working from home and by graduation I had been feeling much better and therefore decided to continue with my plans to move to NYC for college the following autumn. As fun and exciting as NYC was, my health quickly declined- nausea, vomiting, dizziness, and headaches returned along with one new symptom: joint pain. When I was home for winter break, I was taken to doctors again for another round of testing. This time, the word "Lyme" had been mentioned. Sure enough, my Lyme disease test came back positive and I was immediately put on two months of Doxycycline. I began to feel much better, and more like my normal self. So much so, that I took it to the extreme and decided it would be wise to enter myself into the New York party scene. I did this for six months, and have never fully recovered.
By the time I saw Chronic Lyme Disease Researcher + Specialist, Dr. Kenneth B. Liegner in 2012, I had even more symptoms added into the mix: tremors, brain fog, muscle twitching, depression, and the inability to stand for more than a few minutes without fainting. The latter being the most compromising living in New York. After an additional positive Lyme test, as well as positive tests for Babesiosis and arthritis, Dr. Liegner started me on continuous oral antibiotics (I haven't stopped taking them since), and a few months later an 8-week stint of IV Rocephin. Both treatments had me feeling back to (almost) normal. I then chose another industry which was detrimental to my health: modeling.
With modeling, I was on my feet 8-12 hours a day on jobs or running from casting to casting, and was under severe pressure to look a certain way. I quickly began having symptoms again but was determined and thus continued to work. After two years, I was back needing to receive IV's again & began seeing a new Lyme specialist closer to my parent's home. Dr. Richard J. Dubocq did everything in his power to allow me to continue my modeling dreams. He understood I was going to do it anyway, so he might as well help me to accomplish it! He began to not only treat me with oral antibiotics but also with other medications to help with the symptoms I was experiencing. I began to feel better again, but with the physicality of working both in NY and Europe, I need another boost of IV antibiotics and another six-month rest before returning to modeling again.
I lasted 8 more months. During the February fashion week of 2015, my neuropathic symptoms got so bad that by the end of six days of shows, I had trouble walking, difficulty finding words, insomnia, minimal short term memory, and had a droop on one side of my face. This led me to once again, return home for rest and treatment. I finally decided enough was enough, and quit modeling for good. Six months later, I felt well enough on my oral antibiotics to begin working again. I took a part time job as a front desk associate at a spa near my apartment. As I began to improve and take on more, I had the ability to move up throught the company. Two years later I am the spa director for the location working 45-50 hours a week, and feel well enough to take a couple dance and fitness classes per month.
I still have symptoms, but am able to manage them and live a pretty full life, even though it is not the life I intended to have. After having Chronic Lyme Disease for fourteen years, and only being treated with antibiotics for the last seven, I will most likely never be "normal" again, but I am proud of myself and so thankful to my family, friends, and doctors for getting me this far.
Kelly's Symptom Breakdown:
First onset Lyme symptoms: Dizziness, fatigue, severe headaches, sore throat, vomiting, blackouts.
Recall tick bite/bullseye rash: yes; not that I know of.
Diagnosis before Lyme disease: Sodium Deficiency, Epstein Barr Virus
Chronic Lyme disease symptoms: Headaches, extreme fatigue, facial paralysis, tingling sensations, stuff neck, swollen glands, sore throat, twitching of muscles, eye floaters, extreme menstrual symptoms, buzzing in ears, nausea, vomiting, night sweats, costochondritis, shortness of breath, mood swings, depression, anxiety, numbness in body, stabbing sensations in legs, weakness, tremors, difficulty walking, difficult finding words and forming sentences, forgetfulness, memory loss, and rashes.
Lyme disease & co-infections diagnosed by: Persistent symptoms, Western Blot blood test.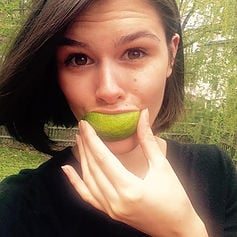 Kelly is still being treated with oral antibiotics for Chronic Lyme, Babesiosis, and Bartonella, but hopes to soon be able to decrease antibiotics and supplement with herbal and homeopathic remedies.