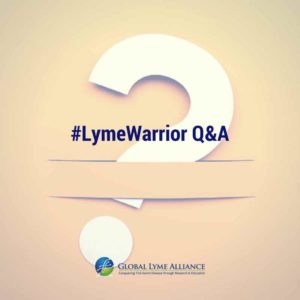 by Jennifer Crystal
Every couple of months, Lyme Warrior Jennifer Crystal will devote a column to answering your questions. Here are her answers to some frequently asked questions she has recently received.
Do you have a question for Jennifer? Email her at jennifercrystalwriter@gmail.com.
How long did it take for you to get better?
I wish I could give a magic answer to this question. Unfortunately, every case of tick- borne illness is different. It depends whether you have co-infections, whether the illnesses have crossed the blood-brain barrier, how long you went undiagnosed, and how well you respond to treatment. I went undiagnosed for eight years, and Lyme had crossed into my central nervous system. I also had Babesia, Bartonella, and Ehrlichia. For me, it took a year of intravenous antibiotics, as well as oral anti-malarial medication. I suffered a serious relapse a few months after stopping medication, and it took another couple years of oral treatment to battle back into remission. I have been steadily improving since then. In 2007 I was bedridden and hopeless. By 2008 I was living independently and freelance writing; by 2011 I moved to Boston and attended graduate school full-time; by 2014 I finished school and published my first book. Now I am writing, teaching, skiing, paddle boarding, recumbent biking, canoeing, socializing and living a great life with moderate limitations. I am still on a low-dose antibiotic as well as many homeopathic remedies and supplements. My health is continually improving. I don't know how long it will take for you to get better, but I can tell you that there is hope.
What medicine and/or supplements did you take?
Because every case of tick-borne illness is different and individualized responses to treatment vary, it won't help for me to tell you about my specific protocol. I can tell you that for me, a blend of Western and Eastern modalities did the trick. I combined antibiotics and antimalarial medications with supplements that replenished the nutrients depleted by Lyme. Sticking to a gluten-free, sugar-free diet has also been helpful, as have complementary therapies such as integrative manual therapy, neurofeedback, cognitive behavioral therapy and talk therapy. I recommend taking a holistic, full-body-and-mind approach to your illness.
How do you deal with people who don't "get it"? My spouse/parent/friend thinks I'm just depressed and lazy.
This is a tough one, and one I really understand. It's so frustrating to not only feel sick, but then to have people question the validity of your symptoms! I wish people could look inside our bodies and brains and see the damage spirochetes cause. It's much easier for someone with a broken arm to receive sympathy, because the injury is visible. It's also easier for patients of better-known illnesses like cancer to get the support they need, because everyone has a sense of how devastating and life-threatening cancer can be.
My first line of advice is to ignore the naysayers. No one knows your body better than you. You know what it feels like to be healthy and you know when you are sick. Seek out people who understand, or who can at least offer compassion and validation. Some patients find this in local or online support groups. Some find it by emailing me or other people on the winning end of this battle. I have found it in my friends who have supported and believed in me no matter what.
I recommend a few ways to try to bridge gaps in understanding. One way is to show your spouse/friend/parent/caregiver some of the blogs on this site, so they can read about the personal experience of Lyme disease. You might have them read some of the books that help to explain the disease. See if there is a Lyme conference near you, and ask someone you love to go with you or attend if you are unable to do so. All of these methods helped in my case, and I'm grateful for the support and understanding I now have.
Do you have any communication strategies?
One way might be to watch a documentary (such as "Under Our Skin") together with the person who doesn't seem to get it, so you can discuss it together. Another suggestion is to write a letter telling your loved one how you feel. Sometimes it's hard to express ourselves orally, especially since we can be interrupted in conversation. Writing will allow you to organize your thoughts and get them all out on paper which, as Henry Miller said, is like "getting the poison out." Use "I" statements, such as "I feel," and try to really describe exactly what is going on inside your body. I like to think of the children's serial "The Magic School Bus" in which a class of students embarks on field trips to places like the solar system, the ocean floor and the human body. If a Magic School Bus was driving through your body or brain, what would it see? Touch? Feel?
As Maya Angelou said, "through writing, the 'I' becomes 'we'." Writing has certainly helped me not only to heal myself but to promote understanding among others, and I hope it can be a useful tool for you, too.
---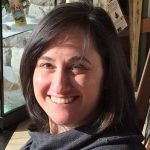 Opinions expressed by contributors are their own.
Jennifer Crystal is a writer and educator in Boston. She is working on a memoir about her journey with chronic tick borne illness. Contact her at jennifercrystalwriter@gmail.com