HIGHLIGHTS FROM GLA'S 2019 LYME DISEASE RESEARCH SYMPOSIUM WITH TOP LYME RESEARCHERS
by Mayla Hsu, Ph.D., Director of Research and Science, GLA
(pictured: GLA grantee Dr. John Aucott, GLA's Dr. Mayla Hsu, GLA SAB members Drs. Mark Soloski and Utpal Pal)
Earlier this month, Global Lyme Alliance held its 9th annual research symposium, with an invitation-only forum which welcomed scientists from its Scientific Advisory Board (SAB) and grantees. These researchers came from around the US and sought to contribute scientific guidance and perspective in identifying areas of future research opportunities.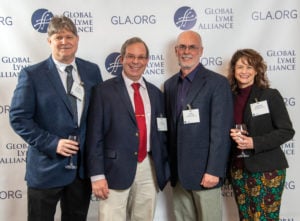 As in previous years an exciting series of oral and poster presentations focused on patient diagnostics, particularly in the areas of direct detection of pathogens. However, this year also featured informative exchanges about patient biomarkers and systems-oriented approaches such as metabolomics and comprehensive immunological profiling. Host genetics, bacterial genetic subtypes, microbiome, and the contribution of precision-oriented pathogenesis studies were also aired. The latter were aimed at answering the persistent question of why some patients are cured after initial treatment, while others continue to suffer for years. Diverse in scope, this research illustrates the breadth of science to which GLA is committed.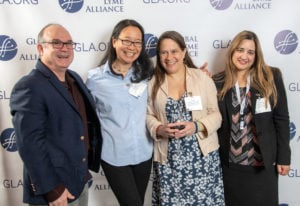 Many patients with long-term Lyme disease suffer from neuropsychiatric disorders, which are poorly understood. These patients and their diagnoses were discussed, with images from PET scans showing abnormal neurological inflammation and activity. Mechanistic studies of cognitive dysfunctions and neuroimmunology were also aired. Other exchanges included the basic science of antigen processing and presentation, during the initial stages of Borrelia infection, immune responses to Babesia, and dissections of the pathology caused by tick-borne pathogens at the genetic level.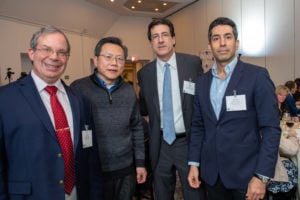 An exciting series of talks were given by five young scientists, who are the recipients of the Mark and Deborah Blackman-GLA Postdoctoral Fellowships in bacterial persistence and host evasion. Their presentations covered a variety of subjects. For example, they identified Borrelia genes essential for bacterial replication and dissemination, metabolic changes during the cellular change to persister bacterial growth, and interactions with the host immune system. Their progress showed how support of young scientists during a formative time in their professional development is critical in the development of a pipeline of trained research professionals.
In sum, the symposium was an exchange of scientific ideas, camaraderie, and mentoring. High-level science was discussed in a collegial, relaxed setting. GLA thanks all researchers and SAB members for joining us, and we look forward to ongoing research findings.