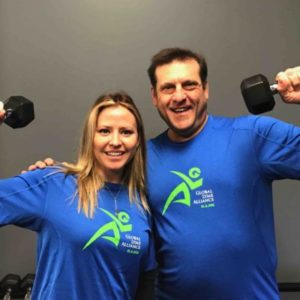 by Scott Santarella, CEO, Global Lyme Alliance
pictured here with GLA teammate, Lindsy Brophy
I need your support for Team GLA and Tough Mudder
On Sunday, July 23rd I will Captain the Global Lyme Alliance Tough Mudder team in Bethpage, Long Island, raising funds and awareness to support GLA's efforts to eradicate Lyme disease. Part of my incentive to take on the challenge of the Tough Mudder was to support the tens of thousands of patients who struggle each day dealing with the insidiousness of Lyme disease, and as an excuse for me to get my you-know-what into shape!
Getting Ready
I went so far as to exercise on LIVE TV! That alone should tell you how important this is to me. If you want a laugh, check me out on this Good Day New York segment promoting GLA and our team.
How You Can Help
You've witnessed me crawl, jump, and try to catch my breath – now it's your turn to help.
To make a donation to support me and Team GLA, CLICK HERE.
To be part of the fun by joining Team GLA or participate in a Tough Mudder anywhere in the county on behalf of GLA, CLICK HERE.
Thank you all in advance for your consideration of support and I will report back on how sore I am with photos of me full of mud on July 24th!