Global Lyme Alliance's (GLA) Lyme Education Ambassador Program (LEAP) has been busy since it began in August 2018, thanks to a growing team of dedicated volunteer Ambassadors
Working together to spread awareness drives change. This is especially true when it comes to GLA's education Ambassadors sharing information about tick bite prevention and Lyme disease detection and awareness with members of the community. The more we share these important messages, the more we will prevent future cases and help those currently living with the disease.
GLA is extremely appreciative of our Ambassadors; a team of trained volunteers who proactively go out into their communities raise awareness about Lyme disease. They present to a range of groups, including elementary, middle, and high schools, college students, medical students, senior centers, public libraries, health and wellness fairs, corporate wellness events, and more. As Sara Tyghter, GLA's Director of Education and Outreach puts it, "our education Ambassadors play an important role in strengthening our efforts to protect people from this insidious disease."
Here's what some of our Ambassadors have been up to …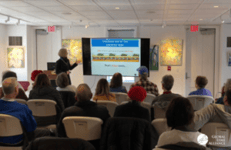 Rika Keck, FDN-P, ACN, CMTA held an event called "Ticks 101: How to Prevent Lyme Disease" at a local Connecticut library in early March. She covered tick bite prevention, how to protect yourself, your family and pets, and addressed common myths about ticks and Lyme disease. Rika shared that "It was a great turnout Everyone in the audience knew someone with Lyme disease." Rika's next educational program will be at the New Milford Public Library on April 11, 2020.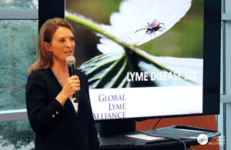 Sarah Maxwell, a professor at University of Texas at Dallas, presented "Lyme Disease 101: Risks and Prevention" to a standing room only crowd of 180 medical students. It's great to see the high level of interest in the topic of ticks and Lyme disease by an audience of medical students, especially in the state of Texas. Educating future healthcare providers is a key element of helping future generations of patients.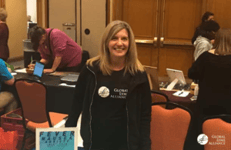 Lauren Lee, RN had a table at a local Health and Wellness fair in Jacksonville, Florida in January. She wrote "Providing lots of education and having fun networking!" Fairs and events like this are a wonderful venue to share information about Lyme disease as it may be the first opportunity for many of the attendees to learn about the disease and how to protect themselves.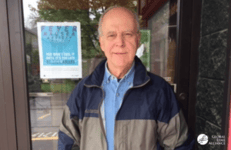 Bill Beesmer held an educational event at his local high school in Greene County, New York in early March. He used our curriculum for teachers and workbooks for students in order to provide interactive learning. Bill's next educational program will be at the Hurley Reformed Church on April 2, 2020. The discussion will include information about Lyme disease and other tick-borne illnesses and tick bite prevention. Joining him are speakers Kenneth Bock, M.D., of Bock Integrative Medicine, and Mayla Hsu, Ph.D., Director of Research & Science, GLA.
Mark Liberto held two presentations at Clarion University in Clarion, Pennsylvania in early March. He educated over 200 students in two separate classes; the first was comprised of freshman biology majors, the second was a general audience of students about Lyme disease and tick bite prevention.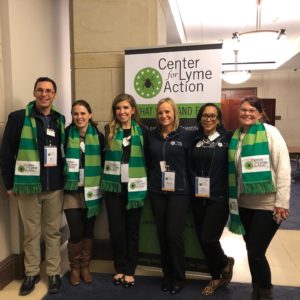 In February, Sara Tyghter was joined by Ambassadors Mark Liberto, Melinda Sander, and Jen Kenley for the Center for Lyme Action Network Fly-In in DC. Sara wrote "we all had the opportunity to meet with our state representatives to lobby for funding to support the Kay Hagan Tick Act Bill."
You can help educate the community too!
If you are interested in becoming an Ambassador, click here to learn more. We are always looking for dedicated people who are engaged, energetic, and passionate about spreading awareness and educating people about Lyme and other tick-borne diseases. As a GLA Ambassador you will make a difference in the community and help us achieve our mission. It's time to take a LEAP for prevention!