MEET THE RESEARCHER IS A BLOG SERIES TO INTRODUCE GLA-FUNDED LYME DISEASE RESEARCHERS MAKING A DIFFERENCE IN THE FIGHT AGAINST LYME DISEASE.
---
#MEETTHERESEARCHER
NAME: Catherine Brissette, Ph.D.
TITLE: Associate Professor, Biomedical Sciences
INSTITUTION: University of North Dakota
Catherine (Cat) Brissette received her B.S. degree in Zoology from Louisiana State University, her M.S. with Dr. Paula Fives-Taylor at the University of Vermont, and her Ph.D. from the University of Washington for her work with Dr. Sheila Lukehart on interactions of oral spirochetes with the gingival epithelium. She continued work with spirochetes as a postdoc with Dr. Brian Stevenson at the University of Kentucky, where she switched to the Lyme disease spirochete Borrelia burgdorferi. Her work with Dr. Stevenson involved studies of outer surface adhesions and regulation of virulence factors. Cat accepted a faculty position at the University of North Dakota in the Department of Microbiology and Immunology (now part of Biomedical Sciences), where she continues her work with pathogenic Borrelia species. Her lab is particularly interested in understanding why B. burgdorferi has a tropism for the central nervous system; that is, why the B.burgdorferi's surface proteins interact with the hosts' extracellular matrix, cells, and components of the immune system, and the regulatory mechanisms controlling the expression of these infection-associated proteins.
Dr. Brissette is also a member of GLA's esteemed Scientific Advisory Board.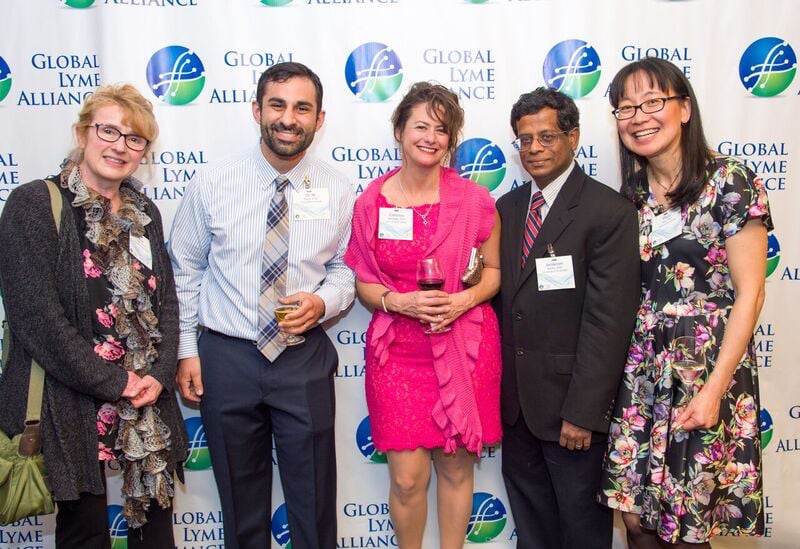 GLA: WHAT MOTIVATED YOU TO FOCUS ON LYME AND TICK-BORNE DISEASE RESEARCH?
CB: My Ph.D. work involved a different kind of spirochete (one involved in periodontal disease); the challenge of working with a different pathogen (the agent of Lyme disease) was exciting.
GLA: WHAT ARE YOU WORKING ON NOW?
CB: We are working on several different aspects of neurological Lyme disease. More specifically, how the bacteria gets into the central nervous system in the first place, how the immune system responds, and how the bacteria adapt to that pressure. We have recently demonstrated that aspects of B. burgdorferi meningeal infections can be modeled in laboratory mice, which opens up a lot of research avenues. In particular, we are interested in the behavioral changes that occur as a result of meningeal infection. For instance, anxiety and memory problems are often reported by Lyme patients, particularly in people with long-term disease or Post-Treatment Lyme Disease Syndrome, and we want to understand how the Lyme disease bacterium and the host immune system contribute to these devastating symptoms. Having a small animal model allows us to more easily test potential treatments and interventions in the lab, prior to testing in people.
GLA: ARE YOU CONFIDENT WE WILL FIND A CURE?
CB: Absolutely. Lyme researchers, like Lyme patients, are tenacious and persistent. We won't stop.
GLA-FUNDED RESEARCH GRANTS WITH DR. BRISSETTE INCLUDE:
"Adverse outcomes in gestation as a consequence of immune responses to B. burgdorferi infection during pregnancy" (2017-18)
"Control of Bb DNA expression" (2016-17)
PUBLICATIONS RE: NEUROBORRELIOSIS
Divan, A., Casselli, T.,Narayanan, S.A., Mukherjee, S., Zawieja, D.C., Watt, J.A., Brissette, C.A., Newell-Rogers, M.K. (2018) Borrelia burgdorferi adhere to blood vessels in the dura mater and are associated with increased meningeal T cells during murine disseminated borreliosis. PLoS One 13(5):e0196893. doi: 10.1371/journal.pone.0196893. PMID: 29723263
Greenmyer, J., Gaultney, R.A., Brissette,A., Watt, J.A. (2018) Primary human microglia are phagocytically active and respond to Borrelia burgdorferi with upregulation of chemokines and cytokines. Front Microbiol. 9:811. doi: 10.3389/fmicb.2018.00811. PMID: 29922241
Casselli, T., Qureshi, H., Peterson, E., Perley, D., Blake, E., Jokinen, B., Abbas, A., Nechaev, S., Watt, J.A., Dhasarathy, A@., Brissette@, C.A. (2017) MicroRNA and mRNA transcriptome profiling in primary human astrocytes infected with Borrelia burgdorferi. PLoS One 12(1):e0170961. doi: 10.1371/journal.pone.0170961. PMID: 28135303 @Co-corresponding authors
Brissette,A., E.D. Kees, M. Burke, R.A. Gaultney, A.M. Floden, and J.A. Watt (2013) The multifaceted responses of primary human astrocytes and brain microvascular endothelial cells to the Lyme disease spirochete, Borrelia burgdorferi.ASN Neuro 5(3). doi:pii: e00119. PMID: 23883071 Paper highlighted with a podcast: http://www.asnneuro.org/an/005/3/default.htm
Brissette, C.A., H.M. Houdek, A.M. Floden, and T.A. Rosenberger (2012) Acetate supplementation reduces microglia activation and brain interleukin-1beta levels in a rat model of Lyme neuroborreliosis. J Neuroinflammation 9:249. PMID: 23134838
---
Click here to see GLA's Research Report, detailing GLA's research accomplishments