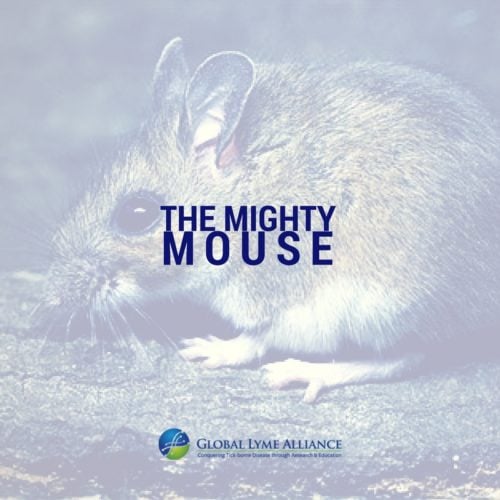 by Mayla Hsu, Ph.D., GLA Director of Research and Science
What makes the white-footed mouse more mighty than a lab mouse when it comes to tolerating Borrelia burgdorferi, the bacterium that causes Lyme disease?
When we think of mice, we envision cute furry rodents with big eyes and little feet, and we don't usually associate them with disease. But when we discuss Lyme disease, we need to consider the wild, white-footed mouse because it is one of the most important reasons for the spread and continued existence of this illness.
Dr. Alan Barbour at the University of California at Irvine is a pioneer in tick-borne disease research and a Global Lyme Alliance grantee. He published a recent article that explained why it is important that we study Lyme disease in wild mice and not only in lab mice.
Peromyscus leucopus—the scientific name of the white-footed wild mouse—is abundant in North America, along with its close relative, Peromyscus maniculatus. Together, they act as natural hosts, or reservoirs, for numerous disease-causing microbes. This means that they provide a long-term home for pathogens to survive in nature. They are also blood meal sources for vectors, like ticks, which transmit the pathogens from one animal to another.
One reason why we should study Lyme disease in wild mice, Dr. Barbour writes, is because they are genetically quite distant from lab mice. Peromyscus mice are actually more closely related to hamsters and voles than to lab mice, which are genetically grouped with the black rat. The genetic distance between the species might explain why there are important differences in how wild mice and lab mice respond to pathogens like Borrelia burgdorferi, the bacterium that causes Lyme disease.
Capture of wild field mice indicates that compared to other small mammals, they are more heavily burdened by ticks. Although there is variation between different studies, up to 100% of these ticks have been found infected with B. burgdorferi. Dr. Barbour summarized studies showing that in the northeast and north-central United States, P. leucopus mice typically get infected during the spring and summer months. As part of their immune response, they produce antibodies in their blood that recognize OspC, a protein on the outside of the bacteria. This also occurs in lab mice and in humans infected with Lyme disease, suggesting that this part of the immune response is common to all three.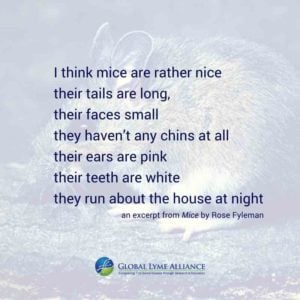 But what's different about wild Peromyscus mice is that they exhibit no obvious pathology. In multiple studies, even though the bacteria could be recovered from the urinary bladder, kidney, heart, spleen, ears, tails and joints, there was no evident organ damage. There was no variation in the types of immune cells found in infected animals as compared to uninfected animals. Infected animals did not appear to differ in their body weight from uninfected ones, suggesting that there was no obvious impact on overall health. And the amount of time that Borrelia-infected P. leucopus mice spent running on their exercise wheels did not differ from the uninfected mice.
In contrast, lab mice, when challenged by Borrelia burgdorferi infection, typically develop arthritis, carditis, and joint inflammation. Studying infection in these animals is useful to understand how the bacteria cause disease and the dysfunction of the immune response, but that only tells part of the story.
It's not well-understood why Peromyscus mice don't get sick from Lyme bacteria, but we do have some clues. It has been speculated that B. burgdorferi infections have occurred for hundreds of years in North America. With time, it is likely that the host-pathogen relationship evolved into a balance allowing both of them to survive. While in the mouse, the pathogen has to reproduce to sufficient levels so that it can enter ticks and be transmitted from one animal to another. But the pathogen can't kill its host, or weaken it so that it can't efficiently reproduce. The mouse host must live long enough to have progeny, in order to produce a new generation of hosts in which the pathogen can be maintained.
Somehow, Peromyscus mice are able to tolerate Borrelia infection without any obvious illness. If we study these animals, especially by comparing the immune response in both uninfected and infected mice, we may be able to learn much that might explain how Peromyscus mice avoid the damage caused by B. burgdorferi infection.