by Jennifer Crystal
Lessons for Lymies from Winston Churchill and the Chicago Cubs
During the most intense period of my treatment for tick-borne illness, I lived with my parents and sometimes other family members. I shifted bases between their homes, grateful for the support of all, but keen to spread out the burden of caregiving. I did the hour-long drive between my mom's and dad's more times than I can count, traveling on a long, winding desolate road that connects two major highways in my home state. The route through rundown factories and old cemeteries was peppered with billboards. Among the advertisements for used car dealerships and discount insurance was a huge sign with a quote from Winston Churchill: "Never, never, never give up."
That sign always gave me pause. Sometimes the drive took all my energy for the day. Sometimes I was too sick to be at the wheel, and one of my parents had to drive me. Sometimes I was in the midst of a Herxheimer reaction, getting the ride in early before the migraine and achiness and frequent trips to the bathroom made it impossible for me to be in the car. Sometimes I gripped the wheel or the passenger seat wondering if I would ever again have a home of my own, if I would ever be able to drive more than an hour, if I would ever feel well again.
The Churchill quote reminded me that in the middle of despair, when it's least expected, we can come upon signs of hope. And it's up to us to hold on, to keep traveling the difficult road, until we see them.
I was reminded of this lesson earlier this month when, after 108 years, the Chicago Cubs won the World Series. Despite their team being called "Loveable Losers," Cubs fans held out hope for generations. The players went out every year determined that this could be the one. This year, it was.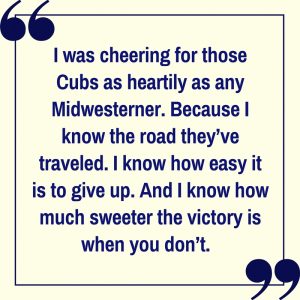 The victory was the stuff of history books, and not just because it took108 years. It was the kind of nail-biting, late-night win usually seen only in movies. Following the Cleveland Indians' 3-1 lead in the Series, the Cubs battled from behind to win two more games and force a seventh game tie-breaker. They were leading for most of that game, but the Indians suddenly took the lead in the eighth inning. The game tied in the ninth, going into extra innings, and then there was a rain delay. The possible victory could not have been more drawn out. Fans huddled together in the stands and the streets during the 17-minute delay. Players huddled together in the weight room, encouraging each other.
The rains came and minutes later, the 108-year drought was over.
My home state may be in New England—caught between the biggest team rivalry in baseball—but I was cheering for those Cubs as heartily as any Midwesterner. Because I know the road they've traveled. I know how easy it is to give up. And I know how much sweeter the victory is when you don't.
I receive emails every day from patients who want to throw in the towel. Some are in the throes of Lyme treatment and can't understand why they're feeling worse instead of better. Some haven't been accurately diagnosed because of the poor state of diagnostic testing or physicians misinformed about Lyme. All of them are desperate.
I know when you are in the depths of despair that it feels anything but temporary. There were times when I was curled in the corner of a room at one of my parents' houses, sobbing and shaking, certain I couldn't hold on another minute, another second. I never ever would have believed when I was bedridden that I would one day attend graduate school, publish a book, or teach writing classes. That I would one day live in my own apartment. It happened for me because I didn't give up, and that can happen for you too.
Don't just take my word for it. Look to other patients who have wrestled with Lyme, like Ally Hilfiger, author of Bite Me, and Katina Makris, author of Out of the Woods. Look at the incredible new research being done every day to create better diagnostic tools and treatments. This year Global Lyme Alliance received a record number of applications for research funding. Scientists at top-tier universities in the United States, Australia, France, Switzerland and the United Kingdom are all working to get to the bottom of tick-borne disease. They're all working to make our lives better. And that means we can't give up: on them, on ourselves, on hope.
With new research and increased awareness, I'm sure we won't have to wait 108 years for our victory—or even a small fraction of that. Better diagnostics, better treatment, greater understanding, and maybe even a cure are closer than we think. We just have to hold onto hope. We must never, never, never give up.
---
Opinions expressed by contributors are their own.
Jennifer Crystal is a writer and educator in Boston. She is working on a memoir about her journey with chronic tick-borne illness. Contact her at jennifercrystalwriter@gmail.com.