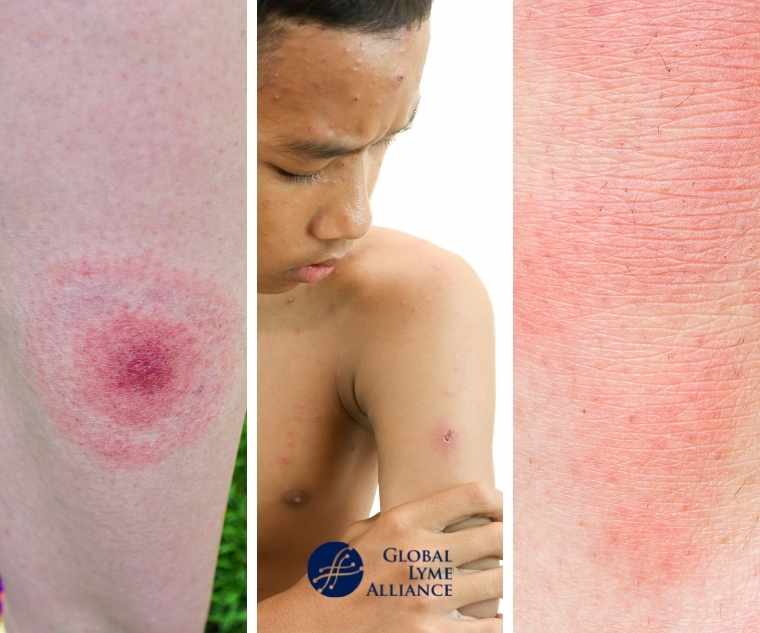 Lyme disease: that's the illness you get when you find a bulls-eye rash, right?
It very well could be, but here's the catch. The bulls-eye rash isn't the only sign of Lyme disease. Nor does every Lyme rash (Erythema Migrans or EM) present as a target with red rings around it. To assume that Lyme always comes with a bulls-eye rash is, in fact, to be way off target and—worse—poorly informed when it comes to diagnosing the disease.
In fact, less than 50% of Lyme patients ever find a bulls-eye rash, or any rash at all. But that doesn't mean they don't have Lyme. It means they, and their doctors, will need to look a little further.
I found a rash on my forearm in the summer of 1997 while working at a camp in Maine. It wasn't a bulls-eye shape. It was a series of red dots, sort of stippled, that extended from my wrist almost to my elbow. It wasn't raised and it didn't itch.
"It's probably from your sleeping bag or something," the camp nurse said. In 1997 Lyme disease was not on the public health radar or mine, which is ironic since I grew up in Connecticut where the disease was first discovered.
That same summer I developed hypoglycemia, which I later learned is a common symptom of the tick-borne disease babesia, a co-infection of Lyme. That fall I was bedridden with flu-like symptoms. Had I presented these symptoms, and my rash, to medical professionals today, they might have seen a pattern and tested me for tick-borne illnesses. Lyme literacy is improving, but not all doctors look at individual symptoms in a big picture way—and that pesky myth of the bulls-eye rash, especially if you don't have one, still persists, which is why I continue to share my story.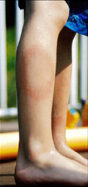 EM rashes present in many different ways. Some are small. Some are big and blotchy. Some are spotted. Some are pink and some are bright red. If these sentences are starting to sound like a Dr. Seuss book, it's because the lesson they contain is simple. If you find any type of rash at all, especially during the summer months, and if you subsequently experience symptoms of tick-borne illness, do not assume your rash is nothing. Show it to a Lyme Literate Medical Doctor (LLMD), who you can find here.
If you, your children, or your pets spend time outdoors, it's important to do nightly tick checks of everyone exposed. As you are looking for culprits, also keep your eye out for rashes of all kinds. They don't always appear in obvious places. A rash could be on your back—have someone else look!—in your groin, between your toes, behind your ears, or on your scalp.
And a rash might not be there at all, but you can have Lyme disease without ever getting one. Therefore, in addition to checking yourself for ticks and rashes, it's important that you keep an eye out for typical Lyme symptoms. If you experience flu-like symptoms such as fatigue, joint aches, headaches, neuropathy, Bell's palsy, or any other unusual symptom, do not brush it off as a summer flu.
Maybe you'll get lucky, and that's all it will be, the summer flu. But it's better to be safe than sorry; let an LLMD make that call. You will also want to keep an eye out for symptoms of co-infections, like the hypoglycemia which I experienced.
Of course, if you are lucky enough to find a bulls-eye rash, take it as an unequivocal sign: you have Lyme disease. Do not wait to see if you develop symptoms. That can take months. By which time the disease, and possibly co-infections, will have spread further into your system and may cross the blood-brain barrier. Then the disease(s) will be much harder to treat.
In a way, finding a bulls-eye rash is like winning the lottery. If you're smart, you have a ticket to immediate diagnosis and treatment. Moreover, it's unlikely that you won't have to deal with chronic symptoms and long-term treatments. If you aren't so lucky as to win a bulls-eye, keep looking for ticks, atypical rashes, and symptoms of tick-borne disease.
I wish you all a Lyme-free summer!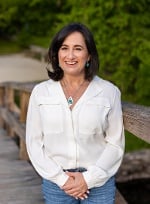 Writer
Opinions expressed by contributors are their own. Jennifer Crystal is a writer and educator in Boston. Her work has appeared in local and national publications including Harvard Health Publishing and The Boston Globe. As a GLA columnist for over six years, her work on GLA.org has received mention in publications such as The New Yorker, weatherchannel.com, CQ Researcher, and ProHealth.com. Jennifer is a patient advocate who has dealt with chronic illness, including Lyme and other tick-borne infections. Her memoir, One Tick Stopped the Clock, is forthcoming from Legacy Book Press in September 2024. Ten percent of proceeds from the book will go to Global Lyme Alliance. Contact her via email below.