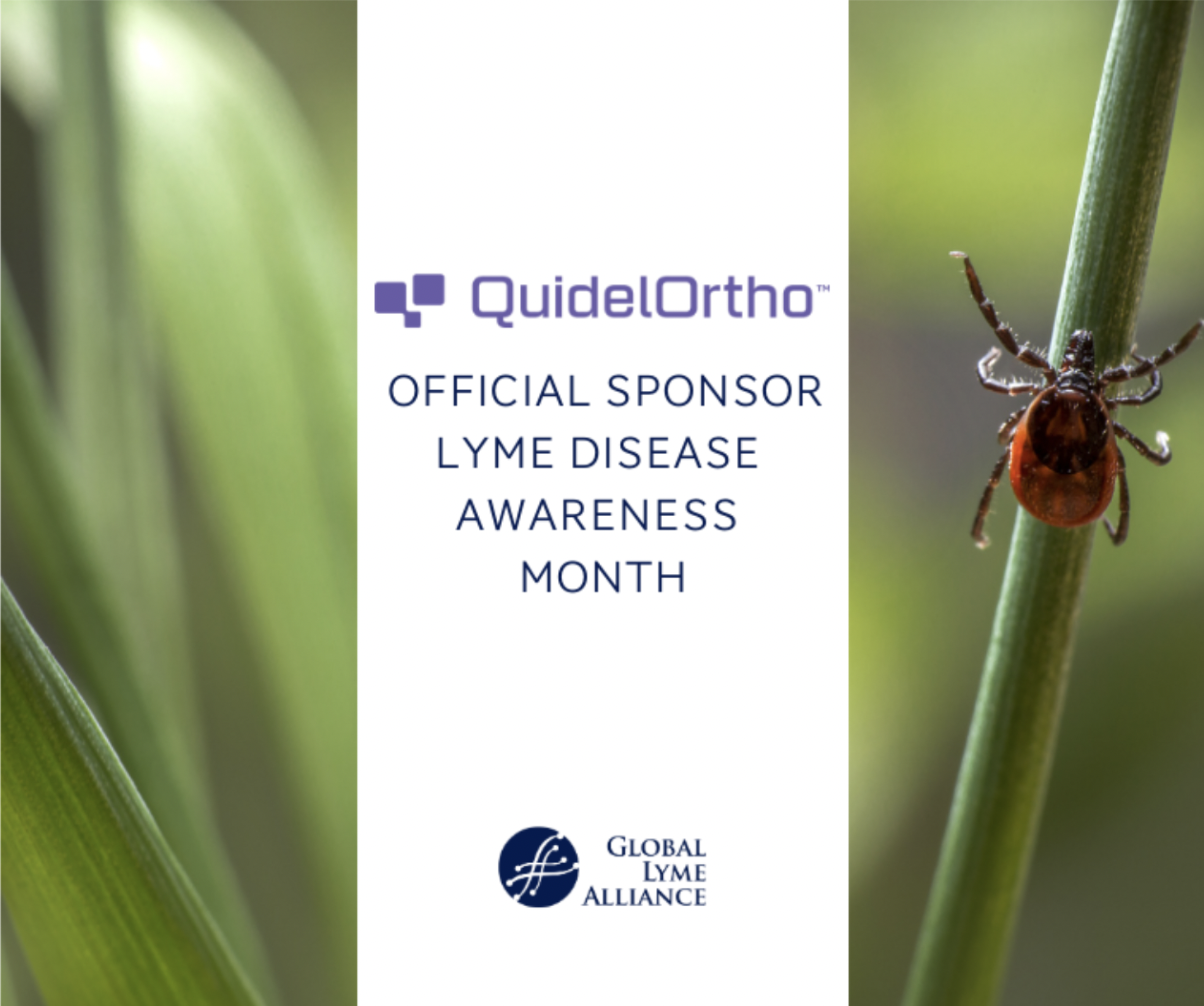 QuidelOrtho is the official sponsor of Global Lyme Alliance's awareness efforts during Lyme Disease Awareness Month.
Lyme disease is a growing epidemic, with an estimated 500,000 reported new cases yearly in the United States. Global Lyme Alliance (GLA) is proud to collaborate with QuidelOrtho and their Lyme Task Force Team to heighten public awareness around Lyme disease during May, Lyme Disease Awareness Month, and beyond. QuidelOrtho is the nation's leading developer of the only FDA-approved rapid point-of-care diagnostic Lyme disease test.
About QuidelOrtho's Lyme Disease Test – Gets You Results in Minutes
QuidelOrtho's Sofia® 2 Lyme FIA is the only FDA-cleared rapid point-of-care test on the market that provides the patient and physician with indicative results in as few as three minutes, as opposed to days, which has historically been the norm (and during which time organisms can spread and become systemic). The test requires a simple finger prick of blood which can be given in the privacy of a doctor's office, pharmacy or local clinic, with results provided to the patient while they are at the point of care. Given that the vast majority of patients tested are negative, not having to wait days for test results allows physicians, nurse practitioners, and pharmacists to treat those patients more rapidly with positive results while pursuing other diagnoses and treatments for those who test negative.
Patients seeking more information are encouraged to contact their private physician to find out more about the availability of this revolutionary new test in their area. Doctors interested in ordering the instrumentation and assay can get it here directly or through their local distributor.
GLA and QuidelOrtho
As part of its partnership, QuidelOrtho serves as GLA's Official Sponsor during Lyme Disease Awareness Month for the second year. In honor of the month, QuidelOrtho and GLA have a dual goal in raising awareness around the importance of early Lyme disease diagnosis, while also honoring patients nationwide fighting Lyme disease, who deserve recognition.
In 2023, QuidelOrtho will also sponsor GLA's Find a Healthcare Provider Program, which connects patients with Lyme specialists in their area. This program is essential, as diagnosing Lyme disease can often be complex and easy to miss, given the limitations of diagnostic testing, wide-ranging symptoms, and a lack of education about the disease. The earlier a patient is diagnosed with and treated for Lyme disease, the more likely they will make a full recovery. Diagnosis should be based on a combination of a clinical evaluation from a knowledgeable healthcare provider and diagnostic testing.
Additionally, GLA and QuidelOrtho have partnered on a series of educational PACE-accredited webinars. The webinars provide information on various Lyme topics in an open discussion format, all designed to bring awareness to Lyme disease and rapid ways to diagnose Lyme, leading to prompt treatment.
About QuidelOrtho Corporation
QuidelOrtho Corporation (Nasdaq: QDEL) is a world leader of in vitro diagnostics, developing and manufacturing intelligent solutions that transform data into understanding and action for more people in more places every day.
Offering industry-leading expertise in immunoassay and molecular testing, clinical chemistry and transfusion medicine, bringing fast, accurate and reliable diagnostics when and where they are needed – from home to hospital, lab to clinic. So that patients,
clinicians and health officials can spot trends sooner, respond quicker and chart the course ahead with accuracy and confidence.
Building upon its 80-year legacy of groundbreaking innovation, QuidelOrtho continues to partner with customers across the healthcare continuum and around the globe to forge a new diagnostic frontier. One where insights and solutions know no bounds, expertise seamlessly connects and a more informed path is illuminated for each of us.
QuidelOrtho is transforming the power of diagnostics into a healthier future for all.
***
To advance our mission to cure Lyme and other tick-borne diseases through innovative research, awareness, and empowering the patient voice, GLA partners with organizations to have a greater impact in the fight against Lyme disease. If you are interested in becoming a partner or sponsor, please email: marketing@gla.org
Click the link below to sign up for GLA's newsletter.
The above material is provided for information purposes only. The material (a) is not nor should be considered, or used as a substitute for, medical advice, diagnosis, or treatment, nor (b) does it necessarily represent endorsement by or an official position of Global Lyme Alliance, Inc. or any of its directors, officers, advisors or volunteers. Advice on the testing, treatment or care of an individual patient should be obtained through consultation with a physician who has examined that patient or is familiar with that patient's medical history.