GLA Lyme Education Ambassador, Daniela Acosta was joined by experts for a week-long webinar series addressing Lyme disease in Mexico. Daniela is a student at Tecnologico de Monterrey, Mexico who helped support this timely educational program. We are excited for this partnership to deliver our first Spanish speaking Lyme disease educational program. Participants learned about Lyme disease, importance of prevention, up to date statistics of tick-borne diseases in Mexico, treating and managing Lyme disease, as well as patient experiences. Stay tuned for access to the recorded Zoom sessions.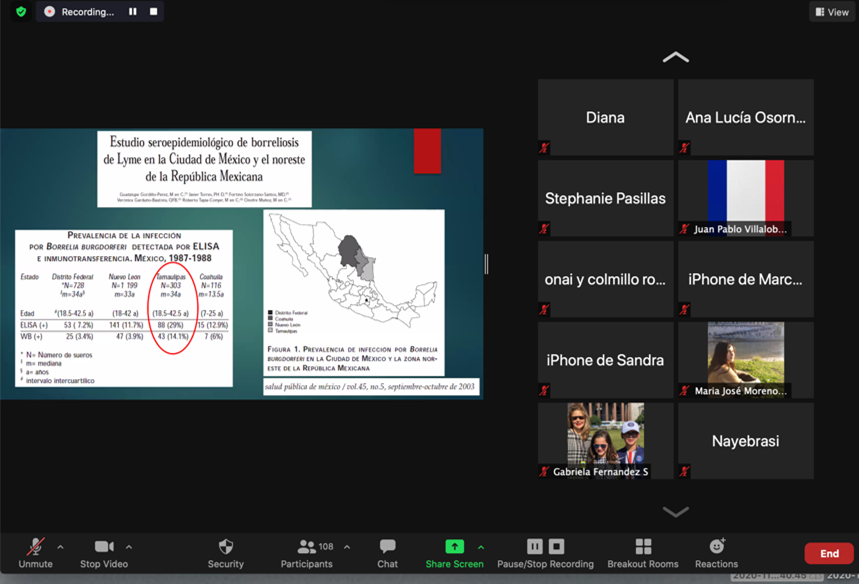 Special thanks to Daniela Acosta for hosting this series, her classmates, and the participating speakers listed below.
Dr. Rael Garcia
Public Health Teacher and Epidemiologist
Sanitary Jurisdiction IV, Ministry of Health Sonora, Mexico
Daniela Acosta, GLA Lyme Education Ambassador
Shared her experiences living with and managing Lyme disease and co-infections.
Dr. Adolfo Rodriguez Marino, General Medicine and Holistic Treatments
Dr. Jorge Alberto Garay, Pediatrician Specialist Intensive Therapy
Head of Pediatric Intensive Therapy and Pediatric Department
Angeles del carmen Hospital, Guadalajara
Lic. Rosa Maria Echeagaray, Professional in Family Sciences and Therapist, Medical Biomagnetism
Bioenergetics and Telebionergetics
Jorge Echeagaray, Telecommunications and System Engineer
CeCi Heredia, Life Coach