---
by Jennifer Crystal
Agency—or, having a voice, having the power to make free choices about issues related to you or your body—has been a big buzzword in the news lately. I've been thinking about the word in the context of my own life.
For nine months, I was in a serious relationship with a man who seemingly understood and supported my needs as a chronic Lyme patient. And then, suddenly and without warning, I wasn't. He decided he was done and simply informed me of his choice; I had no say in the matter.
Had the breakup happened mutually, or at least over time—with the discussion and effort we'd promised each other—it still would have been difficult, but at least I would have had some agency. And for a patient of chronic illness, that's not a small thing.
Having the bottom drop out on my personal and emotional life was a sad reminder of the ways it had dropped out on me physically, many times. The chronically ill, and people who suddenly become sick or injured, are stripped of agency. It happens when we get sick without warning, when we can't control how or if we'll get better, when we're dismissed by medical professionals. As a result, it's that much more frustrating when we can have a say about something, but aren't granted it.
Everyone deserves a voice. I learned this years ago as a summer camp counselor. During counselor meetings we would discuss issues campers were having due to behavioral challenges. A wise colleague taught us that every child needs four things: love, safety, fun, and power. When one of those basic needs is threatened, kids act out. I readily understood why children need love, safety, and fun. But I realized they need power, too, because they are often told what they can and cannot do; they don't feel like they have a say over their lives. Giving them agency makes them feel more in control. Campers were less likely to break cabin rules if they helped create them.
When a Lyme Literate Medical Doctor (LLMD) finally put the pieces of my medical puzzle together and made an accurate diagnosis of Lyme disease—in addition to the co-infections babesia and ehrlichia—I at last felt I was heard and validated. Treatment was long and arduous and I had little control over how I felt day to day, but as I regained strength, I also regained agency. Over time, I could rely on my body more. I eventually knew when I would have good energy and when I wouldn't, and learned habits to promote the good energy. I learned to speak up for my needs. Tick-borne illnesses were no longer completely running my life.
Then the bottom dropped out again: I relapsed. I fell into a pit of despair, not only because I was physically back at ground zero, but because I'd had no say in getting there. Sure, I'd taken on a lot and gotten overly stressed, factors that I now know can play a role in relapse. But the relapse itself was not my doing. That was up to the spirochetes that ran rampant in my body. I hated that I was once again at the whim of my illnesses, not of my own free will. I couldn't work, live independently, exercise or do anything I wanted to do, and I railed against that loss of freedom.
Cognitive behavioral therapy helped me to take control over little things, even though so much was out of my hands. I had no say as to whether the antibiotics would work, how long it would take for me to get well, or if I even would. But I could control choices that would help my chances of my achieving remission. I could parse out my energy. I could limit screen time that riled up my neurological symptoms. I could eat healthy foods. I could say no to going somewhere or doing something when I didn't feel well enough to do so.
And I could say no even if I did feel well enough to do something. One night during my recovery, my parents invited me out to dinner. It was a sweet and generous offer. They were surprised when I declined, because I seemed to have good energy that night. Why wouldn't I go out if I could? But I didn't want to go out to dinner. I wanted to stay home and have a little time to myself, maybe call a friend. Making decisions about what I wanted to do, instead of feeling like I had to do something just because I could, was an important way of maintaining agency.
We can't always guard against the bottom dropping out in life. But sick or healthy, it's important that we allow ourselves agency over those small things we can control. And it's especially important for us to respect others enough to give them a say over matters that pertain to them or their bodies. We all want to take part in our own lives, not have life just happen to us. Everyone deserves that power!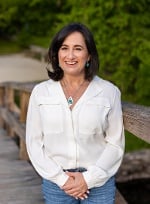 Writer
Opinions expressed by contributors are their own. Jennifer Crystal is a writer and educator in Boston. Her work has appeared in local and national publications including Harvard Health Publishing and The Boston Globe. As a GLA columnist for over six years, her work on GLA.org has received mention in publications such as The New Yorker, weatherchannel.com, CQ Researcher, and ProHealth.com. Jennifer is a patient advocate who has dealt with chronic illness, including Lyme and other tick-borne infections. Her memoir, One Tick Stopped the Clock, is forthcoming from Legacy Book Press in September 2024. Ten percent of proceeds from the book will go to Global Lyme Alliance. Contact her via email below.