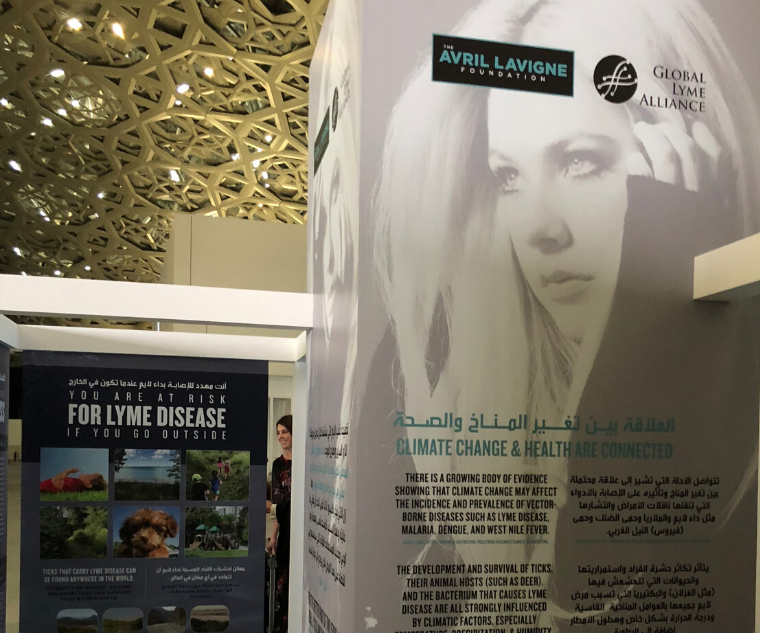 Real change happens when we work together. This is especially true when it comes to advancing the Lyme disease and tick-borne illness agenda, be it through research, awareness, funding, or patient support.
At Global Lyme Alliance (GLA) we are eternally grateful for the tireless work of our board member Avril Lavigne and our amazing partners in The Avril Lavigne Foundation. The Avril Lavigne Foundation recently invited GLA's CEO Scott Santarella and Chief Scientific Officer Tim Sellati to join them at the Reaching the Last Mile (RLM) Forum in Abu Dhabi, to discuss and collaborate on the world stage about the risks of tick-borne illness and how we can come together to help patients.
---
The biennial Reaching the Last Mile (RLM) Forum, held in Abu Dhabi, convenes global health leaders to share insights and best practices on how to map out, eliminate & eradicate infectious diseases. Held under the patronage of His Highness Sheikh Mohamed bin Zayed, Crown Prince of Abu Dhabi, in partnership with the Bill & Melinda Gates Foundation, this year's RLM Forum brought together more than 300 preeminent individuals from government, private sector, philanthropy & academia, to discuss reaching the last mile of disease elimination faster – including The Avril Lavigne Foundation!
We were honored to be invited by The Avril Lavigne Foundation to participate alongside incredible organizations like The Clinton Foundation, The Gates Foundation, Project Hope, The Carter Center, The World Health Organization and to join them in educating global health community about Lyme and other tick-borne/vector-borne diseases. During the Forum, we had the opportunity to hear from a number of prominent global health leaders, exhibit Louvre Abu Dhabi, and participate in a Round Table focused on Climate Change & Global Health (chaired by the esteemed Dr. Anthony Costello). Participants included the UAE's Ministers of Climate Change and Health, Rt Hon Helen Clark (former Prime Minister of New Zealand), @MalariaNoMore @ChildrensPhila and others. During the Forum Bill Gates and other philanthropic leaders from around the world pledged over $2.6 BILLION to eradicate Polio. The Forum was collaborative, educational and beyond inspiring.
We are grateful to have been included in this prestigious event.
Here are some highlights …