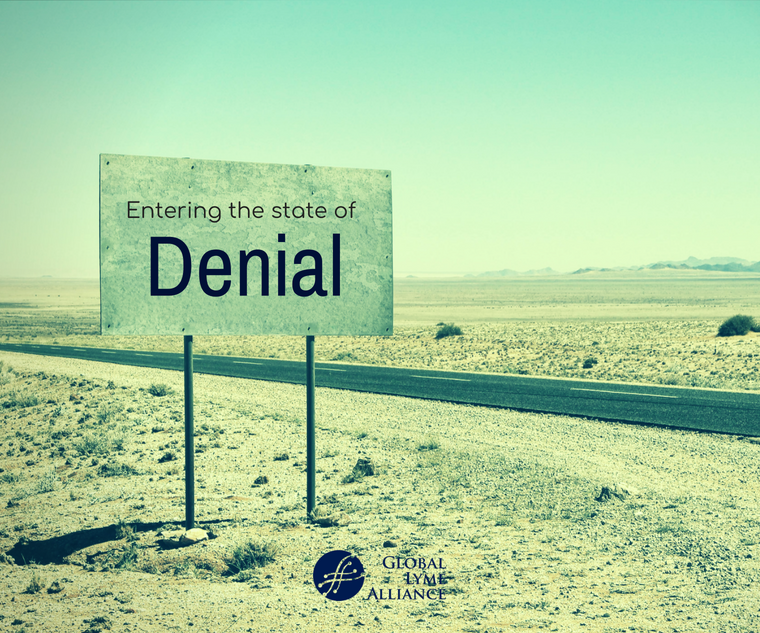 by Jennifer Crystal
One of the many rewards of writing this weekly blog is connecting with patients and caregivers all over the world. I receive emails from people telling me their stories and asking me questions. I recently wrote to check in on a patient with whom I'd been in frequent contact, and was surprised when he told me he no longer wanted to talk with me, because he was working on just forgetting about his illness.
I cringed. Not because this person was cutting off contact with me, but because I knew the danger of denial.
I'm well-versed in tick-borne disease denial because I practiced it for many years. Who among us hasn't wanted to deny the worst of our problems, hoping we can just sweep them under the carpet and pretend they're not there? How much easier life would be if we didn't have to deal with illness, work issues, or relationship troubles.
Society has largely taught us that it's brave to take a "mind over matter" approach, to somehow will ourselves through our pain, to push through it. I did this for eight years. I had been unknowingly bitten by a tick the summer before my sophomore year of college. I developed hypoglycemia, and then a horrendous flu. When nurses at my college Health Center couldn't pinpoint a diagnosis, they suggested my symptoms were all in my head. To prove them wrong, I continued running, skiing, participating in several campus activities, and double majoring in English and French. I studied abroad. I served on the Student Government Association. I wrote for the campus newspaper. I volunteered in the local community as a Big Sister. I worked as a lifeguard at the pool.
Often, I didn't have the energy to do any of those things. After weeks or months of burning the candle at both ends—while trying to hide physical symptoms of exhaustion, fever, and low blood sugar— my body would give out. I would get so sick that I'd have to miss classes and activities for a week or more while I recuperated in the Health Center. Had I taken better care of myself throughout that time—listening to my body when it said I was pushing it too far, following up with other doctors to find out the cause of my physical symptoms—I would have had better overall stamina. But doing so seemed weak. I had always been a highly productive, high-achieving person, and I thought it showed great personal tenacity to push through my symptoms so that I could continue to operate at a high level.
In reality, it was foolish. I wasn't showing strength or perseverance; I was simply denying what was actually going on in my body.
Years later, when I was finally accurately diagnosed with Lyme and two of its co-infections, babesia and ehrlichia—and bedridden, hooked to an IV, as a result—I discussed the problem of denial with a therapist. "The thing about sweeping garbage under the rug is that it accumulates there," she said. "And then that garbage starts to stink."
When that smell becomes overwhelming, we have no choice but to deal with the stink of whatever problem we're trying to deny. This is exactly what happened to me. Six years after my initial tick bite—after graduating and moving to Colorado to teach skiing despite worsening symptoms—I got mono. Because I had underlying tick-borne infections, I couldn't fight this acute illness, and the mono slipped in to chronic Epstein-Barr virus. I became completely bedridden, unable to work or care for myself. I had no choice to but to give up my independence and move back to my home state of Connecticut to live with my family. It would be another two years before doctors discovered my underlying tick-borne illnesses, and several more years after that to work my way into remission.
At that point, pushing through—i.e. denial—was no longer an option. I was simply too sick. All those hours in bed gave me a lot of time to reflect on how silly I'd been to push through the early years of symptoms. If I'd taken better care of myself then, and gone to better informed doctors, I might never have gotten as sick as I did.
Denial wasn't the only culprit in my fate— a weak immune system, and the illnesses themselves had to come first. But denial certainly didn't help.
In the end, it only extends our suffering. A mound of garbage is much harder to deal with than a small pile of sweepings. Chronic illness, relationship woes, or personal problems that are ignored don't go away. They just get bigger.
I worry for that patient who is trying to forget his illness, because I know what will happen: the problem will eventually become so big that he will be forced to deal with it. I understand the urge to deny. But I also know the dangers of it. I hope that patient sees this post and reconsiders his choice. The consequences of denial are simply too severe to ignore.
---
Opinions expressed by contributors are their own.
Jennifer Crystal is a writer and educator in Boston. She is working on a memoir about her journey with chronic tick-borne illness. Contact her at jennifercrystalwriter@gmail.com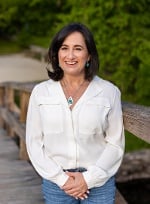 Writer
Opinions expressed by contributors are their own. Jennifer Crystal is a writer and educator in Boston. Her work has appeared in local and national publications including Harvard Health Publishing and The Boston Globe. As a GLA columnist for over six years, her work on GLA.org has received mention in publications such as The New Yorker, weatherchannel.com, CQ Researcher, and ProHealth.com. Jennifer is a patient advocate who has dealt with chronic illness, including Lyme and other tick-borne infections. Her memoir, One Tick Stopped the Clock, is forthcoming from Legacy Book Press in September 2024. Ten percent of proceeds from the book will go to Global Lyme Alliance. Contact her via email below.