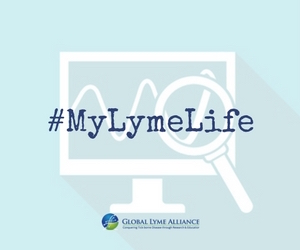 by Kerry J. Heckman
#MyLymeLife
Getting an accurate Lyme diagnosis can take years. With poor diagnostic tools and limited support patients are often forced to be their own health detectives. Here are six tips to help in the process.
The test result email popped into my inbox. I was driving and couldn't look until I was stopped at a red light. This was it. The final clue in a seemingly never ending mystery. The diagnosis I'd been waiting almost two years to get. Two years of crippling health anxiety, and a slow steady decline, all resting on one simple blood test.
Many people who are eventually diagnosed with Lyme disease spent years leading up to it searching for the right diagnosis. Because of poor diagnostic tools, we've had to learn to be our own health detectives.
My journey started almost three years ago.I'd been ill for many years prior, but doctors assumed all my symptoms related to an autoimmune condition, Grave's disease. Then, in May of 2014, my right leg started to feel "heavy" and was aching. I looked down and noticed it had blown up like a balloon. I ended up in the ER. At first, the doctors took it seriously, because they thought it was a blood clot. After the test came back negative, I was quickly discharged with no answers.
I went to my primary care doctor and she told me to wait a month and see how I felt. I immediately found a new doctor and he told me that unless the swelling was more than two inches different from the other leg I should simply ignore it. Ignore it? I was just supposed to walk around with a swollen leg for the rest of my life? No tests were ordered, no follow-up appointments were scheduled, so I moved on to another doctor, and another, and another.
Like a detective on an important case, looking up symptoms on the internet became my full-time job. I'd get lost down a Google rabbit hole for hours on end. My husband would practically have to pry my fingers from the keyboard. Every time I discovered a new lead I would follow it as far as it would take me, usually to another annoyed doctor, who'd send me away with an exasperated look. This continued for six months. Then I developed a new strange symptom a stabbing pain in my side. Again I went to the emergency room. This time I was admitted after a MRI revealed what looked to be an infection in my spine. It took the doctors five days to determine the infection wasn't spreading rapidly enough to cause immediate concern. I was discharged again with nothing but another piece of paper with the diagnosis left blank.
From there I was passed between a rheumatologist and infectious disease doctor for another six months. When I went to see the rheumatologist, he said it was an infection; when I went to see the infectious disease doctor he said it was rheumatological.
But I didn't give up. I found an integrative medicine doctor who was willing to think outside the box. She ran some preliminary tests for Lyme disease, and when they came back suspect, she referred me to a Lyme-literate medical doctor.
Those two years were some of the most difficult in my life, but I had to stay on the case. Here's some advice on how to keep moving forward even when the puzzle seems impossible to solve.
How to Be Your Own Health Detective:
Start thinking like one
From the very first symptom, everything is a clue. Keep an ongoing list of every symptom you experience. Even if it doesn't seem like an important one, write it down. Keep a folder of all your test results. Compare and contrast the results over time. You never know what will end up being the missing link.
Ask the right questions
Make a list of all your doctors. When a question pops into your mind, write it down under the heading of the best doctor to answer that question. By the time of your next appointment, you will a have a thoughtful list of questions to ask.
Be confident in your symptoms
Before I had a diagnosis, I found that many of my symptoms were minimized or ignored by doctors. Some of these symptoms seemed small on the surface, but ended up being the most important clues. Don't allow a doctor to tell you a symptom isn't real, is all in your head.
Set boundaries when using the internet
Google and Internet forums are a good tool for health detectives. The problem is it can become an enormous waste of time and energy. Some good boundaries to set are to spend no more than 15 minutes a day researching symptoms or asking questions on forums. Make sure you verify everything you read with a trusted doctor; there is a lot of dangerous misinformation on the internet.
Talk about your illness
When you talk about your symptoms with other people, sometimes they have good input. For example, back when my leg first became swollen, a friend of my mother suspected an infection. This was something none of the doctors had mentioned, but I kept it the thought in the back of my mind. It turned out she was right.
Never, ever, ever give up
The worst thing you can do for your health is to give up. Sure, you'll hit brick walls, but you'll have to learn to break through them. Nothing is more important than your health, so you have to keep exploring until you feel satisfied with your care. If you can afford it, get a second opinion (and a third, and a fourth). Determine how far it is reasonable for you to travel and how much it is reasonable for you to pay, and then go to the best doctor you can find who fits within those parameters.
I was stopped by that red light for just long enough to open the email. I was scared to read it. What if it's just another negative test to add to the list? But it was "positive." After two long years of no diagnosis and countless doctors, I had my answer. I had Lyme disease. When you receive a diagnosis it can be a strange mixed moment of emotions. You are devastated to have the illness naturally, but even more so you are grateful to finally know what it is. My detective work paid off.
---

Opinions expressed by contributors are their own.
Kerry J. Heckman authors the wellness and lifestyle blog Body Mind Lyme. Kerry was [finally] diagnosed with chronic Lyme disease in 2016, her journey with invisible illness began over 10 years prior.