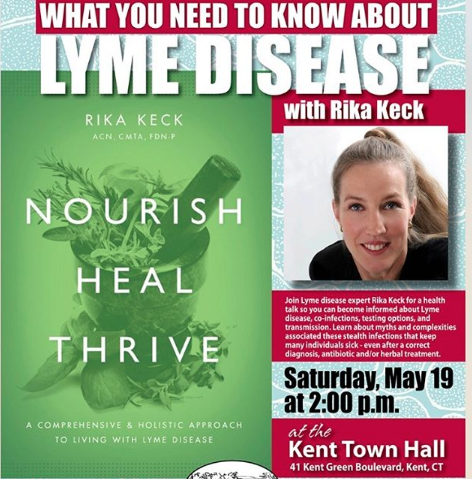 Join the Kent Memorial Library and Lyme disease expert Rika Keck for a health talk,
What You Need To Know About Lyme Disease
on Saturday, May 19, 2:00 p.m. at the Kent Town Hall, 41 Kent Green Boulevard, Kent. You will be informed about Lyme disease, co-infections, testing options, and transmission. Learn about myths and complexities associated these stealth infections that keep many individuals sick – even after a correct diagnosis, antibiotic and/or herbal treatment. Since December 2016, Rika is a member of International Lyme and Associated Diseases Society (ILADS). She intends to take an active role to help, advocate for, and support individuals with vector-borne infections including Lyme disease. As an author, she has published two books. Her clients inspired the following publications:
Nourish Heal Thrive: a Comprehensive and Holistic Approach to Living with Lyme Disease
and the
Nourish Your Brain Cookbook
. Rika is also an invited guest speaker on various health panels in NYC. As she spends time in Washington Depot, Rika is committed to giving back to the community by presenting health talks on the important topic of Lyme disease. Free & open to the public. Must register: 860-927-3761 or
kentmemoriallibrary.org
.