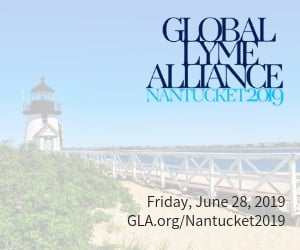 See highlights from the event
---
Please join Will Steele (Global Lyme Alliance Board Emeritus) and Chris Drake at their Nantucket home for the inaugural Global Lyme Alliance event on Nantucket.
Date
: Friday, June 28, 2019
Time & Details
: 6:30pm - 8:30pm; Cocktails and Hors D'Oeuvres; Valet Parking
Location
: The home of Will Steele and Chris Drake (details confirmed following ticket purchase)
Tickets
:
https://fundraise.globallymealliance.org/event/nantucket-2019/e235186
Beauty abounds on Nantucket and unfortunately so do ticks and Lyme disease as well as a host of other tick-borne illnesses. Both Nantucket and Martha's Vineyard have the highest number of Lyme disease cases per population than any other region in Massachusetts.William Bainbridge Steele and Christopher Putnam Drake welcome you to their home to host a special evening dedicated to raising awareness about Lyme disease and other tick-borne illnesses. GLA CEO Scott Santarella will be on hand to discuss GLA, Lyme disease and the latest treatment advances. The evening will benefit Global Lyme Alliance. Space is limited. Please purchase your tickets today. If you are unable to attend, please support the event with a donation.