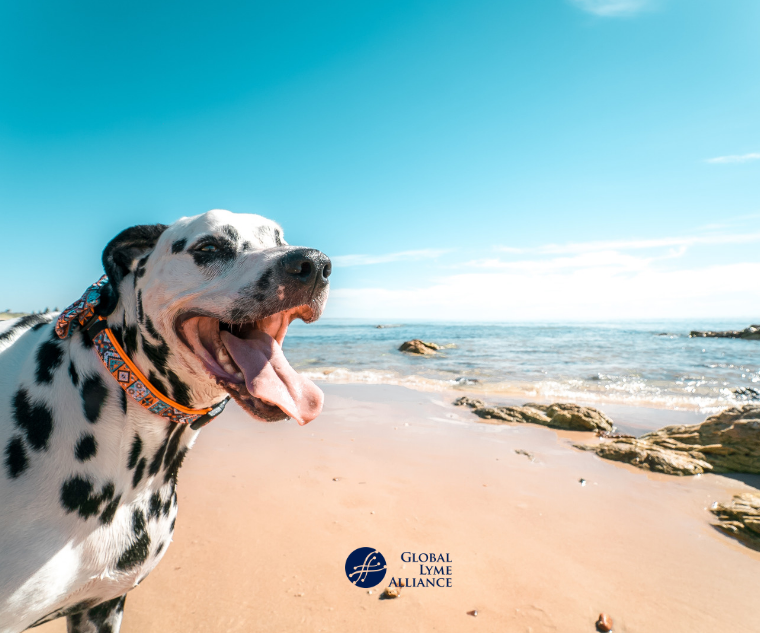 SALEM, Ore.

/PRNewswire-PRWeb A new study from the Companion Animal Parasite Council (CAPC), the leading source on parasitic diseases that threaten the health of pets and people, shows prevalence for Lyme disease in dogs increasing in endemic Northeast regions and moving into U.S. regions not historically considered endemic. Results from the study — " A Large Scale Spatio-Temporal Binomial Regression Model for Estimating Seroprevalence Trends" — were recently published in Environmetrics, the official journal of The International Environmetrics Society (TIES), an Association of the International Statistical Institute. "The results of this milestone study show increasing risk for Lyme disease in endemic areas and pinpoint regions in the U.S. where Lyme is spreading — areas not historically considered endemic," said Dr.

Michael Yabsley

, professor in the Department of Population Health, College of Veterinary Medicine and

Warnell School

of Forestry and Natural Resources at the

University of Georgia

. "This expanding risk of Lyme disease demands heightened vigilance in protecting both our pets and our families from this devastating illness."
Canine test results help track continued expansion of Lyme disease
The study was motivated by the rise in Lyme disease cases in the U.S. and, in particular, rising incidence in states not traditionally considered Lyme-endemic. Results suggest that:
Canine prevalence rates for Lyme disease is rising
Lyme prevalence rates are increasing most in areas where the pathogen has recently encroached.
Lyme prevalence in dogs is rising in states traditionally not considered to be of high Lyme risk, suggesting that human risk may also be increasing in these areas, including regions in

Illinois

,

Iowa

,

North Dakota

,

Ohio

,

Michigan

and

Tennessee

.
Significant increases in canine Lyme prevalence are also seen in some areas that have not yet reported significant human incidence. Given the proximity of these locations to recognized high-incidence areas, it is reasonable to infer that canine prevalence is more sensitive to changes in Lyme risk and could serve as an early warning system for changes in human risk.
The statistical model was developed to investigate regional trends in antibody prevalence to Borrelia burgdorferi, the disease-causing bacterium of Lyme disease — the most prevalent tick-borne disease in the U.S. The CAPC research team analyzed over 16 million Lyme test results taken on domestic dogs in the U.S. over a 60-month period from

January 2012

to

December 2016

, aggregated by county and month. The serologic data was provided by IDEXX Laboratories, Inc. to CAPC. "CAPC research shows the risk for Lyme disease is not static. The way it's changing varies spatially across the country," said

Christopher McMahan

, associate professor in the department of Mathematical Sciences at

Clemson University

.
Research results: Pinpointing increasing regional risk for Lyme disease
The regional rate of Lyme prevalence change between

January 2012

and

December 2016

is positive in all states that are currently recognized as having high human Lyme disease incidence by the Centers for Disease Control and Prevention (2017), comprising portions of the Northeast and the Upper Midwest, including

Maine

,

West Virginia

and

Virginia

, and the northern parts of

Minnesota

and

Wisconsin

.
Increasing local trends extend southwards through

West Virginia

and

Virginia

, and into

North Carolina

and

Tennessee

. This region includes localities where Lyme disease is reportedly increasing. Increasing local trends in parts of northwestern

Minnesota

, northern

Wisconsin

, and southeastern

Iowa

are also apparent.
In the Great Lakes region, increasing trends are observed in

Eastern Ohio

,

Indiana

, and

Western Michigan

.
"Because Lyme is a zoonotic disease affecting both humans and dogs, this research demonstrates not only an expanding regional risk for Lyme in dogs, but it should aid our understanding of Lyme risk changes for humans," added McMahan.
Year-round tick protection more critical than ever
"There's a misperception ticks are common in spring and summer but aren't active in winter months. While not all species of ticks feed 365 days of the year, there are different species of ticks active all 12 months of the year," said Yabsley. "The tick that transmits the Lyme agent is active at different times of the year in different regions. As you move further south, for example, adult ticks are most active in winter. This is why year-round protection is critical." "I've been practicing for over 34 years in

Nashville

where many people don't think Lyme disease is a concern. But I've seen canine Lyme increasing in

Tennessee

for several years and regularly test and vaccinate for the disease," said

Craig Prior

, a veterinarian and former owner of VCA Murphy Road Animal Hospital in

Nashville, Tennessee

, and past president of the CAPC board of directors. "Many people tend to believe that if they don't go on hikes or spend time in wooded areas, they aren't at risk for Lyme. Ticks are everywhere – including suburban and gated communities where deer, raccoons, opossum, birds and other hosts frequent back yards. That's why CAPC recommends year-round tick prevention for dogs – and cats – and regular screening to protect dogs from this debilitating disease that can be extremely hard to treat. By protecting your pet, you protect your family." CAPC now provides monthly forecasts for Lyme disease and other important tick-borne diseases at http://www.petdiseasealerts.com. It also provides access to monthly canine test results in prevalence maps, a CAPC resource available free online at http://www.petsandparasites.org. With more than 21 million canine Borrelia burgdorferi antibody test results collected between 2012 and 2017 in dogs, these maps allow veterinarians, physicians, pet owners and travelers to assess the risk of exposure across

the United States

and

Canada

. This study continues CAPC's leadership to better understand parasitic diseases that threaten the health of pets and people. "Over six years ago, we formed a cross-functional team of parasitologists and statistical modelers from institutions including

Clemson University

and the

University of Georgia

. I'm grateful to this expert team that has worked closely with CAPC board members to help us provide the most updated information to help protect pets and their owners," said Dr.

Christopher Carpenter

, executive director of CAPC. "I believe our best work is still yet to come." The Companion Animal Parasite Council ( http://www.capcvet.org) is an independent not-for-profit foundation comprised of parasitologists, veterinarians, medical, public health and other professionals that provides information for the optimal control of internal and external parasites that threaten the health of pets and people. Formed in 2002, the CAPC works to help veterinary professionals and pet owners develop the best practices in parasite management that protect pets from parasitic infections and reduce the risk of zoonotic parasite transmission. SOURCE Companion Animal Parasite Council