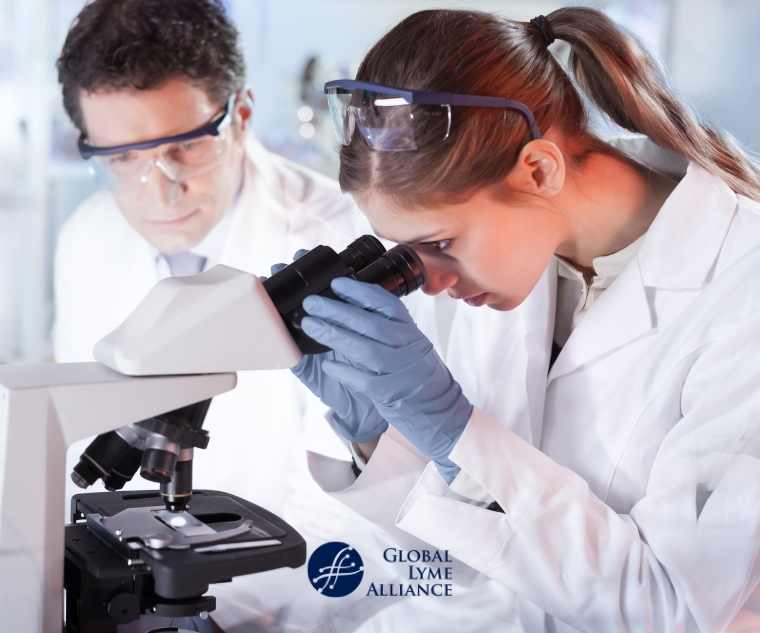 GLA is supporting five researchers at prestigious academic and medical institutions across the country. Successful completion of these studies will positively impact the lives of current and future Lyme patients.
STAMFORD, CONNECTICUT
Global Lyme Alliance (GLA), the leading 501 (c)(3) dedicated to conquering Lyme and other tick-borne diseases through research, education, awareness, and patient services, is excited to announce its new research grants that were distributed at the end of 2021. GLA received fifty-eight Letters of Intent, describing some of the most exciting and cutting-edge research ideas we have ever considered for funding. After careful evaluation of projects for their potential impact on more accurately diagnosing individuals and treating and improving the lives of Lyme disease patients, twenty-two applicants were invited to submit full proposals. After a rigorous review by our Scientific Advisory Board, it was concluded that five of the twenty-two grant proposals were of sufficiently high scientific merit to warrant funding. GLA has awarded $600,000 in new grants to the five recipients.
"A particularly exciting aspect of the research funded in 2021 is that it spans the gamut from development of novel diagnostic tools to understanding the ability of Borrelia burgdorferi to form biofilms and perturb the microbiome, to the role of spirochetes in causing neuroinflammation and neuropsychiatric disorders. We anticipate that successful completion of these studies will positively impact the lives of current and future Lyme patients." - Timothy Sellati, Ph.D., Chief Scientific Officer at Global Lyme Alliance.
GLA's grant recipients include:
Mollie Jewett, Ph.D., University of Central Florida

, "Lyme iDS: An Innovative Point-of-Care System for Reliable Diagnosis of Lyme Disease."

Researchers are developing a rapid and highly sensitive Lyme test that will detect the disease weeks earlier than any current test allows, eliminating the need to visit diagnostic labs and wait for the results.

Brandon Jutras, Ph.D., Virginia Tech

, "Breaking down the wall: Targeting peptidoglycan to treat and diagnose Lyme disease." Dr. Jutras discovered that a structural protein from

Borrelia burgdorferi

(the bacteria that causes Lyme disease) could trigger a strong inflammatory response in patients with post-treatment Lyme disease (PTLD). This protein may serve as a unique biomarker that could more accurately diagnose acute and late-stage disease. It could be targeted for removal from inflamed tissues of the joints, heart, and brain as a novel anti-inflammatory treatment for chronic Lyme disease.

Ilehm Messaoudi, Ph.D., University of Kentucky

, "Impact of

Borrelia burgdorferi

infection, immunity & antibiotics on the host's microbiome in a nonhuman primate model of Lyme disease." Infections and antibiotic treatments can result in profound damage to the gut microbiome that has a long-term impact on a patient's health. A link has not been firmly established between damage to the gut microbiome and development of PTLD. This study will assess whether

B. burgdorferi

infection alone and in association with antibiotics or antibiotics alone damages the gut microbiome, thus causing development of PTLD in a nonhuman primate model. What is learned from this study will inform future treatment strategies to repair the gut microbiome.

Cezar Khursigara, Ph.D., University of Guelph

, "investigating Mechanisms of

Borrelia burgdorferi

Biofilm Formation."

B. burgdorferi

(the bacteria that causes Lyme disease) may form biofilms. The research will uncover mechanisms that may drive biofilm formation, with the long-term goal of revealing the molecular underpinnings of chronic Lyme infections. Afterward, Dr. Khursigara plans to expand these studies to examine the effect of host-derived and environmental factors and antibiotic treatment on biofilm formation.

Catherine Brissette, Ph.D., University of North Dakota

, "Cerebrospinal Immune Responses in a Tractable Murine Model of Lyme Neuroborreliosis." Lyme neuroborreliosis (LNB), also known as neurological Lyme disease, occurs in 10–15% of Lyme disease cases. Dr. Brissette's team has developed a mouse model of LNB. Their long-term goal is to utilize this model to identify pathogen, host, and environmental factors that trigger inflammation central nervous system to develop treatments for LNB.



GLA's researchers are selected following a rigorous process using guidelines established by the NIH. Each grant proposal is evaluated by GLA's highly regarded Scientific Advisory Board and must meet the same scientific standards that the NIH applies to its own research grant review process. Dr. Sellati, GLA's in-house Chief Scientific Officer, helps oversee the grantees, making GLA dedicated and committed stewards of donor dollars.
"Despite its tiny size, the SARS-CoV-2 virus and the worldwide pandemic it is causing has impacted all aspects of our lives. Unfortunately, this includes impacting GLA-funded investigators and their ability to continue conducting research. Hopefully, as we move forward in 2022 and research laboratories reopen, our scientists and physicians can move full speed ahead, making new seminal discoveries," said Dr. Sellati.
According to the Centers for Disease Control and Prevention, Lyme disease is a growing epidemic, with more than 476,000 reported new cases each year in the United States. GLA has gained national prominence for funding some of the most urgent and promising research while expanding education and awareness programs for the general public and physicians. We support those around the globe needing information about tick-borne diseases. Learn more at GLA.org.