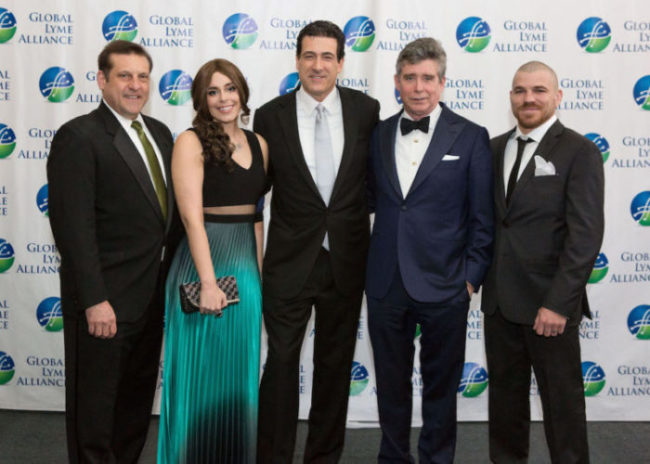 U.S. Senator Richard Blumenthal, TV journalist and female empowerment advocate Gretchen Carlson, best-selling novelist Jay McInerney, among those at Greenwich CT gala to fund research and ultimately a cure for Lyme and other tick-borne illnesses.
GREENWICH, CONNECTICUT (April 5, 2017)
Global Lyme Alliance (GLA), the leading Lyme and tick-borne disease nonprofit dedicated to conquering Lyme through research and education, announced today that its Greenwich Gala, held Saturday, April 1 at the Hyatt Regency Greenwich, raised nearly $800,000 to fund research and ultimately a cure for Lyme and other tick-borne illnesses. "Huge thanks to all those who made the Gala such a wonderful success—our special guests, honorees, co-chairs, as well as the many generous donors who invested their time and funds in the fight against tick-borne disease," said Scott Santarella, GLA's CEO.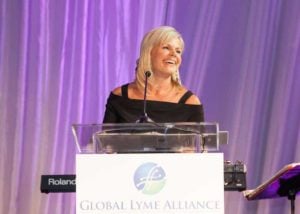 Gretchen Carlson, TV journalist and female empowerment advocate, served as master of ceremonies for the event, which was attended by over 450 guests, including U.S. Senator Richard Blumenthal, U.S. Rep. Jim Himes, novelist Jay McInerney, UFC lightweight fighter Jim Miller, prominent business leaders, esteemed scientists and philanthropists. The event was co-chaired by Robyn Carpenter, Heather Glass, Amy Tambini and Tara Vessels. In her opening remarks, Carlson talked about being treated for Lyme disease five years ago after initially being misdiagnosed. "I'm one of the lucky ones," she said. "I don't have any symptoms of the chronic disease at this point. But so many other people are affected by this [disease] in such a serious way."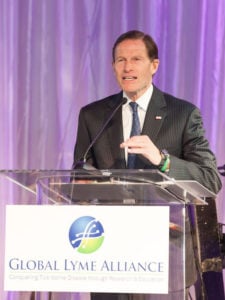 Senator Richard Blumenthal, a long-time GLA supporter, spoke about how everyone in the room was "touched by this insidious, pernicious disease." He rightly termed it a pandemic and called for greater attention to the issue by the federal government. Honored at the event was Dr. Harriet Kotsoris, who received the Lauren F. Brooks Hope Award for her pioneering 10 years as GLA's Chief Scientific Officer and founder of its Scientific Advisory Board. "Harriet created the framework from which all future research can flourish, establishing a newfound credibility and understanding of Lyme and tick-borne diseases," said GLA Vice Chair Diane Blanchard, who presented Dr. Kotsoris with the award.
Singer-songwriter Marina Morgan received GLA's Star Light Award, created to honor individuals who have lent their voices to the fight against Lyme disease. Morgan—featured by national radio host Elvis Duran as his December "Artist of the Month"—said she was inspired by her health struggles with Lyme-related pain and fatigue to write her powerful song, "Paralyzed." The Staten Island, NY resident said she wanted to "spread hope that there is a light at the end of the tunnel and encourage people to never give up." Morgan received a standing ovation after she performed her song live.
In one of the more emotional speeches of the night, Tara Vessels, one of the event co-chairs, talked about how her son getting Lyme disease at age 12 changed his life and those of his parents. Vessels, her voice cracking with emotion, described the family's ongoing search for treatment and the difficulties her son was forced to face. "Even the most resilient warrior can feel like giving up the fight," she said. "This disease completely wears you down." Gala sponsors included Withersworldwide, FS Investments, Greenwich Hospital, Luxe.Interior + Design, WIMCO Villas, Wheels Up, Fairfield County Look and Tradewind Aviation.
In addition to the Gala, on Friday and Saturday, GLA hosted its annual closed-door Research Symposium for 25 eminent members of the scientific community who are either current or past GLA grant recipients or members of GLA's Scientific Advisory Board. Global Lyme Alliance will hold another major fundraiser in New York City on Wednesday, October 11, 2017 at Cipriani 42nd Street.
---
### ABOUT GLOBAL LYME ALLIANCE Global Lyme Alliance is the leading private nonprofit dedicated to conquering Lyme through research and education. The 501(c)(3) is headquartered in Greenwich, CT. For more information go to GLA.org.