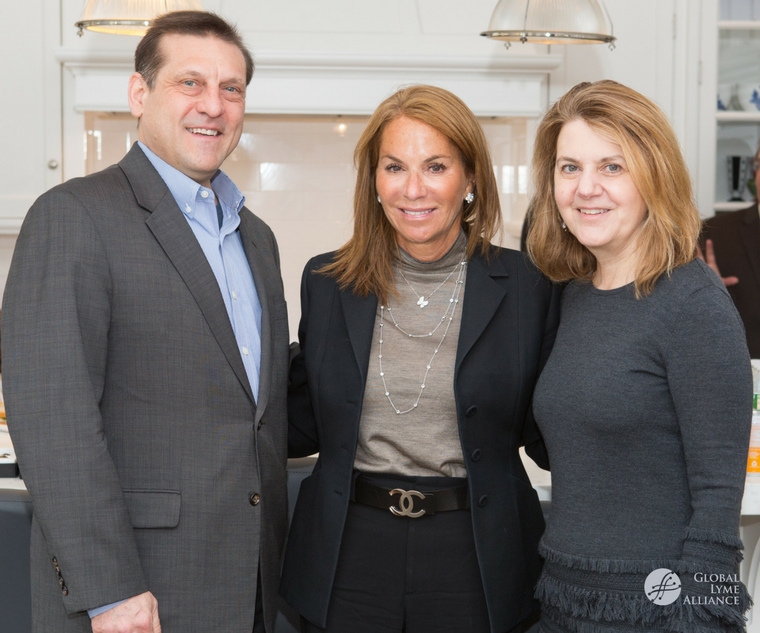 Gretchen Carlson to emcee Greenwich event honoring those on the front lines of Lyme disease
STAMFORD, CONNECTICUT (March 14, 2018)
Global Lyme Alliance (GLA), the leading 501(c)(3) dedicated to conquering Lyme and other tick-borne diseases through research, education and awareness, will bring together esteemed scientists, noteworthy celebrities, Lyme disease patients and community leaders at its annual Greenwich Gala, May 12, 2018 at the Hyatt Regency in Old Greenwich, CT.
"We're especially excited about this year's event," said Scott Santarella, GLA's CEO. "It will bring together hundreds of leaders across the Lyme community, including members of GLA's Scientific Advisory Board, Board of Directors, researchers, physicians, corporate supporters, patients and volunteers to raise essential funds to advance Lyme and tick-borne disease research and ensure that advances in diagnostics and treatments are brought to physicians and patients as quickly as possible."
"I especially want to thank this year's Event Co-Chairs: Stephanie Ercegovic, Sonya Rolin with daughter Tatiana Donald, and Astrid Womble with daughter Christina Womble," he said. In picture: GLA CEO Scott Santarella with Greenwich Gala Co-Chairs Sonya Rolin and Stephanie Ercegovic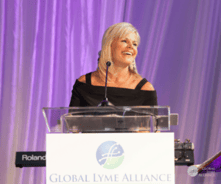 The evening will include
Gretchen Carlson
, noted television commentator, author, activist and recently appointed chair of the Miss America Organization, serving as Gala emcee. Carlson, a Greenwich resident and former FOX News host, was named one of Time Magazine's 100 Most Influential People for 2017. Her most recent book, "Be Fierce: Stop Harassment and Take Your Power Back" made the New York Times best-seller list the first week it was published this October.
GLA's Star Light Award will be presented to singer-songwriter Jesse Ruben for his ongoing efforts to raise Lyme disease awareness. Diagnosed in 2013, his career was sidelined for more than two years due to Lyme. Since then, he has performed around the world, including an appearance on "The Today Show" last February. For the past two years Ruben has run in the NYC Marathon to raise funds for GLA and will serve as its Team Captain in the 2018 race.
I feel a huge sense of responsibility to do everything I can to help the Lyme community," Ruben said. "I hope that by continuing to write songs, run marathons and constantly share my experience, I can help us all get closer to our true goal: finding a cure for Lyme.
In addition, Nicole Baumgarth, D.V.M., Ph.D.—Professor of Immunology at the Department of Pathology, Microbiology & Immunology and the Center for Comparative Medicine, University of California, Davis—will receive GLA's Lauren F. Brooks Hope Award for making significant strides in research and treatment in pursuit of a Lyme disease cure.
"It's a great pleasure to honor Dr. Baumgarth with this well-deserved award," said Mayla Hsu, GLA's Director of Research and Science. "She is at the forefront in explaining the biology of why so many Lyme patients fail to recover, and continue to suffer months and even years after their initial infection. She offers hope that with this understanding, better treatments may come."
Honorary Event Chairs for the Gala include Bravo TV's Andy Cohen; singer Debbie Gibson; Hall of Fame pitcher Tom Seaver; novelist Jay McInerney; two-time Emmy Award winner Jane Alexander; 2016 PGA Championship winner Jimmy Walker and his wife, Erin; stage, television and screen actor Victor Slezak; investigative reporter/author of "Lyme: The First Epidemic of Climate Change" Mary Beth Pfeiffer; singer Marina Morgan; MMA champion fighter Jim Miller; tv anchor and producer Mike Schneider; "The Divine Secrets of the Ya-Ya Sisterhood" author Rebecca Wells and others.
Bloomingdales and Strive IV are official event sponsors. Additional partners include Barton Perreira, Diptyque, Dylan's Candy Bar, Equinox, Fairfield County Look, and Malia Mills.
The Greenwich Gala is a major fundraising event for Global Lyme Alliance. It will be held Saturday, May 12, 2018, from 6:30 p.m. to midnight at the Hyatt Regency in Old Greenwich, CT. The event features a cocktail reception, dinner, dancing, silent and live auctions.
---
ABOUT GLOBAL LYME ALLIANCE Global Lyme Alliance (GLA) is the leading 501(c)(3) dedicated to conquering Lyme disease through research, education and awareness. GLA has gained national prominence for funding the most urgent and promising research in the field, while expanding education and awareness programs for the general public and physicians. Learn more at GLA.org.