Introducing GLA Greenwich Gala Co-Chairs: Part 1 of Series
Three years ago, Stephanie Ercegovic (pictured with husband, Brian Foster) began a medical journey that took her from one doctor's office to the next as she sought treatments for the mysterious illness affecting her 13-year old daughter.
Her daughter had suddenly gone from being healthy, "super-athletic and full of energy" to suffering from an alarming number of problems that included a painfully inflamed shoulder, unremitting sleep difficulties, severe anxiety, and digestive issues. Ercegovic and her husband consulted doctors in Connecticut and New York but none were able to determine what was wrong.
It goes without saying that when a child is chronically ill, the whole family feels the pain. "It's been a nightmare for my daughter," said Ercegovic, a Westport, Connecticut resident, "a nightmare for everyone."
Living in Connecticut where Lyme disease is endemic, you might wonder why doctors did not immediately suspect that the teen's problems were caused by the tick-borne illness. As it turned out, Ercegovic's daughter was tested twice for Lyme, but after both tests were negative—even though such tests are only 50% accurate—doctors ruled it out. As a result, she was shuffled off to numerous specialists, while the Lyme infection became more disseminated throughout her body and more difficult to treat.
"We went from place to place, searching for answers," said Ercegovic, president of Discovery Capital Management, a South Norwalk-based hedge fund. "She had MRIs and nine months of rehab for her shoulder with two different orthopedists. The second doctor finally concluded that they couldn't find anything wrong with her and it must be inflamed since her shoulder was 'hot to touch' and she should not carry anything more than five pounds. We visited ear, nose and throat specialists; pediatricians; and allergists as her body was developing new and significant food allergies every two to three months with no known cause."
Fortunately, an answer came after Ercegovic watched a close family friend—Robyn Carpenter, who last year served as a co-chair of Global Lyme Alliance's (GLA) Greenwich Gala—go from being "healthy and active to having her knee swell up massively and being unable to walk."
At one point Carpenter was being treated for rheumatoid arthritis and she was told she even needed surgery, only to finally consult with a Lyme-literate doctor. He helped her navigate the path from illness to wellness by correctly diagnosing her with Lyme. As they saw Carpenter steadily improve after four months of care, Ercegovic's husband wondered if his daughter might actually have the tick-borne illness. They met with Carpenter's doctor and soon learned their child not only had Lyme, but was also suffering from a tick-borne co-infection, Bartonella, which can cause troubling neurological symptoms.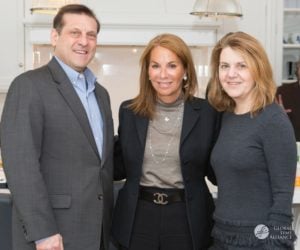 Today, after being treated for a year, her 16 1/2 year old daughter is much better, but she can no longer tolerate antibiotics and her symptoms linger. Ercegovic, a Lyme Warrior if there ever was one, still searches for treatments that will help her child."I'm a huge advocate for doing whatever I can," she says. Taking a moment to reflect, Ercegovic says childhood should be a time of joy and exploration, but that "this disease has literally destroyed my child's childhood." The biggest issue that remains for her daughter, she says, is ongoing sleep problems that leave the teen exhausted, fatigue draining every ounce of energy from her body and making if difficult for her to stay focused, study, or get organized.
To make matters worse for Ercegovic, as she learned more about Lyme's effects, her husband realized that he had Lyme, which was previously diagnosed as "arthritis in his hands and hips" and he too is undergoing treatment. Then last summer, she relived the nightmare of her older daughter's Lyme when her younger child went for her annual pediatric physical and the pediatrician found a "red oval" rash on her back. "I found myself saying 'Oh my god, oh my god. It's a tick bite!," Ercegovic recalls. "I was freaking out!" Recognizing that chances were good it was Lyme, she was taken aback when the pediatrician questioned whether it really was the tick-borne disease since it wasn't the exact shape of a bulls-eye, the tell-tale sign of the disease which only manifests in some cases. "We left that office, got in to see the Lyme doctor the next morning and started treatment the same day, " Ercegovic says.
Over three years, Ercegovic has had a crash course in what so many Lyme sufferers endure. She has seen how difficult it is to get an accurate diagnosis and find effective treatments. She has watched her teenage daughter suffer from an illness and its co-infections that traumatize the mind and spirit. Like others, her daughter must struggle against the invisible enemy inside of her. "My experience has been eye-opening," she says. "I used to think that if you were diagnosed with Lyme, all you needed to do was take antibiotics and you would be fine. I didn't know that spirochetes can hide in cells and even have a neurological component. It was all new to me."
Her new-found awareness has made her determined to speak out and help others. Not only is she one of the Co-Chairs of GLA's 2018 Greenwich Gala being held next month, but she says she plans to remain actively involved in GLA. "I've learned more from the mothers in this organization—what they're doing and not doing to help their children—that it's been amazing."
Ercegovic says she is particularly eager to help alarmed mothers who search for answers when their children develop symptoms that doctors can't explain. The first thing she tells a parent with a child who isn't acting normally is to look for Lyme. "I tell them this is a real disease and they have no idea the damage it can cause," she says. I also tell them to find a doctor who knows Lyme. Think of it this way: If you have breast cancer, you aren't going to go to a GP. You're going to go to an oncologist, a doctor who specializes in cancer. The same thing goes for Lyme disease. If you suspect Lyme, you need to see a doctor who deals exclusively with Lyme and tick-borne diseases." For help in finding a Lyme-literate health provider, go GLA.org.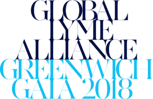 Ercegovic is looking forward to next month's Gala and says she hopes it raises significant funds for researchers to continue their work of developing a highly accurate diagnostic test and better treatments. "Research is the key," she said. "I'm hoping that research focused on detection and treatment will make a difference for other people and show them there is real hope."