Global Lyme Alliance is thrilled to be the first Lyme organization named an official charity partner of the TCS New York City Marathon, starting with the 2018 race. The TCS New York City Marathon provides a dynamic platform for GLA to raise funds and increase public awareness about the escalating risks of Lyme disease.
We are excited to announce the carefully selected inaugural team of 5 Lyme warriors who will represent Team GLA on Sunday, November 4, 2018. Please join us in supporting and celebrating our runners throughout their memorable journey to the iconic finish line.
Jesse Ruben, Brooklyn, NY
Singer/Songwriter, 3X Marathon runner on behalf of GLA and Team GLA Team Captain
Why I run: I run to prove to myself that I can. But I also run to represent the huge number of people with Lyme who are still dealing with their symptoms. I feel a huge responsibility to do whatever I can to help the people in this community. Part of that means spreading awareness and raising money. The marathon is a perfect way to do that.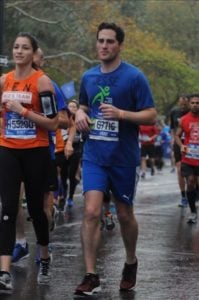 If you had told me a couple of years ago that I'd be training for a marathon, there's no way I would've believed you. I was spending most of my time in bed. My fatigue was unbearable. The fact that I was fortunate enough to find a treatment that was effective, and to be in remission, is a miracle. I am so honored to be the team captain, but even more than that, I am just so excited that we finally have an official team. Two years ago, it was me and one other person, last year it was only me. There are some marathon charity teams that have hundreds of members that raise millions of dollars every year. I see no reason why the Lyme community shouldn't have that as well. To me, this is just the beginning. I can't wait to see what happens in the upcoming years. It's very exciting.
Visit Jesse's fundraising page to view his story and donate: gla.org/jessemarathon
Annie Cunningham, Golden, CO
Cell Culture Scientist, Certified Yoga Instructor, wife and dog mom who loves spending time in the mountains
Why I run: Diagnosed in 2016 & spent two years fighting for my health, spreading awareness to friends, family and anyone who will listen!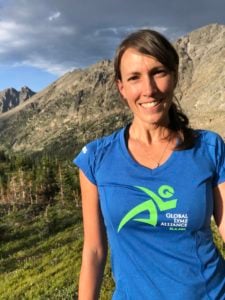 I run because it just feels good for both my body and my mind. I don't need any fancy gear and can just step outside my front door. I am looking forward to being a part of a team for a cause that I care deeply about and to participate in such an electrifying city like NYC! My goal is to simply finish and to maintain my health all while raising awareness and funds for an amazing and paramount organization! I am honored to be representing the Lyme community and I now understand the power of representing something bigger than myself.
Visit Annie's fundraising page to view her story or donate: gla.org/anniemarathon
Thor Kirleis, North Reading, MA
Senior Software Engineer, dad, husband and 110-time marathon runner
Why I run: I run with Team GLA so that I can help raise funds and retain a part of my identity by refusing to let Lyme dictate what I can or can't enjoy.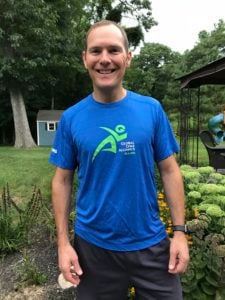 I have been fighting Lyme for the last 6 years. To say it is my cause is an understatement. I live it every day. Although I have run over 110 marathons in my 30 years running, I have been hampered — to put it mildly — over the last 6 years since contracting Lyme disease (with many co-infections). I have gone on stretches where I just cannot run even a step. I run and often walk (due to Lyme) to show Lyme and the world that although you can make me ill, you cannot rob me of my love of running. My goal for the New York City Marathon is to have fun and get as far as I can before they pull me off course. I will likely have tears in my eyes as I cross the 59th Street Bridge as the course traverses back into Manhattan as at that point, with the knowledge that I am doing my part in my battle with Lyme, I am also more than halfway through showing Lyme that it cannot take away my passion that is running and being an athlete and participating in meaningful endurance events.
Visit Thor's fundraising page to view his story or donate: gla.org/thormarathon
Nani Luculescu, Los Alamitos, CA
Mom of 2 cuties, avid runner and cyclist
Why I run: I'm running for Team GLA in memory of my Dad who lost his battle with Lyme-induced ALS in 2013.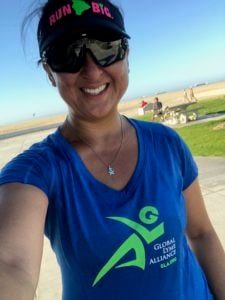 I started running to help me cope with the overwhelming grief I felt after losing my dad. I was in a bad place, depressed and feeling lost. Running was a place to be alone with nature and appreciate all the beauty around me and an opportunity for me to meditate and improve my health. I started feeling better and found solace in running so I kept at it. Running with Team GLA to raise money & awareness for Lyme means so much to me since one of my dad's final wishes before he died was for me to tell others about Lyme so they wouldn't have to suffer like he did. I am most looking forward to climbing up to the Statue of Liberty crown on my birthday before the race. My goal for this year's marathon is to enjoy the experience and share my dad's Lyme story with as many people as possible.
Visit Nani's fundraising page to view her story or donate: gla.org/nanimarathon
Dan Gautreau, Brooklyn, NY
Bank Examiner, recently moved to NY from Washington DC and is running his 2nd marathon
Why I run: I was diagnosed with Lyme disease when I was 21. While my symptoms have subsided in recent years, there is so much to be done to lessen the impact on those affected.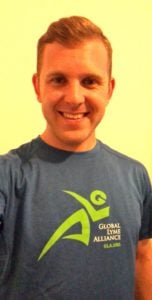 As someone who struggled with Lyme, Team GLA immediately stood out as the perfect fit. My hope is that by running on behalf of GLA, I can raise fundraising and spread awareness to combat Lyme and other tick-borne disease. I believe that supporting GLA is a great way to fight this disease, and to contribute to tangible results. As someone who has been plagued by this horrible and often misunderstood disease, I have been passionate about spreading awareness about Lyme. I run because it keeps me in shape, it gets me outdoors, but most importantly it makes me feel great. My goal is to finish the 2018 NYC Marathon under 3 hours and 15 minutes! I'm most looking forward to the magic of marathon day in the city. There is a special energy among runners and spectators alike, and I'm excited to be a part of it.
Visit Dan's fundraising page to view his story or donate: gla.org/danmarathon
Want to support Team GLA as they run through the 5 boroughs?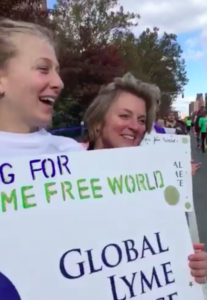 Come join our cheer squad! Email Events@gla.org for details.
Want to participate in a GLA Endurance program? Click here