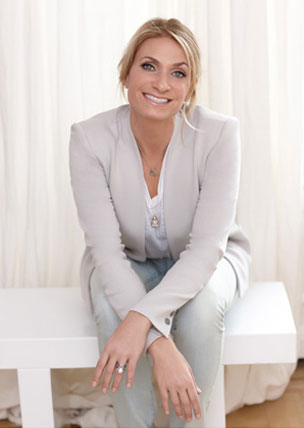 May is Lyme Disease Awareness Month and we've launched a Bite Back Against Lyme campaign in partnership with Heather Thomson, one of Bravo TV's "Real Housewives of New York City."
Thomson, who has never had Lyme disease but said she has "pulled many a tick off of myself and my family," says she "stands for the bitten, but I represent the unbitten." An outdoor enthusiast, Thomson said she wants to help GLA "take back the outdoors."
In an effort to raise awareness about how vulnerable individuals and families like her own are to Lyme and other tick-borne illnesses, she will do three brief grassroots videos and tweet Lyme prevention tips to her followers throughout the month.
"My family and I have escaped any issues because of awareness and education. We check ourselves regularly [for ticks] and take action swiftly," said Thomson, who has a home in the Berkshires. But "I know countless others, several of whom have gone undiagnosed for too long, creating severe complications and concerns. They never saw a tick, never saw a rash, and never had a clue of this tiny but mighty insect that had infected them."
Among those suffering is Thomson's Bravo TV colleague Yolanda H. Foster, of the "Real Housewives of Beverly Hills" franchise, who has publicly shared her battle with Lyme disease. Foster was first diagnosed with Lyme disease in 2012 and recently called her ongoing struggles with Lyme-related neurological issues a "nightmare."
Lyme disease is the most common vector-borne disease in the U.S. with over 300,000 new cases diagnosed in the U.S. each year, according to the Centers for Disease Control and Prevention (CDC). When caught early, Lyme can usually be treated successfully with antibiotics. However, there are no reliable diagnostic tests for the tick-borne disease, no tests to prove that Lyme bacteria have been eradicated or that an individual is cured.
According to the CDC, up to 20 percent of individuals treated for Lyme fail the short-term treatment and become chronically ill. They continue to experience symptoms such as severe arthritis, persistent fatigue, impaired vision, memory loss and other cognitive problems.
"We're delighted that Heather wants to raise awareness about Lyme disease," said GLA Chairman Robert Kobre. "Awareness and prevention are the best weapons against tick-borne diseases. We appreciate what Heather's celebrity can bring to the cause."