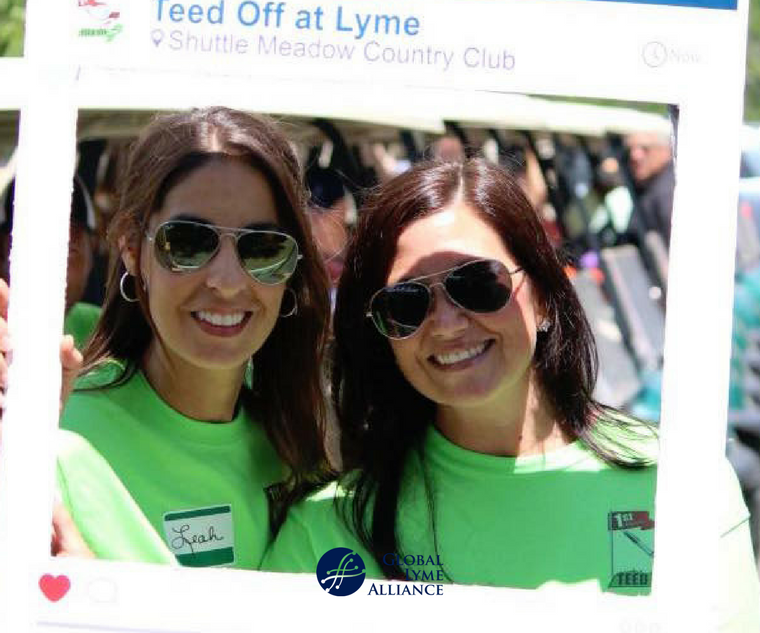 Golf Fundraiser Raises $34,000 for Global Lyme Alliance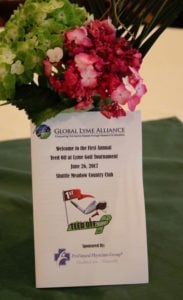 Back in February, when few of us were thinking about playing golf, Rebecca Tibball (pictured above, on right) was dreaming about getting out on the golf course to raise awareness about Lyme disease. Tibball, a Cromwell, CT resident who was diagnosed with Lyme disease in 2015 after suffering from symptoms for more than a decade, had decided to spearhead a golf tournament to educate people in central Connecticut about the risks of the disease and also help Global Lyme Alliance (GLA) raise funds for essential research and education. On June 26, what had seemed a distant dream back in winter, became a reality. The first "Teed Off at Lyme" golf tournament was held at Shuttle Meadow Country Club in Berlin, CT. Some 160 people attended the event, which consisted of a dinner, silent auction and a raffle, 89 players participated in the golf tournament, and $34,000 was raised for GLA, which works to conquer Lyme and other tick-borne diseases through research, education and awareness. Days later, an exhausted Tibball could hardly believe the event had been so successful. "I can't even get over how amazing it turned out," she said. "There was not one bump in the road." The weather that day was beautiful, without a cloud in the sky, or as one visitor put it, a "10" kind of day. In addition to 18 holes of golf at beautiful Shuttle Meadow Country Club, the event featured a fantastic buffet dinner provided by the Club. At the dinner, Scott Santarella, GLA's CEO, thanked Tibball for working tirelessly, despite still suffering from Lyme, to put together such a successful event. "Rebecca struggled to get this event done, but she persevered." he said. "Her willingness to share her story inspires all of us at the Global Lyme Alliance and inspires everyone in this room." Dinner attendees also heard from Dr. Elena Frid, who spoke about Lyme as a "complex and controversial" disease that needs better diagnostics and treatments, and listened to a performance by Marina Morgan, who had the audience in tears as she sang her song "Paralyzed" about her experiences as a Lyme sufferer. Top sponsors for the event were ProNatural Physicians, Tick Ranger, Tick Killz, Tick Ease Tweezers, Tick Tick Naturals, Damato Chiropractor and Hartford Distributors. Kenneth Kirschner was a major donor of the raffle items.
Golf tournament winners (for low gross): the team of Leo Veleas, John Jacko, Maki Kobayashi and Chaki Kobayashi. Low net winners were Christopher Powers, Jim Motyka, Owen Hughes and Tommy Pethigal. Tibball was diagnosed with Lyme two years ago after back surgery triggered symptoms. She started experiencing extreme sound sensitivity, panic attacks and began to lose feeling in her hands and feet. "They couldn't figure it out," she said about the 14 doctors, therapists and specialists she visited. A Lyme doctor finally confirmed the diagnosis and told her she likely had had it for years. The disease forced her to resign from her job as a fourth-grade teacher. But Tibball's long journey to an answer made her want to spread awareness and help others suffering from unexplainable symptoms. "This has been the roughest two years of my life," Tibball said at the dinner, choking back tears as she thanked her husband Jay, son Jack and other family members and friends for their support. Later, Tibball made a point of thanking Beth Hollfelder for guiding her through the process of setting up a golf tournament "and for all of her generosity throughout the process." Before concluding the evening's festivities, Tibball invited everyone in the room to either take an Absolut Lime vodka shot or a bite out of a lime. "We need to take a bite out of Lyme," she said to the group, as she raised her glass, "and get it the hell out of here!" Knowing Rebecca Tibball, those words aren't a threat but a real promise.
---
Photo Credit: J. StarBarn Photography