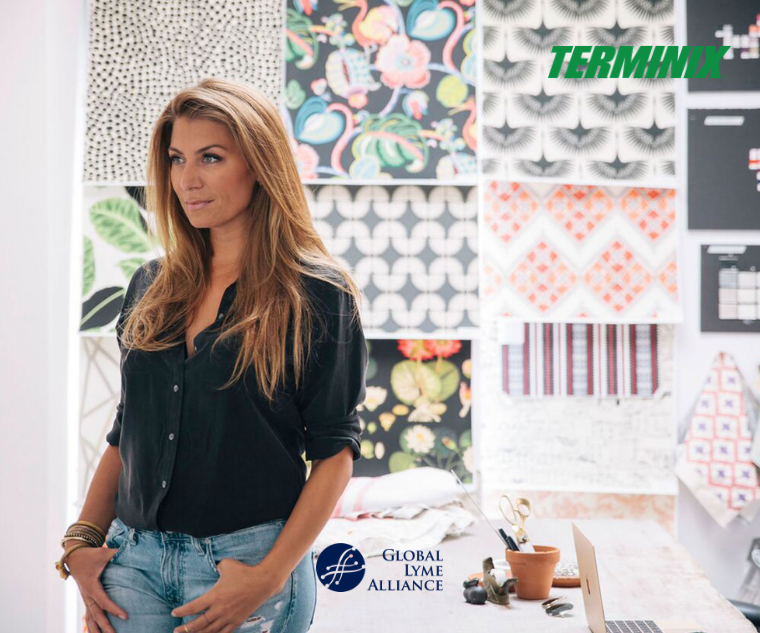 Terminix partners with Genevieve Gorder and will donate 10 percent of new tick product sales to Global Lyme Alliance
MEMPHIS, Tenn.--(
BUSINESS WIRE
)--Terminix, a leading provider of termite and pest control services and a ServiceMaster (NYSE: SERV) company, today announced its launch of the Terminix Tick Defend System™, an integrated pest management system that helps protect yards and homes from tick infestations. The launch comes in partnership with Genevieve Gorder (
Trading Spaces
), the acclaimed celebrity designer who lives with Lyme disease. In recognition of Lyme Disease Awareness Month in May, Terminix will donate 10 percent of proceeds from its new Tick Defend System™ during the months of May, June and July to the Global Lyme Alliance to help raise awareness of the tick-borne illness and how to guard against it. Available now, the Terminix Tick Defend System™ combines leading technology with technician expertise to help guard against all seven common tick species found across the country. The new service offering builds on the company's strong track record of providing differentiated value to its customer base. The treatment is available as a one-time service, or as a monthly package for long-term protection. Customers are also able to combine the system with other Terminix pest and mosquito services, such as the Terminix Quick Guard
®
Mosquito Service, for the ultimate home defense against annoying and dangerous pests. "We are committed to providing cleaner, healthier and safer environments to our customers. We fully understand our customers' concerns about keeping their families protected from ticks and the diseases they can carry," said Matthew Stevenson, president of Terminix Residential. "We have seen tick-borne disease cases increase and have strengthened our efforts to bring effective solutions to our customers. As a leader in the termite and pest industry, we are proud to partner with Genevieve Gorder and bring the Terminix Tick Defend System™ to market to provide peace of mind and offer our customers a new and innovative line of defense against these dangerous pests." "I know firsthand how devastating the impacts of Lyme disease can be," said Genevieve Gorder. "I'm excited to be working with Terminix on the launch of their Tick Defend System™ which underscores the importance of tick protection while supporting the critical education and research made possible by Global Lyme Alliance." The partnership and product launch come as incidence rates for Lyme disease continue to rise. In the past two decades, the reported number of Lyme disease cases in the United States has tripled. Reports from the Centers for Disease Control and Prevention (CDC) suggest the disease is more common than reported, infecting approximately 300,000 Americans nationally
each year
. Victims often mistake early-stage Lyme disease as a flu-like illness, overexertion or sleep deprivation. Late-stage Lyme disease can affect multiple organs, including joints, heart, brain, and other parts of the central nervous system. About 75 percent of Lyme disease cases are associated with activities around the home such as play, yard or garden work. In addition to preventative products, such as the Terminix Tick Defend System™, follow these tips to help guard against ticks:
Avoid areas with tall grass or leaf litter, as these are common places for ticks to hide. When hiking, stick to the center of trails to avoid brushing against vegetation.
Apply EPA-approved tick repellents, both on-skin and on-clothing.
After spending time outdoors, bathe as soon as possible (preferably within two hours) to wash off any ticks crawling on the skin and conduct a full-body check for ticks, paying close attention to the head, hair, in and around the ears, under the arms and behind the knees. If you've been bitten, remove ticks right away.
To remove a tick embedded in the skin, do not grasp it by the abdomen and pull. You may squeeze its fluids into the skin, increasing the chance for infection. Use fine-tipped tweezers to grasp the head of the tick and slowly pull backwards. Once the tick has been removed, cleanse the area well with soap and water.
Because pets, such as dogs or cats, are particularly susceptible to ticks, talk with your veterinarian about appropriate tick prevention products.
For more information or to schedule your Terminix Tick Defend System™ service, visit
Terminix.com
or call 1-800-Terminix.
About Terminix
Terminix is the leading provider of termite and pest control services in the United States. Headquartered in Memphis, Tenn., Terminix services approximately 2.8 million residential and commercial customers in 47 states and 18 countries. Terminix provides pest control services and protection against termites, rodents and other pests. Terminix is a business unit of ServiceMaster Global Holdings, Inc. (
SERV
), a leading provider of essential residential and commercial services. Terminix is the Official Pest Control Partner of Minor League Baseball™. To learn more about Terminix, visit
www.Terminix.com
.
About ServiceMaster
ServiceMaster (NYSE: SERV) solves the homeowner's dilemma. Every day, we visit tens of thousands of homes and businesses through our extensive service network of expert professionals. Our well-recognized brands include AmeriSpec (home inspections), Copesan (commercial national accounts pest management), Furniture Medic (furniture and cabinet repair), Merry Maids (residential cleaning), ServiceMaster Clean (janitorial and residential floor cleaning), ServiceMaster Restore (disaster restoration), Terminix (termite and pest control) and Terminix Commercial (commercial termite and pest control). Like, follow or visit us at
facebook.com/ServiceMaster
,
linkedin.com/ServiceMaster
,
twitter.com/ServiceMaster
, or
servicemaster.com
. ServiceMaster is the Official Home Services Provider of Minor League Baseball™.
About Genevieve Gorder
Genevieve Gorder's soulful style and genuine enthusiasm have made her one of America's favorite interior designers for many years. She is the founder and director of the Genevieve Gorder brand, a television host and producer, home product designer, contributing author, and global ambassador for home and human rights. Gorder has appeared and been featured in over 20 lifestyle shows around the world. You can find her work on Netflix, TLC, HGTV, Sony Channel Asia, The Design Network, and as a regular contributor on The Rachael Ray Show. A two-time Emmy nominee and design host at the Obama White House, Genevieve has built multiple lifestyle collections for home—from rugs, textiles, wallpaper and stationery to a full line of furniture and décor for children with partner Crate & Barrel. Off air and the internet, Genevieve designs for a diverse group of clients and companies. She has guided many hotels, restaurants, cruise lines, cities and private clients toward their design fantasies. She travels the globe with Oxfam as a Sister on the Planet ambassador, using her influence to fight global poverty, hunger and injustice, and using her platform of home to empower women and girls worldwide. Gorder's work has been featured in numerous publications both nationally and internationally. Currently, you can watch her latest Netflix series "Stay Here", the TLC revival series Trading Spaces, and a new Bravo series airing spring of 2019.
About Global Lyme Alliance
Global Lyme Alliance is the leading 501(c)(3) dedicated to conquering Lyme and other tick-borne diseases through research, education and awareness. GLA has gained national prominence for funding some of the most urgent and promising research in the field, while expanding education and awareness programs for the general public and physicians. We support those around the globe in need of information about tick-borne diseases. Learn more at
GLA.org
.
Contacts
Valerie Middleton
| 901.487.3749 |
vmiddleton@terminix.com
Emma Mazour
| 612.244.2104 |
emma.mazour@icfnext.com