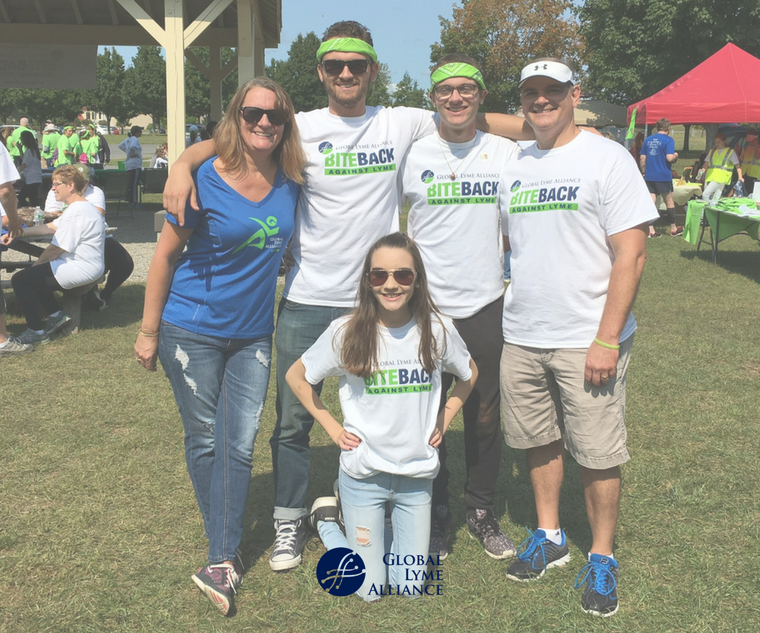 The "Bite Back Against Lyme: Run-Walk," raised more than $14,000 for The Global Lyme Alliance.
ALBANY, NEW YORK (September 12, 2017)
A day of picture-perfect late summer weather brought out some 300 runners, walkers and friends to the Crossings of Colonie Park on Sunday morning for the "Bite Back Against Lyme: Run-Walk" to benefit Global Lyme Alliance (GLA), thereby raising more than $14,000. The 5k Run/Walk, organized by East Greenbush, New York's Heidi Buono (pictured with her family), was held to raise awareness about the escalating incidence of Lyme and other tick-borne diseases and to raise funds for GLA, the leading nonprofit dedicated to conquering Lyme and other tick-borne diseases through research, education and awareness.
The event drew participants from upstate New York, as well as several other states including New Jersey, Connecticut, Vermont and Massachusetts. "I'm thankful it was such a positive event for all of us," said Buono, who has fought Lyme for nine years and speaks openly about how her three children also suffer from the disease. "Whether you are a Lyme sufferer or a caregiver, it's wonderful for people to come together to see there is support for what they are going through."
The event's main speaker was Dr. Holly Ahern, a microbiologist at SUNY Adirondack and co-founder of the Lyme Action Network. Dr. Ahern spoke about the progress that is being made in developing better Lyme diagnostic tests, noting that more strides have been made in the past 6 years than in the previous 30. "It was promising news," said Buono, "which is very important to hear when you are suffering from this disease." Buono has organized similar Run-Walk events in the past, most recently in 2014. But she felt it was more important than ever to hold this year's Run-Walk and to speak out about the danger of tick-borne disease. "Unfortunately," she said, "even in upstate New York where Lyme poses a very great risk, people still say Lyme isn't a big deal. That's why I wanted to offer a positive venue for people who are suffering from the devastating effects of this disease and have been so downtrodden."
Sponsors for the event included Pioneer Bank, Stram Center for Integrative Medicine, Steven Morton, D.D.S, C.T. Male Associates, Hannaford Supermarkets and the Buono Family. "GLA wants to extend a huge thank you to Heidi and her committee for all their hard work putting together this event," said GLA CEO Scott Santarella. "As Heidi noted, the event was a great opportunity for those affected by tick-borne illnesses to come together and find a sense of community and common purpose. Bite Back Against Lyme is all in the cause of finding an accurate diagnostic test, effective treatments and ultimately finding a cure for devastating tick-borne diseases."
---
Read Heidi Buono's inspirational story.