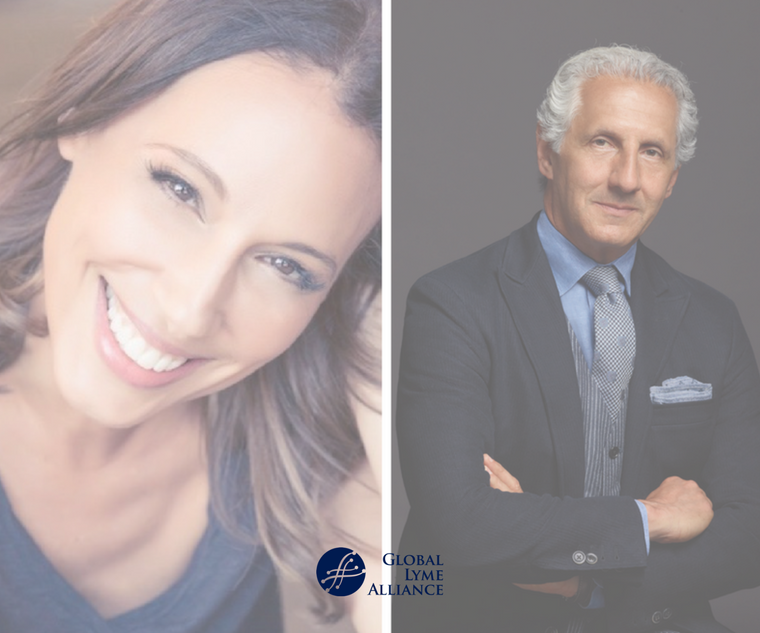 Philanthropist and Animal Rights Advocate, Marisol Thomas and Celebrated Menswear Designer and Author, Joseph Abboud to share honors at event on October 11th, 2017 in New York City
GREENWICH, CONNECTICUT (September 14, 2017)
Global Lyme Alliance (GLA), the leading 501©(3) dedicated to conquering Lyme and other tick-borne diseases through research, education and awareness, will be honoring two influential individuals on October 11 th when the organization hosts its third annual New York City Gala at Cipriani, 42 nd Street.
The two individuals to be honored – Marisol Thomas, philanthropist, animal rights advocate and wife of Grammy Award-winning musician, Rob Thomas – Joseph Abboud, celebrated and award-winning menswear designer and author of Threads: My Life Behind the Seams in the High-Stakes World of Fashion - both have personal experience with Lyme and are committed to playing an active role in finding a cure for the disease. "We are honored to be able to celebrate these two incredible individuals on what promises to be a remarkable evening," said GLA CEO Scott Santarella. "Both honorees' commitment to raising awareness and sharing their courageous, personal experiences with this disease will bring us closer to help patients suffering from Lyme disease by finding better treatment options, and ultimately a cure. We want the community to know that the threat of Lyme is real, but the cure is coming."
Marisol Thomas, GLA honoree who has battled this perilous disease since 2003 said, "Having late stage Neurological Lyme Borreliosis, Babesiosis, Bartonella and a host of other co-infections, has quite literally stolen my life. I went from being a happy fulfilled person, to just existing. It's affected my family and all my relationships in such a huge way that it pains me to even talk about it. It is for them, for me, and for all those people out there suffering and feeling alone and isolated, that I decided not only to keep fighting, but also help bring awareness to this very real, very life threatening disease that is so stigmatized and misunderstood."
Joseph Abboud, GLA honoree and a Lyme activist said, "Lyme disease is debilitating especially when undiagnosed or mistreated. It is my honor to help raise awareness for this great cause." The evening will feature a special live performance by Grammy Award-winner and lead singer of the band Matchbox Twenty, Rob Thomas together with Grammy-nominated singer/songwriter and front man for band bearing his name, Chris Daughtry. The event will be hosted by Rosanna Scotto, co-anchor of FOX 5's "Good Day New York."
Celebrated event planner Lawrence Scott is donating and designing the decor for the event. The evening's food is inspired by The Four Seasons Restaurant's new menu, courtesy of Executive Chef Pecko Zantilaveevan. Last year's event raised nearly $3 million in charitable donations to help GLA in its ongoing mission to conquer Lyme disease and its co-infections through science and research. GLA has gained national prominence for funding the most promising research in the field, while expanding education programs for the general public and physicians.
The Co-Chairs for the event include Tim Baxter, president and CEO, Samsung Electronics America; Nick Lippman, partner, Lippman Entertainment; Jay McInerney, best-selling author; Jarrod Nadel, chief product development director, Tailored Brands, Inc.; Julian Niccolini, partner, The Four Seasons Restaurant; David Nolan, vice chairman, Millennium Management; Larry Scott, owner, Lawrence Scott Events; Rob Thomas, Grammy Award-winning singer/songwriter and producer; Alex von Bidder, partner, The Four Seasons Restaurant. The evenings Honorary Event chairs include Yolanda Hadid, television personality and author; Ally Hilfiger, author, Lyme advocate and fashion designer; Dee and Tommy Hilfiger; Thalia Mottola, singer/songwriter, actress, and entrepreneur; Mike Schneider, broadcast journalist and documentary producer. Lyme disease is a global health crisis, with cases reported in all 50 states and more than 80 countries.
The significant increase in reported cases of Lyme and other tick-borne diseases, coupled with the increase in number of infected ticks, put everyone at risk. The number of reported Lyme cases has increased nearly 25-fold since national surveillance began in 1982. The Centers for Disease Control and Prevention estimates that there are 329,000 new cases of Lyme disease in the U.S. each year. Lyme disease is easy to get, yet difficult to diagnose. Today's common diagnostic test is inaccurate more than 50% of the time, leading to thousands of delayed and missed diagnoses. Early diagnosis and treatment can have positive outcomes. Left untreated, however, the disease can continue to spread throughout the body, often leading to debilitating health consequences, even death. The Global Lyme Alliance Gala will be held on October 11 th at Cipriani 42nd Street, 110 East 42nd Street at Park Avenue, NYC and features a cocktail reception at 6:30 p.m., dinner and awards ceremony, at 7:30 p.m.
### ABOUT GLOBAL LYME ALLIANCE Global Lyme Alliance (GLA) is the leading 501 ©(3) dedicated to conquering Lyme disease through research, education and awareness. GLA has gained national prominence for funding the most urgent and promising research in the field, while expanding education and awareness programs for the general public and physicians. Learn more at GLA.org. Media Contacts: Jessica Sciacchitano Rogers & Cowan Jsciacchitano@rogersandcowan.com +1 212 878 5027