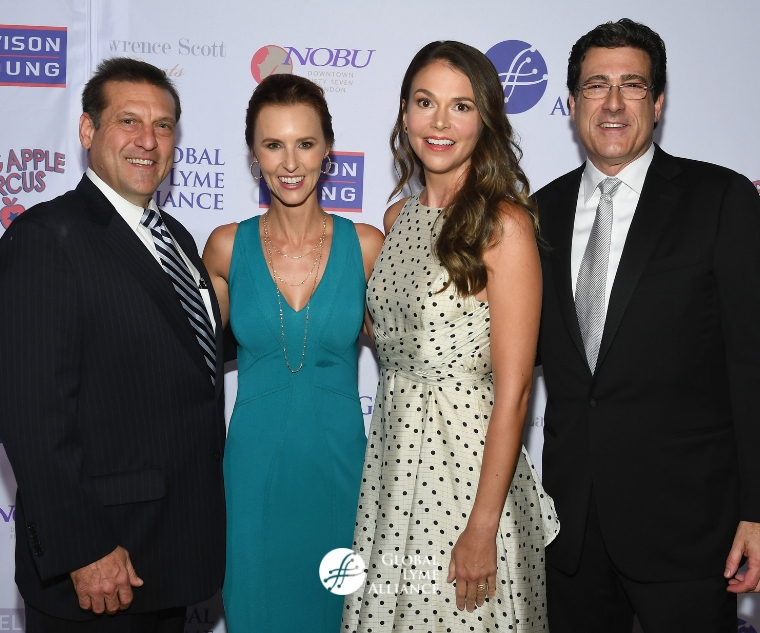 Ramona Singer and Erin Walker were honored at the gala with audience treated to a show-stopping performance by Tony Award-winning Broadway and television star Sutton Foster
STAMFORD, CONNECTICUT (October 12, 2018)
Global Lyme Alliance (GLA), the leading 501(c)(3) dedicated to conquering Lyme and other tick-borne diseases through research, education and awareness, today announced that its fourth annual New York City Gala raised over $2 million last night at Cipriani 42nd Street. The money raised at the event will support GLA's mission to advance scientific research leading to a reliable diagnostic test, improved treatment options, and ultimately, find a cure for Lyme and other tick-borne diseases.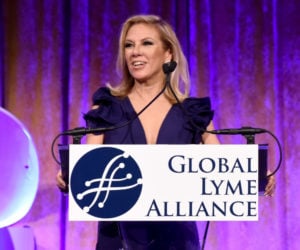 The October 11 gala, attended by more than 700 supporters at Cipriani 42nd Street, recognized Ramona Singer, entrepreneur, philanthropist and star of Bravo TV's "Real Housewives of New York City," and Erin Walker, mother, equestrian, business owner, and wife of 2016 PGA Championship winner Jimmy Walker. Ramona has seen the devastating impact of Lyme disease first-hand through close family members and friends, and both Erin and her husband Jimmy are currently battling the disease.
Lori Stokes, co-anchor of FOX 5 Good Day New York, hosted the event. Erin and Ramona both addressed the crowd in emotional testimonies of their experiences with Lyme and their dedication to raising awareness for finding a cure for this insidious disease. Jimmy Walker spoke to the crowd by way of video, thanking GLA and congratulating Erin. Global superstar Avril Lavigne recorded a special video message for the crowd, which was shown, announcing that she has officially accepted the invitation to join GLA's Board of Directors, as well as details of the new strategic partnership between The Avril Lavigne Foundation and GLA. Avril's new single, "Head Above Water," is about her personal struggle with Lyme disease.
Past GLA Gala honoree Yolanda Hadid spoke to guests about her Lyme journey and introduced a short video that illustrates the impact Lyme can have on one's entire family. The ceremony ended with a very special performance by Tony Award-winning actress and recording artist, Sutton Foster. Other highlights included a surprise performance by the Big Apple Circus and a menu inspired by Drew Nieporent of Myriad Restaurant Group, with sushi courtesy of Nobu. Celebrated event planner Lawrence Scott designed and donated all the décor for the evening. The event was also attended by reality stars, Tinsley Mortimer, Sonja Morgan, Dorinda Medley, Luann de Lesseps, Kat Cunning and actor Chris Jones; health and wellness influencers, Amie Valpone, Jacqueline Sposito, Adrienne Nolan, Jordan Younger and freestyle soccer player, Skye Cowie.
The Co-Chairs for the event include Joseph Abboud, celebrated menswear designer and author; Charles Balducci, co-founder, Snyder/Balducci Group, Merrill Lynch; Chris Corrinet, senior VP, CBRE; Robert Kobre, vice chairman, Credit Suisse; Jarrod Nadel, chief product development officer, Tailored Brands, Inc.; Drew Nieporent, owner, Myriad Restaurant Group; Peter Norley, COO, Credit Suisse Securities; and Larry Scott, owner, Lawrence Scott Events . Honorary Event Chairs included Jay McInerney, Jim Miller, Mary Beth Pfeiffer, Mike Schneider, Victor Slezak, and Marisol and Rob Thomas from Matchbox Twenty. Platinum Sponsors included Big Apple Circus, Credit Suisse, Nancy and Bob Del Genio, David Nolan Foundation, Lawrence Scott Events, Tailored Brands, and Withersworldwide.
Everyone is at risk for Lyme disease. Each one of us is just one tick bite away from contracting the disease. Cases of Lyme have been reported in all 50 states and more than 80 countries, making it a health crisis with worldwide impact. Additionally, current diagnostic tests for Lyme disease are more than 50 percent inaccurate, resulting in failed and missed diagnoses. For more information, please visit gla.org
### ABOUT LYME DISEASE Lyme disease is an illness caused by the bacteria Borrelia burgdorferi, transmitted through the bite of an infected black-legged tick. The disease has been reported in all 50 states and more than 80 countries. All ages are affected, but children aged 3-14 are most at risk, with 200 new cases every day. Early diagnosis and treatment is the key to combating the disease. However, current diagnostics are 55% inaccurate, leading to delayed treatment. If untreated, Lyme disease can become a severely debilitating illness affecting multiple organs, including joints, heart, brain and other parts of the central nervous system. Even when treated early, up to 20% go on to suffer debilitating long-term symptoms that are difficult, if not impossible, to cure.
### ABOUT GLOBAL LYME ALLIANCE Global Lyme Alliance (GLA) is the leading 501(c)(3) dedicated to conquering Lyme disease through research, education and awareness. GLA has gained national prominence for funding the most urgent and promising research in the field, while expanding education and awareness programs for the general public and physicians. To learn more about GLA's unrivaled focus on the science of Lyme, check out its inaugural research report here or visit its website at gla.org