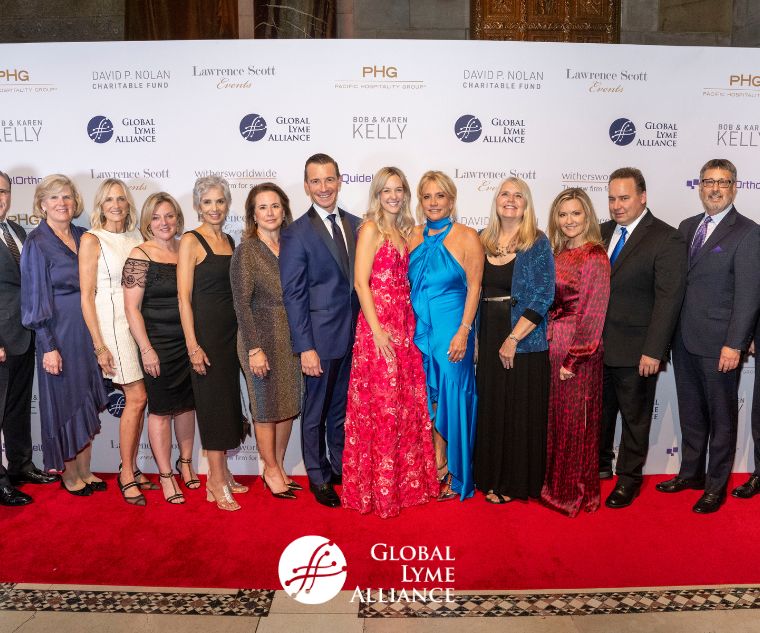 Actor Christopher Meloni, Pop-star Debbie Gibson and Broadway Star Ashley Loren were among guests in attendance at the organization's 8th annual GLA Gala.
STAMFORD, CONNECTICUT
Global Lyme Alliance (GLA), the leading 501(c)(3) dedicated to conquering Lyme and other tick-borne diseases through innovative research, awareness, and empowering the patient voice, raised over $1.6 million this past Thursday at Cipriani 42nd Street in Manhattan.
A highlight of New York's philanthropic calendar, the annual event raises funds to support GLA's mission of advancing research to improve diagnostics, treatment options, and find a cure for Lyme and other tick-borne diseases. This year's gala was a night to remember for invited celebrities, honorees, and top scientists alike.
GLA Gala guest Hannah Spires from the Instagram account @whitmanswarriors said it best, "there was a perfect balance of explaining what they (GLA) do, research being funded, and advocacy provided paired with personal stories by caregivers and patients alike. I loved how intentional they were with every aspect of the event. From the entertainment to the speakers to the honorees, each person has or loves someone with Lyme disease. All warriors have chosen to give back even when it would have been easier to focus on their battles privately. This is where the awareness happens and how change will be effective. So full of gratitude for the tireless efforts of those who continually fight for a Lyme-free world."
GLA Gala 2023 Honorees
GLA honored Kenzie Vath, a Lyme warrior, devoted wife, loving mother, and dedicated hotelier, for her remarkable contributions towards raising both funds and awareness for this relentless disease. Additionally, GLA introduced the Kelly award, celebrating the heroic efforts of family and loved ones that serving as medical advocates for the patients of Lyme. This years Kelly award recognized the profound efforts of Karen Kelly, who's husband Bob Kelly commended for being his support system throughout his battle with Lyme disease.
To watch the Kelly Award Video, please click here:
Notable Attendees
The spectacular event began with cocktails, dinner, and an auction, and special musical performances by icon Debbie Gibson and Broadway sensation Ashley Loren. Master of ceremonies Rosanna Scotto, Co-Host of FOX 5 "Good Day New York" began the affair and Celebrity Ambassador Christopher Meloni was featured in a PSA video about chronic Lyme disease, and then delivered a rousing speech that inspired all.
To watch the GLA x Chris Meloni chronic Lyme PSA, please click here:
Additional notable attendees included: Larry Scott, Margaret Josephs, Dolores Catiana, Bo Dietl, Maribel Lieberman, Leesa Rowland, Jean Shafiroff, Nicole Miller, Marc Bouwer, Pedro Oberto, Alexa Goodrow, Eric Bergan, Carmen D'Alessio, Tina Radziwell, Helen Yarmak, Elena Krail, Lindsay Keys and Daria Lombroso, Nadja Sayej.
Co-Chairs
The Co-Chairs for the event included Rose Anastasio, Amy Balducci, Charles Balducci, Diane M. Blanchard, Bob Kelly, Karen Kelly, Robert Kobre, Brett Kristoff, Jarrod Nadel, Lorrie Nadel, Paul B. Ross, Larry Scott, Erin Walker and Jimmy Walker.
Thank you to our sponsors
DIAMOND SPONSORS: Bob & Karen Kelly, The Bush Family Foundation: Tim & Steph Busch, Kenzie & Collin Vath, Robert & Nancy Del Genio, David P. Nolan Charitable Foundation.
PLATINUM SPONSORS: Anonymous, Malcolm & Dana McAvity
GOLD SPONSORS: Brett & Mark Kristoff, Lois J. Liberman & Paul B. Ross, Brent & Regan Patry, The Peetz Family, Kenzie Vath.
SILVER SPONSORS: Rose & James Anastasio, Ambassador Christopher & Jean Egan, Christopher & Lisa Moyes, Lorrie & Jarrod Nadel, QuidelOrtho Corporation, Norma & Cliff Russo.
About the Global Lyme Alliance:
The GLA Gala is among New York City's most highly anticipated fundraising events. It is exclusively dedicated to raising awareness and supporting research and patient service programs for Lyme and other tick-borne diseases. The cause is more important than ever with a record number of cases reported. According to the CDC, there are 476,000 new cases of Lyme disease each year in the U.S. Support can make a difference for patients today and tomorrow.
To learn more about GLA's unrivaled focus on the science of Lyme, visit their website at www.gla.org.
Save the date: The 9th Annual Gala will return to Cipriani 42nd Street on Thursday, October 10th, 2024.
***
PRESS CONTACT:
Norah Lawlor | Lawlor Media Group | www.lawlormediagroup.com
Tel: (212) 967-6900 | Norah@lawlormediagroup.com