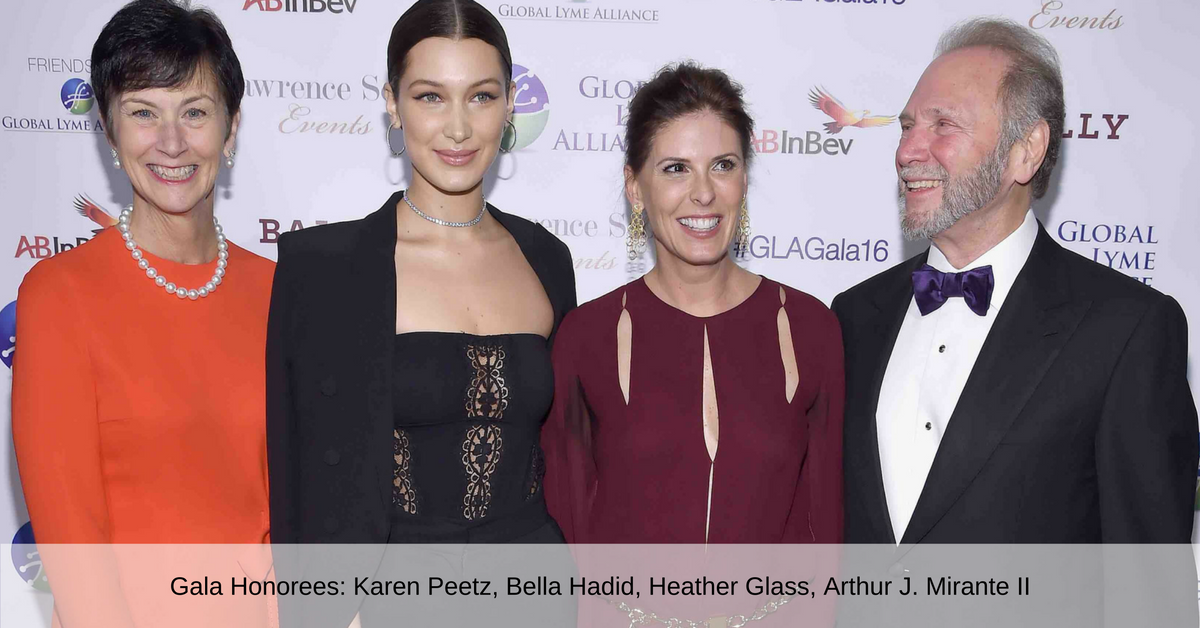 Heather Glass, Bella Hadid, Arthur J. Mirante II, and Karen Peetz honored at event to raise funds for Lyme disease research and education
Greenwich, Conn (October 14, 2016)—Global Lyme Alliance (GLA), the world's leading organization dedicated to the research and education of Lyme and other tick-borne diseases, today announced its second annual "Uniting for a Lyme-Free World" Gala raised nearly $3 million. The funding will assist GLA in its mission to conquer Lyme and other tick-borne diseases.

The October 13 gala, attended by more than 700 supporters at Cipriani 42nd Street, honored – Bella Hadid, International Supermodel - Heather Glass, Designer and Retail Executive - Arthur J. Mirante II, Principal and Tri-State President of Avison Young - Karen Peetz, President of BNY Mellon - for their active roles in driving awareness of Lyme disease and their commitment to finding a more accurate diagnostic test. Rosanna Scotto, co-anchor of FOX 5 Good Day New York, hosted the event. "This year's gala represents a tremendous step forward for us, and we're excited to build on this momentum as we continue working to conquer Lyme disease," said GLA CEO Scott Santarella. "We are truly grateful to have had such tremendous support this year. From our honorees, to our co-chairs, donors, and everyone else who played a role in making this event successful, we are so thankful." Co-Chairs for the event were Carlos Brito and Sabine Chalmers, Anheuser-Busch InBev; Christopher Corrinet, CBRE; Matthew Glass, Texby Associates, Inc.; Yolanda Hadid, Actress & TV star; Ally Hilfiger, Advocate & Fashion Designer; Dee & Tommy Hilfiger; Mitti Liebersohn and Anthony Lopresti, Avison Young; Brian Ruane, BNY Mellon; Andrew Saunders, Saunders & Associates; Larry Scott, Lawrence Scott Events. The ceremony was followed by special performances from musical guests, including Grammy award winning artist, Rob Thomas, and New York City-based trio, ThirdStory. The Gala was also attended by Mohamed Hadid, Lew Leone, Klaus Kleinfeld, Marisol Thomas, Peter Brant, Jr., Ping Hue, Evander Holyfield, Jr., and many others. Everyone is susceptible to Lyme and is just one tick bite away from contracting the disease. Cases of Lyme have been reported in all 50 states and more than 80 countries, making it a health crisis with worldwide impact. Additionally, current diagnostic tests for Lyme disease are inaccurate in more than fifty percent of Lyme patients, leading to both failed and misdiagnoses. The number of cases reported annually has increased nearly 25-fold since national surveillance began in 1982. 329,000 people in the United States alone contract Lyme disease each year, according to the Centers for Disease Control and Prevention. To learn more, or to make a donation to GLA, please visit GLA.org.