by Luke D. Miller
#MyLymeLife
When I was 21, I earned my bachelor's degree and accepted a commission as a Marine Officer in Quantico, Virginia. Serving my country was my only dream. I spent many days and nights training in the Virginia wilderness. However, after returning from a week-long training exercise, I pulled an embedded tick off my abdomen. Unbeknownst to me, that seemingly harmless tick bite would eventually end my career. Immediately after the bite, I came down with a severe case of bronchitis and widespread joint pain. I went to the hospital and was prescribed antibiotics and anti-inflammatories. About a month past and I recovered, forgetting about the tick bite. As I progressed through my career, which took me to flight school, I began experiencing short-term memory problems, loss of concentration, and extreme exhaustion. I was working 12-18 hour days, so I blamed it on stress and the difficult curriculum. I medicated with coffee. I successfully graduated from flight school, with honors, and moved on to my next duty station: Whidbey Island, Washington.
While stationed at Whidbey Island my health deteriorated to the point where I was unsafe to fly, relied on my car's GPS to find my way home, and faced a potential death sentence – a provisional diagnosis of ALS. Unwilling to accept that diagnosis, I sought out multiple opinions and one finally made sense, Lyme disease.

Within five years, at the age of 26, my health deteriorated to the point where I was disabled and unable to work. Subsequently, I was medically retired from the military and survived off of military, veterans, and Social Security benefits. Physically, mentally, and emotionally broken, I was lost. How did I become disabled? To the average person I appeared normal, but I was fighting an internal war with Lyme disease.
Now, at the age of 33, I am in my third year of law school. In five months I will graduate from Willamette University College of Law and set out in my new career as an attorney. I wouldn't wish my life on anyone, but also one I would not change if I could. Through my struggles I was blessed to meet and marry my best friend. We have two beautiful children: our four-year-old son, Isaiah, and one-year-old daughter, Kalani. Raising our children isn't easy for my wife, because much of the family responsibility falls on her because due to my physical limitations.
After eight years of continued aggressive treatment with a Lyme-literate doctor and weekly chiropractic care, I still struggle but my symptoms are manageable. I suffer from widespread pain and neuropathy, fatigue, concentration and short-term memory issues, but those symptoms are not always present. I have "good days" and those good days are increasing in frequency as symptoms grow milder. While I may not be the same person I was (and likely will never be), I am back in control of my life. I am happy and flourishing.
Lyme disease could have broken me, but I refused to go down without a fight. Ironically, I became infected with Lyme disease because of my military service, but both my military service and Lyme disease have lead to unparalleled opportunities. Our family now operates a successful real estate business, which came about in part out of necessity, and I had the pleasure of working as a law clerk for the Oregon Department of Justice, Oregon Legislature, Veterans Legal Institute, two private law firms, and Willamette University College of Law's Veterans Legal Clinic. My personal battle with Lyme disease reinforced my desire to fight for others. As I approach graduation, I cannot help but be grateful for where I am.
Don't let Lyme disease silence or discourage you. Use it as a springboard to propel you to where you ultimately should be. Minus the cockpit, I am serving others as I always intended, but in a new way. Lyme disease seemingly ruined my life and career, but in the long run it did not; it challenged me and forced me to shift course. Rather than flying and dropping bombs, I take the fight to the "enemy" with words through court pleadings. I utilize our judicial system to help others and hopefully prevent them from facing a horrific reality as I did. However, if they do, I am here to help them navigate those formidable waters.
Lyme disease recovery is a harsh reality. You are sick, unable to think straight, and feel backed into a corner. There are few people to help you so you go it alone. However, if you can survive the first few years, you regain yourself. You realize, as you assist others, you can relate to those you help, because they occupy the same confused and scared position you stood in earlier. Know yourself, your limitations, and then you can begin to bear the burden of others.
---
Opinions expressed by contributors are their own.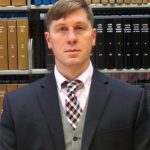 Luke D. Miller lives in Oregon with his wife and two children. He is about to embark on his new career as an attorney.