This blog post is part of our People to Highlight Series during our 2020 Year-End Appeal. Each week we'll be spotlighting a GLA community member who has helped to advance our mission. To support GLA during our year-end appeal,

donate here
.
…so, for those out there struggling, please do not ever give up. We lost hope so many times, but today I see a bright future.
The role of caregiver can cause a roller coaster of emotions that change over time. Finding time and outlets to cope is not always easy. Dr. Sarah Maxwell knows this struggle all too well. For two years, her daughters Katherine & Claire's illnesses remained a mystery. "Our children spent at least half of their high school years in bed, suffering," said Maxwell, a professor of public and nonprofit management in the School of Economic, Political and Policy Sciences at The University of Texas at Dallas. "We had countless and frustrating doctor experiences and hospital visits. We felt very alone and helpless."
When asked what Lyme disease is like through the lens of a caregiver, she mentioned, "As parents, we struggled to maintain our composure at work, and we hoped our children could not sense our intense fear. It took a toll on every aspect of our lives and ultimately cost tens of thousands of dollars out of pocket."
Claire's Symptoms
Claire, in particular, had an extensive list of symptoms. Dr. Maxwell shared with us the most debilitating as well as unusual symptoms "so that others who may be in search of a diagnosis can comprehend the bizarre and scary nature of Lyme and related co-infections."
Flu-like symptoms, a never-ending, daily, unremitting awful flu
Extreme, unbearable neck and back pain
Nausea and vomiting; sometimes projectile with very rapid onset
Weight gain at first, then rapid and extreme weight loss
Hair loss
They went from being happy and energetic kids to feeling miserable
Confusion
Vertigo
Migrating pain, which started first with the knee (misdiagnosed as Osgood-Slaughter's Disease)
Difficulty swallowing
Air hunger
Fevers
Occasional (and scary!) blood in the urine (which I recently learned was a symptom of Lyme. We did not determine the cause at the time, even after an ER visit. [i]
The Path to a Diagnosis
Dr. Maxwell's daughters were athletes and excellent students. "They both had EM (erythema migrans) rashes, but we live in Texas, so we assumed the rashes were ringworm. They tested positive on a MonoSpot test, which we later learned can be a false positive from Lyme disease." [ii] After a year of being told they had lingering mononucleosis, Dr. Maxwell finally asked the physician to run the full EBV titers. "To our astonishment, they never had Mono. That's when the very long search began." They finally met a dedicated allergist who vowed to figure it out. "Three days later she made an appointment for us with a specialist in New York." He confirmed their suspicion of Lyme disease.
Finding Global Lyme Alliance
In 2016, GLA sent out a request for teens to talk about Lyme for a video. "Our daughter had been improving at that time and submitted a video clip. She was selected and participated in an educational video with Ally Hilfiger, Dr. Brian Fallon, and other young Lyme patients. It was a great experience for her to fly to New York and tell her story.
We later attended a GLA gala and met the wonderful staff who work so passionately to help families like ours. We learned more about the disease and all of a sudden, the world did not seem so lonely. That connection has blossomed, and as a faculty member applying for grants, GLA has provided letters in support of my work. I currently have a grant to assess Lyme Disease as an occupational hazard among migrant and seasonal farmworkers.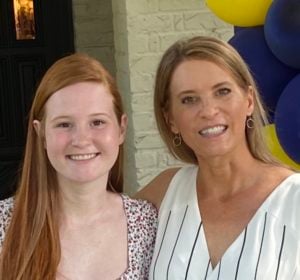 Now my daughter Claire and I are GLA Ambassadors, part of the Lyme Education Ambassador Program. We represent GLA from Texas. As GLA Ambassadors, we've given presentations, written articles, appeared on the evening news. Claire even started a high school Lyme club, which later turned into a medical club. We've also brought speakers to the club to talk about Lyme." said Maxwell.
Final Thoughts
The years her girls lost can never be replaced, "but they have excelled under extremely difficult circumstances," said Maxwell. "It's stressful to think back on those years, but I do think about those who still struggle. Moving forward for us involves helping those who did not have the luck and/or divine intervention we had when we met our angel-allergist."
It's important not to dwell on the years of illness or the past. "The girls are so strong and courageous after their fight. They've turned the corner and turned the page. The next chapter is beautiful; so for those out there struggling, please do not ever give up. We lost hope so many times, but today I see a bright future."
[i] Rogerson, A.G.; Lloyd, V.K. Lyme Disease Patient Outcomes and Experiences; A Retrospective Cohort Study. Healthcare 2020, 8, 322.
[ii] https://www.ncbi.nlm.nih.gov/pmc/articles/PMC5848374/
---
As you may know, GLA is solely funded by donor support. Due to COVID-19, we have been unable to hold our usual fundraising events. Please donate below if you'd like to support GLA's research, our programs, and our mission.