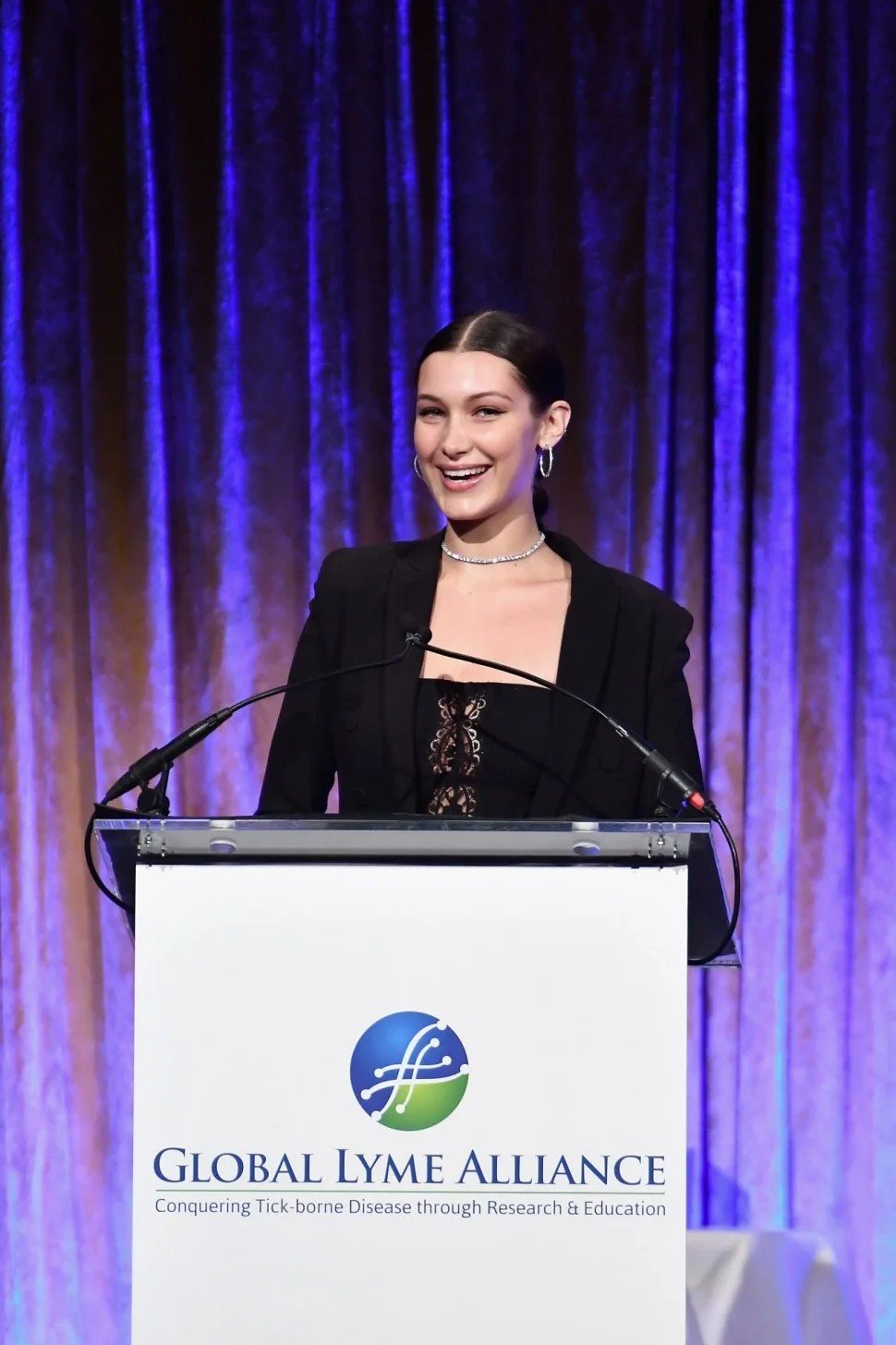 Lyme disease and tick-borne illnesses can strike anyone — even the famous people we think of as invincible. From Justin Bieber to Amy Schumer, many familiar faces have dealt with devastating symptoms behind the scenes. Now, they're ready to shine a light on the "invisible" disease — and ensure that sufferers finally get the attention they deserve. From flu-like symptoms to struggling the balance between their health and careers, learn more about the experiences these superstars have gone through. and how they overcome hardships.
1. Justin Bieber
Justin Bieber received far too many mean-spirited comments about his appearance in 2019 and early 2020. Many well-meaning fans jumped on the trend, expressing concern for the pop star because they feared he was unwell. It turns out, he was dealing with multiple illnesses at once: Lyme and mono. Add anxiety to the mix, and you can see why Justin Bieber had a rough couple years.
The celebrity had kept silent about his struggles for quite some time but finally spoke out to his Instagram followers after tiring of the constant comments. He explained that, when people insulted his appearance, they "failed to realize I've been recently diagnosed with Lyme disease." He added that the simultaneous battle against Lyme disease and mono had a severe impact on his "skin, brain function, energy, and overall health."
Soon after his enlightening Instagram post update, he went into specifics in his YouTube documentary. His doctor was also interviewed for the documentary. She explained that Lyme disease "can cause a whole spectrum of neuropsychiatric Lyme disease symptoms; mood changes, irritability, anxiety. Justin fits the picture of these symptoms."
Since receiving targeted treatment for his various conditions, the singer has released multiple chart-toppers, such as Peaches and the deeply emotional Ghost. He's also been diagnosed with the neurological disorder Ramsay Hunt syndrome, but he assures fans, "I'm gonna get better...We don't know how much time it's gonna be, but it's gonna be OK."
2. Avril Lavigne
Lyme disease left Avril Lavigne bedridden for a devastating two years before prompting one of her most remarkable works: the emotional song Head Above Water. While sharing the story of the scariest time in her life, she explained, "I was able to turn that fight into music I'm really proud of...Words and lyrics that were so true to my experience came pouring out of me effortlessly."
Interestingly, another celebrity from this list helped Avril put the pieces together to finally secure her diagnosis: Yolanda Hadid. After watching an episode of the Real Housewives of Beverly Hills, Avril realized that Yolanda's experience mirrored her own.
Now, Avril wants to assist others in getting the help they so desperately need. To that end, she worked with the Global Lyme Alliance in 2020 to host a livestream concert. Even while she was dealing with chronic Lyme disease, she started the Avril Lavigne Foundation to help raise awareness about Lyme disease and tick-borne diseases.
3. Shania Twain
Shania Twain has battled Lyme disease for two decades. At one point, the chronic illness came close to ending her remarkable music career.
It all began with a simple horseback ride. This had been one of Shania's favorite activities since she was just 12 years old, but this time, she suffered a tick bite — and yes, that tick was infected with Lyme disease.
It wasn't long before Shania was suffering horrific symptoms, including dizziness and even brief blackouts. The disease's effects extended beyond her tour to impact the passion she held most dear: singing.
With some patients, Lyme disease impacts the nerves responsible for controlling the vocal cords. This symptom is always problematic, but it takes on another level of urgency in a celebrity who makes a living with her angelic voice. Such was the case for Shania, who suddenly struggled to control vocals that had felt natural in the past.
Shania spoke at length about her Lyme-induced singing struggles in her documentary, explaining, "My voice was never the same again. I thought I'd lost my voice forever." This also affected seemingly ordinary pursuits, with something as simple as calling her dog's name taking on a new level of difficulty.
It took years to determine that Lyme disease was the basis for Shania's issues, but a neurologist eventually made the connection. She has since been treated — and, while her voice remains permanently altered, she's grateful to have a "grip" on the disease. What's more, she's not letting the unanticipated vocal changes hold her back: in recent years, she continues to record new music and even perform on tour.
4. Alec Baldwin
Like Shania Twain, Alec Baldwin has spent a significant portion of his career dealing with Lyme disease. This hit him even though he was extremely cautious about ticks when he spent time in the forests and fields of the Hamptons.
The actor's symptoms first became alarming during what should have been an enjoyable summer evening, when he was hanging out on his friend's porch. During a podcast interview, he explained, "I felt literally this wave go over my back and over my shoulders and kind of wrap around me like a chill, and I got just attacked. It came like someone snapped their fingers and put a spell on me."
Similar symptoms continued to appear each August. Every time, the actor would find himself bedridden for days, suffering unbearable joint pain. Even when he hasn't recently had a tick bite, he suffers 'inexplicable' joint pain on occasion. These days, he helps the Bay Area Lyme Foundation through fundraising efforts.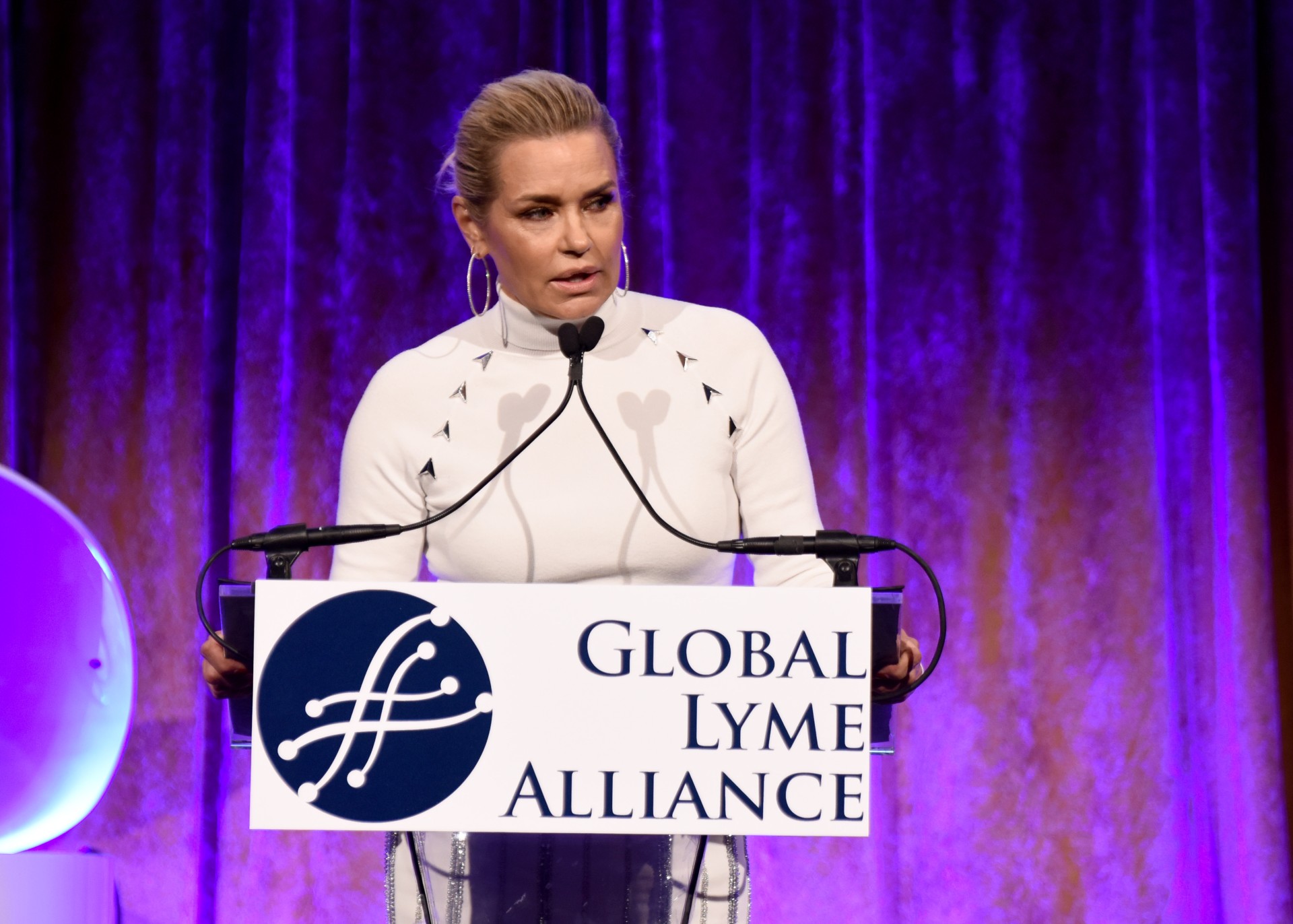 5. Yolanda Hadid
Yolanda Hadid's struggles with Lyme disease have been thoroughly documented on the reality show The Real Housewives of Beverly Hills and on her social media pages. The former model isn't quite sure how she got the disease, although she acknowledges that she spent a lot of time in the great outdoors on her farm in Santa Barbara.
She began to suspect that something was wrong when started to lose the "magical powers" that once allowed her to excel as a "multitasking, single mother of three."
It would be an understatement to refer to Yolanda's symptoms as severe. Her long list of concerns includes brain fog, memory loss, anxiety, insomnia, and so much more. Initially, she leaned into her type-A personality and tried to maintain her fast pace of life. Eventually, "there was no hiding from the truth anymore." She was finally diagnosed by a doctor in Belgium and has since been on a constant search for relief.
Through frequent public conversations about Lyme disease and its impact on her family, Yolanda hopes to turn her "mess into a message." She tells Vogue, "By sharing the more uncomfortable parts of our lives, we have the power to raise awareness." To that end, she's detailed her journey in the memoir Believe Me: My Battle with the Invisible Disability of Lyme Disease.
6. Bella Hadid
Unfortunately, Lyme disease has a strong presence in the Hadid family, as Yolanda's daughter Bella had a Lyme disease diagnosis in 2012. Like her mom, Bella has been vocal about her symptoms, which she describes as "aggressive." These include insomnia, headaches, noise sensitivity, and many other issues.
Bella has since found undeniable success in modeling, but it's clear that Lyme disease cut an early dream short: she had previously hoped to appear at the Olympics as an equestrian. In a 2016 speech for a Global Lyme Alliance gala, she referred to horseback riding as the "dream of my life and what I did every day until I got sick."
The model is now quick to remind people that how she looks on the outside doesn't always mirror how she feels. She makes a point of sharing her journey on social media, even posting photos of her hooked up to an IV. She's recovered enough to spend time with her beloved horse Blue, who regularly makes appearances on Instagram.
7. Amy Schumer
Few topics are truly off-limits for comedian extraordinaire Amy Schumer. While it's not exactly a joking matter, she has been open about her struggles with Lyme disease. She wasn't diagnosed until 2020, but she suspects that she's had it for years.
When she first announced her diagnosis, the comedian told fans that she was taking doxycycline. She lost a few pounds while dealing with the illness and found it distressing when some people complimented her on this Lyme-induced weight loss.
Since then, she has spoken extensively about other health concerns, including endometriosis and trichotillomania. Following surgery and other treatment initiatives, she feels "like a new person."
8. Ben Stiller
Few people would guess that Ben Stiller has dealt with Lyme, but this has actually had a huge impact on his life. The actor believes he was infected during a visit to Nantucket. Shortly thereafter, his knee became inflamed. His symptoms worsened during a philanthropic trip to Africa, to the point that he assumed he'd contracted a completely different disease.
In search of answers, he visited doctors in both New York and Los Angeles. Finally, while preparing to appear on the Letterman show, he received the bad news: the "arthritic elements" that had caused him so much discomfort were prompted by Lyme disease.
While he is grateful to currently be symptom-free, the actor is well aware that the illness won't fully leave his life. Describing the disease's impact, he keeps it simple: "It's really a tough thing."
9. Debbie Gibson
Debbie Gibson's enjoyed a long and storied career, but she's certainly had her share of tough times. In fact, her previous struggles with mental health made it difficult for her to place the symptoms of Lyme disease when they first appeared in 2013. She took Xanax to help her sleep, but this actually had the opposite effect. She told People that the drug "started wigging my body out and was triggering something to do with the Lyme."
After a search for answers spanning nearly a full year, she got her diagnosis. This was a relief, but it hasn't kept the physical suffering away. Pain has been a frequent companion, along with anxiety and insomnia. "I'll have weird nights where I feel like I drank three pots of espresso."
These days, the celebrity believes that living with Lyme is "about being zen and open." She likes to describe herself as a "peaceful warrior" who is focused on "[taking] in the moments...Now I see life as an adventure."

10. Kelley Flanagan
As a former contestant on The Bachelor, Kelley Flanagan has made the most of her platform as she strives to educate the public about Lyme disease. This goal is front and center on her Instagram page, where her bio explains that she's "on a health journey to kick Lyme disease."
Kelley first noticed that things weren't right while she was filming the reality show. Her fellow contestants were also aware of her health issues, although they didn't know at the time that Lyme disease was to blame. In a later interview with E! News, she explained that the illness often presented itself as anxiety — so she mistakenly attributed her symptoms to the regular rigors of filming a TV show.
These days, she's focused on her recovery. Things have certainly improved, although the chronic disease still leaves her feeling fatigued. She told E!, "You have some good days and you have some bad days."
The stories outlined above reveal that Lyme disease can bring suffering to people from all walks of life. These stories also prove, however, that relief is within reach — and that, with proper support, it's possible to lead a rich and fulfilling life with Lyme.
In 2022, Kelley Flanagan became a GLA awareness ambassador. The partnership was announced in PSA ads featured in Vogue, Vanity Fair, Allure, Bon Appétit, Wired, and Golf Digest. She also attended GLA's Annual Global Gala at Cipriani 42nd in New York City.
For more blogs, click here.
The above material is provided for information purposes only. The material (a) is not nor should be considered, or used as a substitute for, medical advice, diagnosis, or treatment, nor (b) does it necessarily represent endorsement by or an official position of Global Lyme Alliance, Inc. or any of its directors, officers, advisors or volunteers. Advice on the testing, treatment or care of an individual patient should be obtained through consultation with a physician who has examined that patient or is familiar with that patient's medical history.