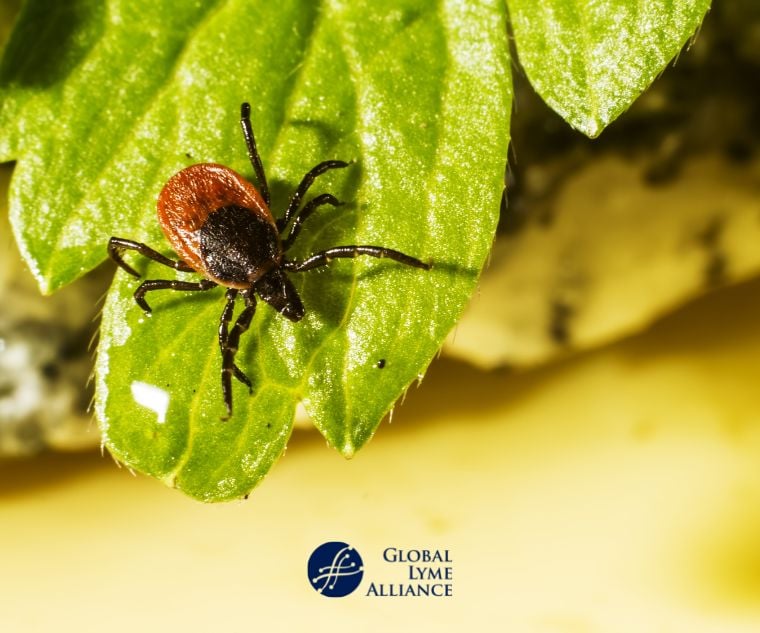 You've gone through your party checklist from guests to food, but did you add tick prevention to your list? Follow these simple tips to keep ticks out of your party and off your guests.
We all know that mosquitoes, flies and ants are notorious outdoor party crashers. But there are other, far more stealthy uninvited guests, too: ticks. While they may not ruin an outdoor wedding, cocktail party, picnic or backyard barbecue, they can leave both you and your guests with serious long-term health consequences.
Otherwise harmless behavior—like sitting at a table on the grass in the shade of your own backyard, or elsewhere in a park or vineyard, or while walking to and from a parking lot to the beach through grass—can expose you to disease-carrying ticks and be your undoing.
Unfortunately, after a warm, wet winter across much of the U.S. and all the rain that fell this spring, there are more ticks than ever. However, there are ways to keep ticks from ruining the party, not to mention potentially harming your health. "The most important thing is to avoid getting bitten in the first place," said Sara Tyghter, Global Lyme Alliance's (GLA) Director of Education and Outreach. Here, GLA and several wedding and event planners share their tips for staying tick-safe at outdoor gatherings.
Apply Repellent
"Ticks should definitely be on everyone's radar," said John Perry, co-owner of Catering by… a Small Affair, a boutique wedding and event planning firm based in the Hamptons. "Yet in my 20 years of catering, I've found that guests think more about comfort and avoiding mosquitoes than about [tick] safety. That will change in time."
One of the most important ways to protect yourself and your guests from ticks and the diseases they carry is by applying an effective repellent to exposed skin. Two well-known ingredients to look for in a tick repellent are picaridin and DEET. In addition, there are numerous essential oils—citronella, lemon leaves, lavender, lemon eucalyptus and several others—but they only provide a brief period of repellency against ticks.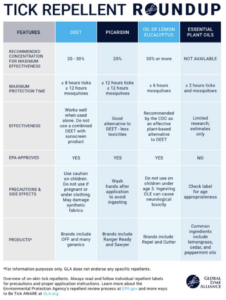 DEET has long been considered the gold standard for all repellents. Yet DEET has some drawbacks. It emits a distinctive—and for many, unpleasant—odor and can feel oily on skin. Moreover, it can dissolve certain plastics (think eyeglasses, phones, etc.), and leather and synthetic fabrics such as rayon and spandex. Repellents containing 20% picaridin, long used and trusted in Europe, are less toxic. Studies have shown picaridin is as effective as DEET against ticks and mosquitoes. But unlike DEET, picaridin is nearly odorless (some have a mild citrus scent when first applied), non-greasy, and won't damage clothing or gear. For more on pros and cons on a variety of tick repellents, check out GLA's Tick Repellent Roundup.
Some event planners say they bring repellents in different forms to gatherings. Lynn Easton, founder of a special-events firm in Charlottesville and Charleston, South Carolina, says she puts several types of repellent wipes in the guest bathrooms, while others such as party planner Bill Homan, co-founder of Design Cuisine in Arlington, Virginia says he often offers trays of bracelets made with oils including geraniol, lemon grass and citronella as a natural tick repellent. Chris L. Fuentes, founder and CEO of Ranger Ready Repellents, based in South Norwalk, Connecticut, says often party-planners create spray stations, in which baskets of Ranger Ready products are placed outdoors, away from food, where party goers can easily apply repellent to prevent insect bites and focus on enjoying themselves.
Spray Your Clothes
Most of us are familiar with the admonitions to wear long-pants (tucked into socks), long-sleeved shirts, and a hat. But let's face it, that kind of get-up in the hot, skin-baring days of summer—especially at an outdoor event—may be difficult if not out of the question. The Centers for Disease Control and Prevention (CDC) recommends that you wear clothes treated with permethrin, an insecticide produced by the chrysanthemum flower that repels and kills ticks on contact. Or treat your own clothes with a permethrin spray which you can buy online through Amazon and at various retailers and sports stores.
You can also send items directly to Insect Shield and they will treat the clothes—including cocktail attire and wedding dresses—for you. "People send anything and everything to be treated," said Janine Robertson, an Insect Shield spokesperson. "More people are learning about the need for tick-repellent clothing," she added, whether it's in your own backyard, at an outdoor concert, or an outdoor cocktail party."
Don't Forget Your Shoes
One way to stop tiny ticks (often as small as a poppy seed) is by wearing shoes that have been sprayed with permethrin. Ticks usually await you in leaf litter or on blades of grass. From there, they latch onto a shoe and start crawling up your body. As a good first line of defense, consider spraying your shoes a day or so before your event. "I went to a pool party wearing open-toed shoes and I made sure to spray my feet and legs with repellent and my shoes with permethrin because I knew there would be a grassy area," said Westchester, New York's Staci Grodin, a GLA Board member. "If I know a friend is going to an outdoor party, I always encourage them to spray their shoes."
The Flower that Ticks and Mosquitoes Despise
Who doesn't love fresh flowers? If you are considering a flower centerpiece for an outdoor party, ask your florist to incorporate some soft lavender flowers since ticks and mosquitoes will avoid the flowery scent. Similarly, a bride's bouquet for an outdoor wedding might include a few sprigs of lavender.
Get The Help of an Exterminator
Most outdoor venues will have trained and licensed technicians come on a regular basis to spray for bugs. But check the time between the last spraying and your particular event. The most effective thing is to have an exterminator on site a few days before your get-together to spray all the usable space. At Jill Gordon Celebrate, a Hamptons firm, for instance, they spray two to three days before a wedding date or other event.
Do a Tick Check
After returning home, do a meticulous tick check of your entire body. Also check your children and pets. Ticks will attach just about anywhere. Pay particular attention to the groin area, naval, armpits, and behind the ears and knees. A tick that's attached to you may feel like an unfamiliar mole or bump. "Raising awareness is important. We always tell people to be careful and double-check themselves," says Marcy Blum, a New York event and wedding planner. "No one wants a tick on their body."
If you do find a tick attached to you, try not to panic. Stay calm and remove it with pointy tweezers or tick removal tool as soon as you can. By removing the tick as quickly as possible, you reduce the chance of infection. Click here to see proper tick removal technique.
For simple tips to help prevent Lyme and other tick-borne diseases–from avoiding tick habitats to using tick repellent, to checking yourself for ticks–visit BeTickAWARE.org "By practicing good tick-bite prevention habits," says Tyghter, "you'll make yourselves and your guests safer from the tick threat."
GLA Contributor
*Opinions expressed by contributors are their own