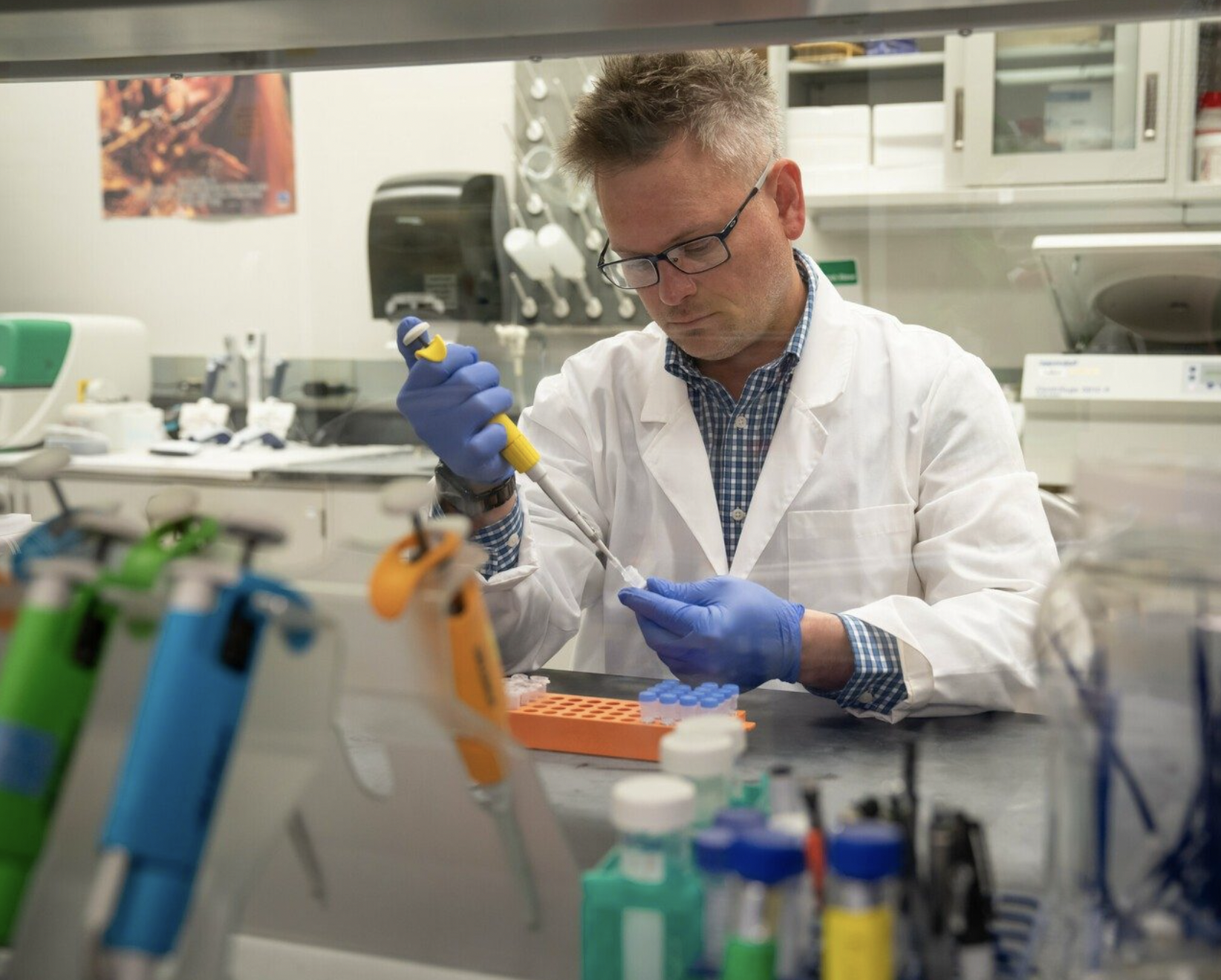 [In the Jutras Lab at Steger Hall, Assistant Professor Brandon Jutras uses peptidoglycan, a component forming the cell walls of many bacteria, as a biomarker of acute disease. Photo by Lee Friesland for Virginia Tech.]
GLA is thrilled to announce that a researcher supported by GLA funding is receiving $1.2 million in additional funding to further his research and develop a rapid Lyme test.
Written by Jenise L. Jacques for Virginia Tech
A rapid, at-home test that can diagnose acute Lyme disease? That is the goal for researcher Brandon Jutras and his team at Virginia Tech's Fralin Life Sciences Institute.
Through the support of a recent $1.2 million multiyear therapeutic/diagnostic research tick-borne disease grant awarded by the Department of Defense, Jutras' vision may one day become a reality. This research award aims to improve patient care and quality of life for military service members, veterans, and their beneficiaries as well as the American public living with Lyme disease and other tick-borne diseases.
"Current Lyme disease diagnostic testing is indirect, as it can take weeks, even months, and the results are difficult to interpret, which leads to misdiagnosed or undiagnosed cases," said Jutras, associate professor in the Department of Biochemistry and an affiliate faculty member in the Center for Emerging, Zoonotic, and Arthropod-borne Pathogens, "It's an honor to be supported by this innovative program and it is our hope that our work will help former and active service members, their families, and anyone impacted by Lyme disease."
...Concurrent to the grant-funded research, Jutras' exploration into developing an accessible test is augmented with the support of the U.S. Department of Health and Human Services, the Global Lyme Alliance, and the Steven & Alexandra Cohen Foundation LymeX Diagnostics Prize."
Click here to read the full article.
***
Stay in touch for event updates and the latest news:
The above material is provided for information purposes only. The material (a) is not nor should be considered, or used as a substitute for, medical advice, diagnosis, or treatment, nor (b) does it necessarily represent endorsement by or an official position of Global Lyme Alliance, Inc. or any of its directors, officers, advisors or volunteers. Advice on the testing, treatment or care of an individual patient should be obtained through consultation with a physician who has examined that patient or is familiar with that patient's medical history.